Evaluation the last thing. First is how much we are learning: Amartya Sen
During the session, the economist was asked about the evaluation system and the reopening of schools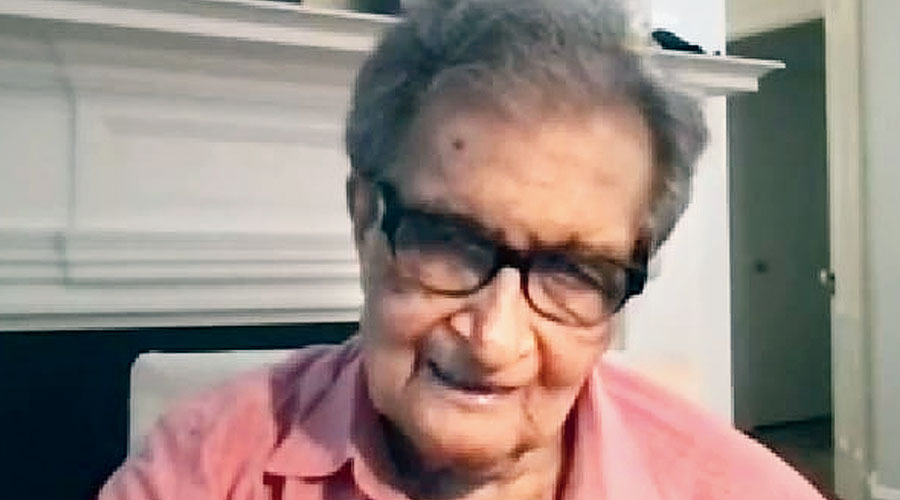 ---
Calcutta
|
Published 24.08.21, 01:44 AM
|
---
Creating the right atmosphere for learning and acquiring knowledge come first and evaluation comes only in the end, said Nobel laureate Amartya Sen while addressing teachers, students, social workers and healthcare workers in an online session on Sunday evening.
During the session, the economist was asked about the evaluation system and the reopening of schools.
Both have been prickly issues in the state. Schools, colleges and universities have been closed almost entirely since March 2020 because of Covid-19.
Many individuals and organisations, including the CPM's student arm SFI, have been demanding immediate resumption of in-person classes. The Mamata Banerjee government, though, has chosen caution.
Evaluation, too, has been a problem with allegations of over-marking and under-marking in equal measure in the absence of board exams. All board exams were scrapped this year because of the pandemic.
Sen's opinion on the resumption of in-person classes will give the state government some comfort. He said the closure of schools was damaging for children but if reopening meant exposing them to infection, it had to be thought about carefully.
Sen, who had joined from Boston, was a speaker at Reimagining Learning, a web discussion on children's education, health and the environment — three core aspects of a sustainable future — organised by Pratichi's Sahojog.
Sen is the chairman of Pratichi (India) Trust.
Excerpts from his talk
Evaluation
I would say that a lot of times we give more importance to evaluation. Evaluation is absolutely the last work. First work is to prepare the atmosphere for acquiring knowledge, the second work is acquiring knowledge. After that it is to see how much one could move ahead and how to assess that and then comes evaluation. I am not saying that it has no value. But we have to judge the value of it by giving attention to the bigger problems.
My principal opinion is that evaluation is absolutely the last thing. The first thing is how much we are learning, how much we are studying, how much we are understanding and how we are able to move ahead. It needs to be discussed what is the relation of these with that of the errors of the evaluation. But what we do not want to do is to see evaluation in a big way. Evaluation is necessary, that is right, but how much is required, in what way it will be required and how we can use it, that we need to see.
Not just evaluation, but what is the connection between learning, of real learning, with evaluation - to have some more discussion on that.
Reopening schools
It is true that if schools are closed, it is damaging for children. But if reopening increases the chances of children getting a disease, then we need to think about it.
The place where I stay in America, there is an argument between two groups on this. Even in India in various places there is a reason for different opinions.
Had I been an expert in the field of medicine and if I had intense knowledge about social sciences, I could have answered these questions quickly.
That is not possible. I know it is a big problem. It would be belittling the problem if I quickly say that school should remain closed or school should be anyhow opened.
We have to think. And in that it would be seen on many occasions that what is applicable in Birbhum's eastern part might not be applicable to Bankura's western region. We have to think and lay stress on these problems.
This does not have a quick answer. It would have been good had we had an answer to this and something that could have been implemented whenever we wanted to. But that is not the situation we are in.
And we need to think about what is more damaging and what is more profitable. These questions and these finer points cannot be bypassed, is what my understanding is.