Emission, road dust to blame for pollution
National Environmental Engineering Research Institute's report shines light on air quality in Calcutta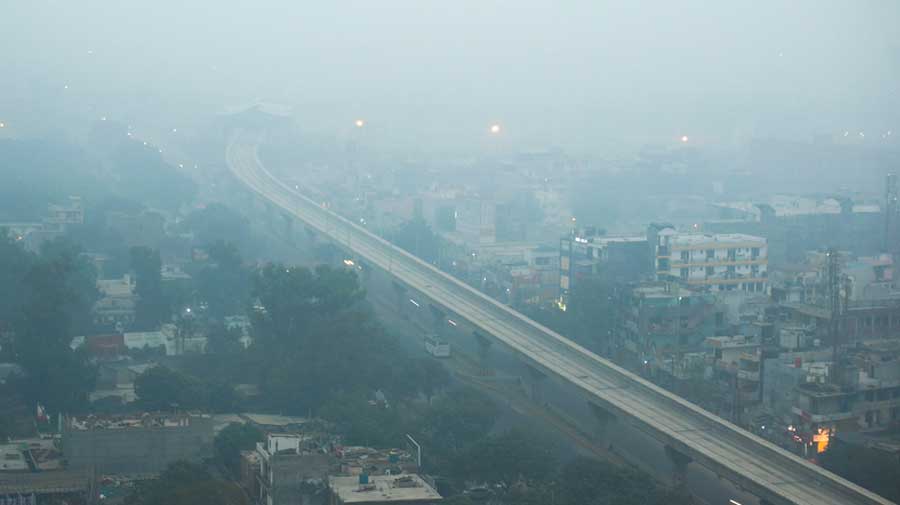 ---
Calcutta
|
Published 09.07.20, 03:07 AM
|
---
The final report of the air pollution source apportionment study by the National Environmental Engineering Research Institute (NEERI) has found that roadside dust and vehicular emission form the major pollution load in Calcutta.
An outline of the report's findings was recently submitted to the National Green Tribunal (NGT) during a hearing in an air pollution case, said environment activist Subhas Dutta, the petitioner in the case. He attended the online hearing during which the findings were shared with the tribunal.
Roadside dust consists mainly of deposits of vehicle and industrial exhausts and dust from unpaved roads, potholes and construction sites. Diesel-powered vehicles, most of which are in commercial use and ill-maintained, are the principal contributor to Calcutta's vehicular emission.
"The information was recently shared by a government lawyer during the online hearing of an air pollution-related case at the green tribunal," petitioner Datta said. Other lawyers who attended the hearing echoed Datta's statement.
NGT's Justice S.P. Wangdi and expert member Nagin Nanda in their July 6 order, which was accessed on Tuesday, had directed the state "to file a status report of the actions taken so far and the action plan prepared in the light of the report of the NEERI along with specific timelines".
The bench asked the status report to be submitted within six weeks and pointed out that the issue had been pending for "almost a decade". The case, earlier dealt by the high court, was shifted to the tribunal in 2014.
"The report highlights the dominance of vehicular pollution in Calcutta's air," said Anumita Roy Choudhury, of the Center for Science and Environment (CSE).
"The finding definitely underscores the importance of vehicular pollution as it contributes to roadside dust as well," accepted Kalyan Rudra, the state pollution control board chairman.
Incidentally, the interim report filed by NEERI in mid-2019 had identified roadside eateries as a major source of pollution in the city. Based on that, the state government had financed LPG connection to a number of food hawkers.
However, the final report has put the eateries and restaurant sector far down the ladder in terms of pollution potential, a government source said.