Elephant calf drowns in West Midnapore, herd turns back
The drowning is being attributed to a surge in the water level in the river because of the monsoon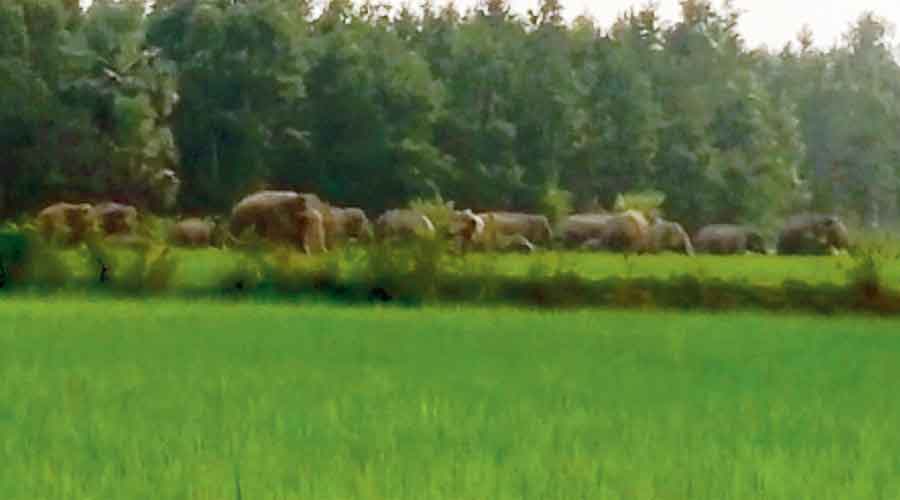 The herd that the elephant calf was part of
Sourced by The Telegraph
---
Published 13.09.20, 04:29 AM
|
---
An elephant calf drowned in a river in West Midnapore in the early hours of Saturday, forest officials said.
The calf, less than a month old, was part of a herd that was crossing the Tamal, a river south of Goaltore town in West Midnapore, around 200km from Calcutta.
The drowning is being attributed to a surge in the water level in the river because of the monsoon.
"We received an alert around 2.30am. The carcass of the calf was found further downstream.
Prima facie, it seems the calf was washed away by the strong currents and died of drowning. The body has been sent for post-mortem," said the divisional forest officer of Rupnarayan division.
A local forest official said the incident was "unusual and unfortunate".
"Elephants are expert swimmers and adult females in a herd are very careful with calves.
They keep a close eye on the little ones. While crossing a river, the calves lean on the rear of an adult female or her trunk for support. The river in question is hardly 40 metres wide. Even with strong currents, it is unusual that an elephant calf will get washed away," said the official.
A conservation ecologist who has researched on elephants said a calf drowning or being washed away is not new.
"Calves get better at swimming as they grow up. In north Bengal, the forest department has in the past rescued calves that were washed away by river currents. One such calf was named Teesta, after the river in which it was lost and found. Teesta is now a full-grown elephant," said Aritra Kshettry, a research fellow with the Union ministry of science and technology, who is working in north Bengal now.
The herd that the calf was a part of has over 20 elephants, said local forest officials. The herd had been camping at Kadamdiha forest in Goaltore range for the past couple of days.
The herd split into two groups on Friday. A forest official said the first group started heading north towards the Nayabasat forest in Hoomgarh range on Friday evening. The group crossed the same river without trouble.
"The calf was part of the second group which took the same route. But after the calf was washed away, the group did not cross the river and came back to Kadamdiha forest. They stayed there for the rest of the night," the official added.
Herds of elephants from Dalma enter the forests of Jhargram, Purulia, Bankura and West Midnapore in south Bengal every year and spend several months before heading back to Jharkhand. The forests of south Bengal are interspersed with human settlements and farmlands that provide easy sources of food for the pachyderms.
Some herds make south Bengal forests their home and do not go back to Jharkhand.