Eduguy launches online test on career choice
3 predictions based on aptitude and interest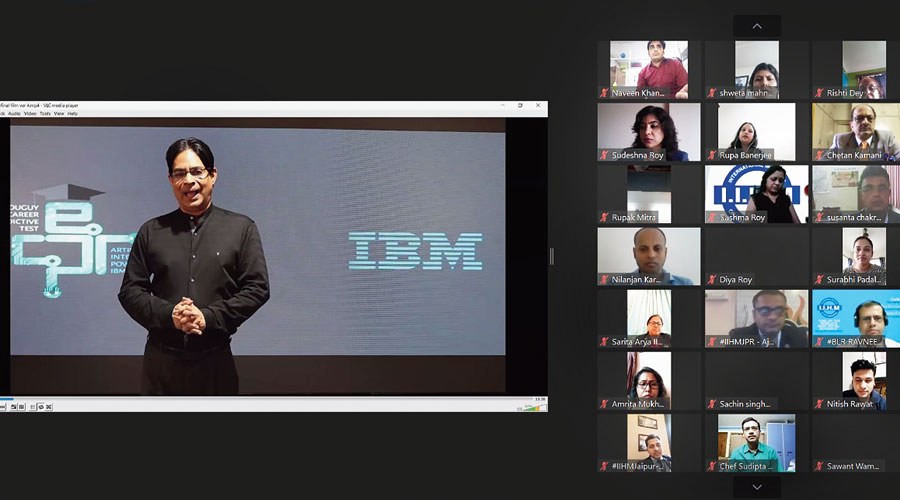 Suborno Bose, founder and CEO of Eduguy, speaks at the launch on Saturday
Screen grab
---
Calcutta
|
Published 06.09.20, 05:28 AM
|
---
An online test that will help students determine their career preferences by assessing their interest and aptitude was launched on Saturday evening.
Often, students are left "groping in the dark" about making the right career choice, those who conceptualised the test said at a programme attended by students, teachers and principals.
The test will give the top-three career choices based on artificial intelligence and machine learning that has been conceptualised and developed by Eduguy, an online platform for career counselling that started earlier this year and IT company IBM.
Eduguy is a group company of IIHM.
"Sometimes children write all kinds of examinations and choose something where they have qualified without thinking whether it is suitable for them or not. We want to change that mindset," Suborno Bose, founder and CEO of Eduguy, said.
"If somebody's skill is towards accounting, engineering, data science or cyber security we want to give them suggestions and not force it upon them," Bose said.
The Eduguy Career Predictive Test is a 120-minute test on aptitude, attitude, aspirations and psychometric parameters that will give a report explaining the three career predictions.
Joining online was the managing director of IBM, India and South East Asia, Sandip Patel, who said it would give students the right direction.
"I think all of us have gone through that predicament… what is the right career… this would be an invaluable tool that would enable all these kids at least to get some guidance," Patel said.
Anyone above Class VIII can take the test. Students can choose to take the test after Class XII as well.
The test can be taken by professionals, too, who want to switch careers. "The test is equally relevant for professionals," Bose said.
Patel said: "Skills and renewal of skills, particularly post-Covid, is going to be very critical for everyone."
The test can be taken at www.ecptonline.com.
After the test, if a student wants, he/she can speak to career counsellors or psychologists for 25 minutes. This option will be available after three months.