Dutta cries foul as club helmed by him fetes Bose
The club has for years been helmed by Sabyasachi Dutta, who was the local councillor before the civic board's tenure ended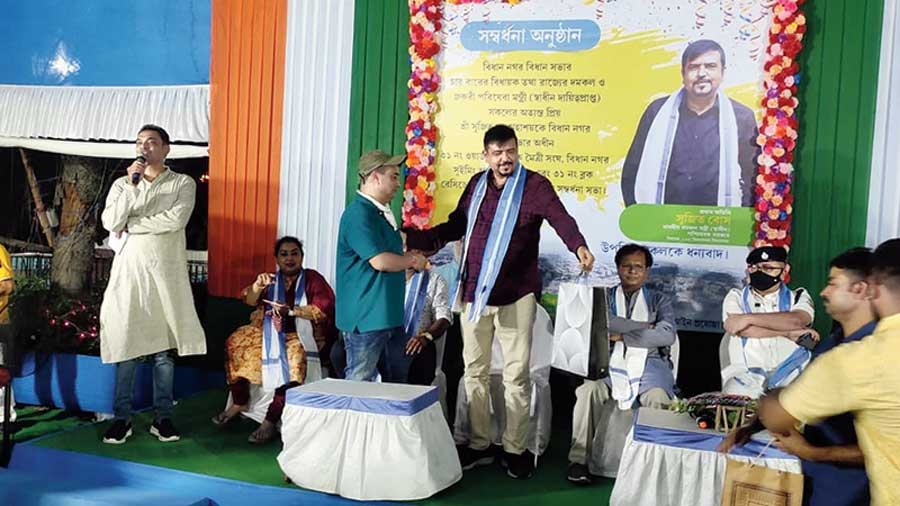 Sujit Bose being felicitated under the banner of Maitri Sangha on Sunday
---
Published 06.08.21, 09:01 AM
|
---
Bidhannagar MLA Sujit Bose was felicitated at the BF Block premises of Bidhannagar Swimming Association on Sunday. While felicitations have been happening regularly ever since Bose, also the fire and emergency services minister, won the seat for the fourth time, what raised eyebrows was the name of Salt Lake Maitri Sangha as the organiser of the event.
The club has for years been helmed by Sabyasachi Dutta, who was the local councillor before the civic board's tenure ended. Dutta had contested against Trinamul Congress's Bose on a BJP ticket in the recent Assembly election.
Bose chose to play down the incident. "There is nothing to be surprised about if residents of Bidhannagar decide to felicitate their representative. What has happened is a realistic scenario. Many of their members were present. I had attended Maitri Sangha's culture programmes before but this is the first time that they felicitated me," he told The Telegraph Salt Lake.
Kripa Shankar Sharma, a CF Block resident who is a founder-member of the swimming club as well as of Maitri Sangha, said outsiders were running Maitri Sangha. "Sabyasachi turned the club into his personal fiefdom. No elections were ever held," he alleged.
Dutta, in turn, alleged that Maitri Sangha was being "hijacked by Sujit Bose and company". "I am still the president. Neither I nor the club's secretary attended the programme. Ninety per cent of those present were not even members of the swimming association," Dutta said.
Sharma said Bose had promised to help with both the swimming pool and the club. "Why can't this club be like the top swimming clubs of Calcutta? It's been 18 years that a court-appointed receiver has been controling the club after a member filed a case of financial irregularity. The building is falling apart. Annual membership has remained stuck at Rs 400. The club is running out of fees raised from seasonal members. The reins of management need to return to members' hands to turn around the club's condition," Sharma said. He plans to hand over the court case documents to the minister to sort things out.