During lockdown, a Calcuttan proves that magic belongs to the magician
The art stays even in the age of Google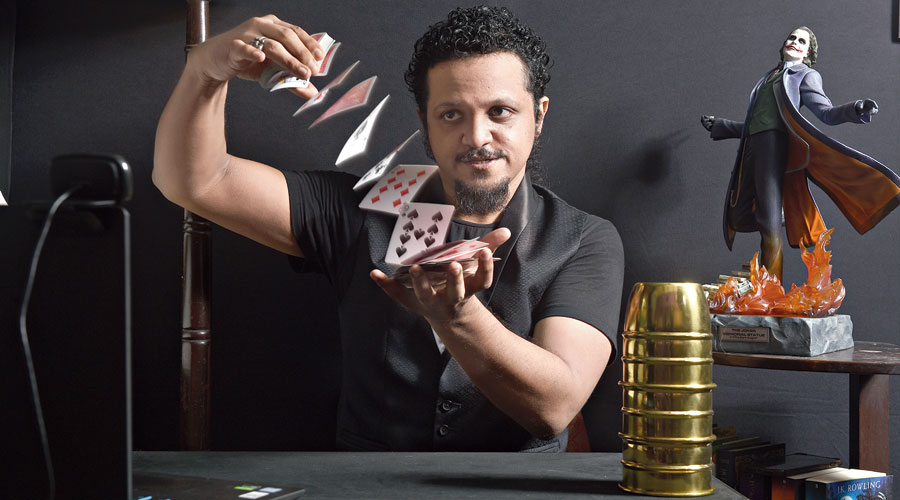 ---
---
All great magicians are named David, claims David Abhijit Nobo, laughing. There's David Copperfield and David Blaine — and himself, a.k.a. Amazing David. But unlike the other two, he is a Calcuttan.
At 32, Amazing David sees himself as belonging to the last of the magicians who learnt from books. "It's easier now, with videos," he says. But it is technology that has come to his rescue now and made him turn his bedroom into his studio, where he has installed a statue of Heath Ledger as Joker, framed Roald Dahl quotes, and a laptop. He is using his phone camera as a webcam.
Magic is one of the oldest human arts, often a companion of religion, though charged, perhaps more than religion, with the possibilities of the dark and the illicit. Only around the 19th century in the West did it become established as a stage act for entertainment, a kind of theatre, which it remains till date. In India, the rope trick was another kind of performance. A few decades later, after Doug Henning, or David Copperfield performing on television, magicians began to be called "illusionists".
But throughout, like theatre, magic needed a live audience. The lockdown made the audience vanish.
For Amazing David it meant work coming to an end. He is popular in the corporate event circuit, where a magic show often helps the transition from gruelling workday to mellow party hour. David, known for his comedy rope escape trick and liked for his friendly, genial manner, is among the higher-paid professionals in his bracket. He is a Bengali. His grandfather, Nobogopal Mukherjee, converted to Christianity and changed his name to Maurice Nobo.
Initially after lockdown, David, who was in touch with other members of Kalkutta Konjurors, a platform for Calcutta magicians, did not know what to do. Then one day he pushed the bed out of his bedroom at his Park Circus residence, turned it into his studio (the current one is the third version) and put together an interactive show that the audience could enjoy online. He put up four ticketed events online, got some footage and sent them to event managers. He told them he could do corporate events again from home, where he also maintains several aquariums, terrariums (glass jars with plants and miniature landscapes), Java doves and a dog. Magic-from-Home began.
David is now performing before corporate audiences again, online. At the end of June, he performed before a live audience of 1,500 from his home, on an online platform.
It is not the same as before. Working magic is not easy. But its pull is irresistible. The theatre of magic combines fantasy, fiction, romance, role-playing and power. David could not help feeling drawn towards it.
When he was in senior school at St James, Calcutta, instead of attending his private lessons, he would sneak away to the spot in front of Indian Museum where sat Basant Thapa, selling magic kits from a plastic sheet on the pavement. David learnt his first lessons in magic here, glimpsing scintillating worlds. By that time he was also heavily into Harry Potter. A bright boy with a curious mind, David learnt magic well but began to do poorly in academics.
He did not fit into regular school, though he is very grateful to an actual play that he had participated in at school: the musical 'Oliver', directed by Katy Lai Roy for St James, in which he had played six to seven roles. It taught him a lot, also about magic. He feels the connection between theatre and magic deeply. "A magician is an actor who is playing the role of a magician," he says.
David began to perform magic professionally in schools when still very young. His mother Namita was his greatest support. By 2006, he was performing magic in almost every school of Calcutta. Though magic was entering a new age of sophistication and world influences, David was a bit of an anomaly in the often ill-paid, "vernacular" magic world of Calcutta. "One reason was my English," says David. "Look, he can speak English!" a teacher at a school had apparently exclaimed to the principal, pointing at David.
About this time, David also tried his hand at a call centre job, sometimes leaving in a local train at dawn with his suitcase to perform a show on the outskirts of Calcutta, and returned to his office. But he left the job as he felt his magic suffer.
In 2010, he participated in a national television reality show on magic, staying in Mumbai. Following that, he began to perform at corporate events, as he wanted to perform magic before an adult audience.
"It is not the trick per se. It is how I interact with my audience," says David. "I draw them into a story." For him, David Copperfield is the greatest magician of all times. "His flying act is the greatest illusion of all times." But Copperfield is the greatest, says his Calcutta admirer, because also gives us a great story, an emotion, of people, of love.
That is difficult online, but he is trying. He has also changed his acts, focusing on those which will survive closer scrutiny better. A lot of mind-reading remains, as do some sleights of hand, but his centrepiece, the rope escape, has been dropped.
But fundamentally, he repeats, magic remains the same. "Any sufficiently advanced technology is indistinguishable from magic," he quotes Arthur C. Clarke. This holds for magic, too, from Houdini through the P.C. Sorcars to now.
On a video call, he asks me to tell him a close friend's name. I do, and a few minutes later it appears on an envelope on its own. I gasp.
But one thing has changed. "At the beginning, I would work with a lot of equipment. Now I can go without any," says David. "Because I realise magic comes from the performer, not from the props." You cannot separate the magic from the magician.
Which is why magic stays even in the age of Google. "Now with all the information available, willing suspension of disbelief becomes that much harder," he says. A Korean group online had taken in particular to exposing every trick. "But you can't find magic by exposing the trick," says David. "You can't find music by pulling the piano apart."