Durga Puja scaled down to help Amphan-hit
Samaj Sebi Sangha on Lake View Road in south Calcutta has brought down its budget this year to Rs 15 lakh from Rs 60 lakh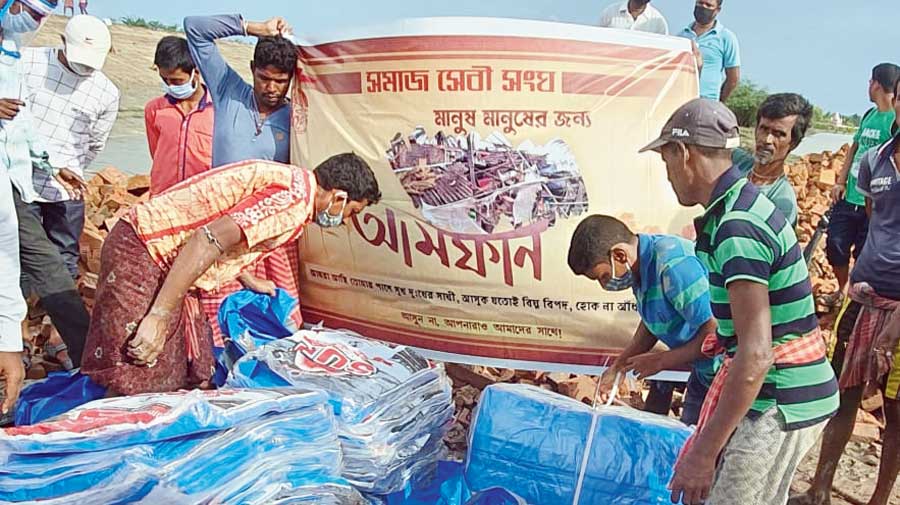 ---
|
Calcutta
|
Published 25.09.20, 01:54 AM
---
Durga Puja celebration in the city may not be the boisterous extravaganza it usually is as most big puja organisers have had to slash their budgets.
One puja committee has taken a conscious decision to cut its budget and against staging a jamboree as it wants to spend the resources to support families in Hingalganj, in North 24-Parganas, who have lost their livelihoods after being struck by Cyclone Amphan in May and are still struggling to stitch their lives together.
Samaj Sebi Sangha on Lake View Road in south Calcutta has brought down its budget this year to Rs 15 lakh from Rs 60 lakh it had spent last year and will hand over Rs 15 lakh in three phases to 75 families of Sardar Para village in Madhabkati block, Hingalganj, 150km from Calcutta, before the Puja.
The 75-year-old Samaj Sebi Sangha puja, which had created a separate entrance to its pandal for people with autism last year, has picked up 75 families from the Amphan-struck village in its platinum jubilee year.
"Since we are known as Ballygunge Samaj Sebi Sangha, we are describing our outreach as a bridge spanning from Ballygunge to Hingalganj. We are spending one fourth of what was our budget last year to support these families," said Arijit Maitra, the general secretary of the puja committee.
How did a club based in Calcutta get to know of the plight of these families and what was the trigger behind the initiative?
A member of the committee said that as stories of large-scale devastation started emerging from areas like Hingalganj, close to the Sunderbans, they felt the urge to help those whose misery had worsened after Amphan lashed large parts of south Bengal on May 20.
He said they got to know about the distress through an NGO, Sarani, which has been working in the Hingalganj area since Cyclone Aila had caused devastation in 2009.
"We had gone to the area in June to provide some relief. While we were visiting the area, we realised they needed some long-term help, which would enable them to stitch their lives together. This we could do by cutting our puja budget," he said.
Another member said Sarani, the NGO, had surveyed storm-hit people to decide who required how much help. Some of the affected families in the Madhabkati block are fishermen, others peasants.
They have lost their livelihoods as the cyclone damaged their fishing boats and breached embankments, leading to saline water from the sea gushing into cultivable land. The support from government agencies did not reach adequately to these families even months after the calamity, said Antara Ghosh Sharma, the secretary of Sarani.
"As the club wanted to do more in the platinum jubilee year of their puja and wanted to know what could be done, we advised them to help these families who are in extreme distress. I believe there is a case for supporting as many as families as possible and other pujas should emulate Samaj Sebi Sangha,'' said Antara.
The club will pay each affected family Rs 20,000. On Chaturthi, the 75 families will be invited to inaugurate the puja and each will be handed a medical insurance policy of Rs 50,000.
"The club will keep paying the annual premium of Rs 2,000 for the policy of each family," said Maitra.
"Besides, the year-long celebration in the platinum jubilee year will remain focused on helping the families in as many ways as possible. We will look after their food, shelter, clothing and educational needs," said Maitra
Samaj Sebi Sangha was founded in 1946 to help families who had suffered in the Calcutta riots.
On its platinum jubilee, the clb wants to live up to that cherished legacy, said a veteran member.