Virus break in rajbari tradition
Visitors barred from Sovabazar puja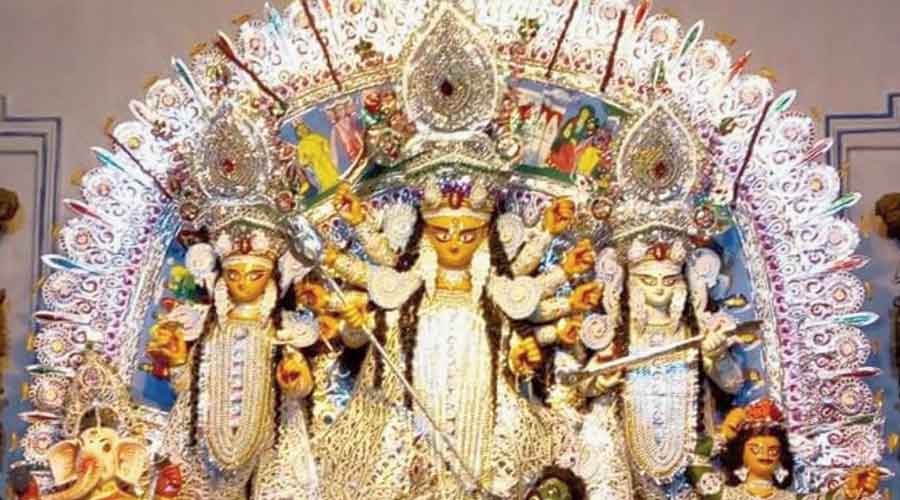 ---
|
Calcutta
|
Published 19.09.20, 02:41 AM
---
This will be the first time since Maharaja Naba Krishna Deb started Durga Puja at his chhoto rajbari in Sovabazar more than 200 years ago that visitors will not be allowed to witness the puja. Reason: Covid-19.
Family members said maintaining social distance and other safety norms would be impossible if visitors are allowed on the premises during the puja.
Naba Krishna had started Durga Puja at his palace in Sovabazar in 1757, the year of the Battle of Plassey. He had adopted Gopi Mohan, his brother's son, as his son. Later, when his son Raj Krishna was born, Naba Krishna built a second palace in Sovabazar and started performing Durga Puja there in 1790.
The second palace — 36 Raja Naba Krishna Street — is known as chhoto rajbari.
"For the first time in the 230-year-old history of our puja at chhoto rajbari that visitors won't be allowed," said Tirthankar Deb, a descendant of Raj Krishna.
"The rituals will remain unaltered but it will not be possible to welcome guests. It will then be impossible to maintain the safety norms," Deb added.
The Debs will issue identity cards to the over 350 members of the family so outsiders don't get to enter the mansion, a heritage structure.
In another break with tradition, the idols will be carried on a trailer to the Hooghly for immersion. In previous years, 32 men used to carry the idols on their shoulders from the mansion to the river.
"For us the Durga Puja of Sovabazar rajbari means the pujas at both palaces," said Soumit Narayan Deb, a descendant of Gopi Mohan. "The puja at the first palace will be stepping into its 263rd year this time. Visitors are welcome to the palace but they cannot step on the thakur dalan (the place where the deity is worshipped)."