To the malls, with masks and eye on AC
With just one weekend left before Durga Puja, a steady stream of men, women and children poured into the various shopping hubs in the city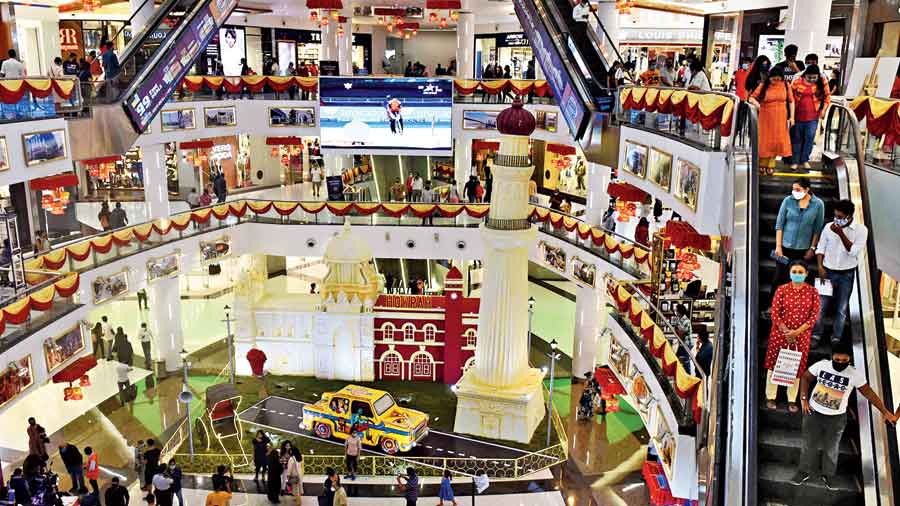 Puja shoppers at South City Mall
Sanat Kr Sinha
---
Calcutta
|
Published 12.10.20, 01:34 AM
|
---
The shopping meter peaked across the city's malls despite Covid fears on Sunday. With just one weekend left before Durga Puja, a steady stream of men, women and children wearing masks poured into City Centre in Salt Lake, South City Mall on Prince Anwar Shah Road and Acropolis Mall near Kasba. The crowd swelled as evening set in.
The Telegraph went around to witness the buying spree
South City Mall
The lights and the decoration on the mall's facade drew admiring glances from passing motorists as well as those headed for shopping.
On Sunday afternoon, a stream of cars, app cabs and two-wheelers was seen headed to the shopping destination and traffic slowed considerably as one got closer to it. The ground floor of the mall was an instant hit among photography enthusiasts and selfie addicts.
The entire floor has been decorated with lights and models of some enduring symbols of the city such as tram, yellow taxi and hand-pulled rickshaw.
Deep Biswas, the general manager of South City Mall, said footfall was steadily increasing with every passing weekend and things have been looking up since last week. He put Sunday's footfall in excess of 40,000. Last Sunday, more than 35,000 people had visited the mall.
"Footfall has been on the rise steadily and we are expecting things to look up from now as there will be an added rush of last-minute shoppers. We are taking all precautionary measures and the mall is staying open till 10pm," Biswas said.
An employee of an apparel outlet at the mall said there had been a marked increase in the number of buyers compared with last Sunday. "Sales are picking up as people are out puja shopping," he said.
Pooja Chettri, a cabin crew member of an airline, visited the mall with friends Natasha Biswa and Yeshmee Gurung to shop as well as to eat out. "We are all wearing masks and also carrying sanitiser. With the festive season so close, we did not want to spend the weekend at home," Chettri said.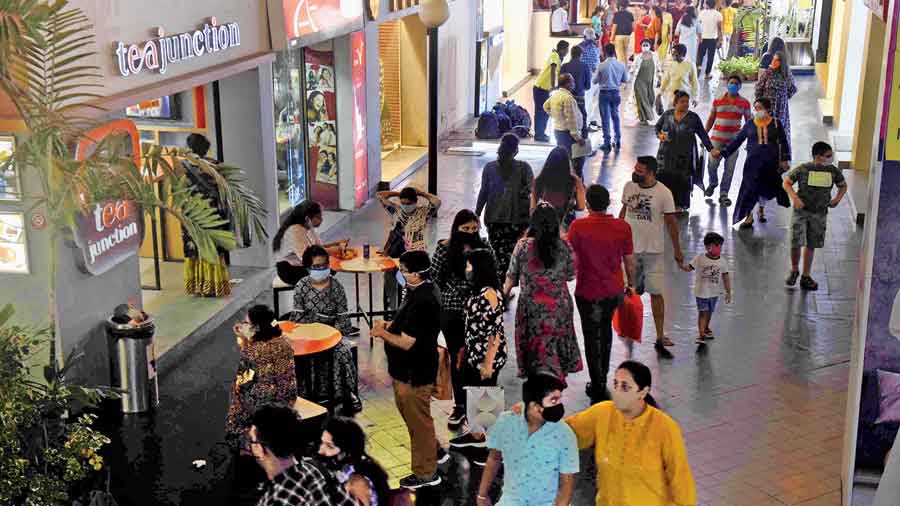 City Centre
The area around City Centre in Salt Lake was bustling with people as well as traffic on Sunday evening. The mall authorities said the footfall had been increasing steadily over the past few weekends.The restaurants at the mall, too, did brisk business and several had people queuing up in front. Srijita Saha, 22, who is pursuing a course in economics at Calcutta University, said nearly everybody in their group had been longing to step out and they decided to do some puja shopping together.
"We decided to come here as the mall is open and is airy compared with other city malls. Everyone has the pandemic in the back of their minds and we did not want to visit a place that has central air-conditioning everywhere. We will have dinner before heading home," said Saha.
Sukanta Mukherjee, the mall head, said the footfall had been rising over the last couple of weekends.
On Sunday, he said, more than 22,000 people visited the mall.
"The sales are picking up and we are going the extra mile to ensure everybody is safe. People have realised that the virus is here to stay and are taking adequate precautions themselves," Mukherjee said.
Acropolis Mall
At Acropolis Mall, too, Sunday witnessed a bigger turnout compared with the last weekend. The day's footfall, an official said, touched 12,000.
The general.manager of the mall, K. Vijayan, said they had been noticing an upward trend in terms of footfall over the past couple of weeks. "The turnout is increasing at 8 to 11 per cent on a daily basis. We are expecting the sales to surge even more as Durga Puja is still 10 days away and last-minute shoppers will drop in as well," said Vijayan.
The mall has been decorated with a floral theme aimed at "lifting the spirits of everyone".
"Our mall will remain open from 10.30am to 11pm till October 20. Sales were encouraging on Sunday. The restaurants and the food court, too, did good business," another official of the mall said.