Should I go pandal-hopping?
The Covid-19 pandemic has changed a lot of things in our lives, including the questions we ask doctors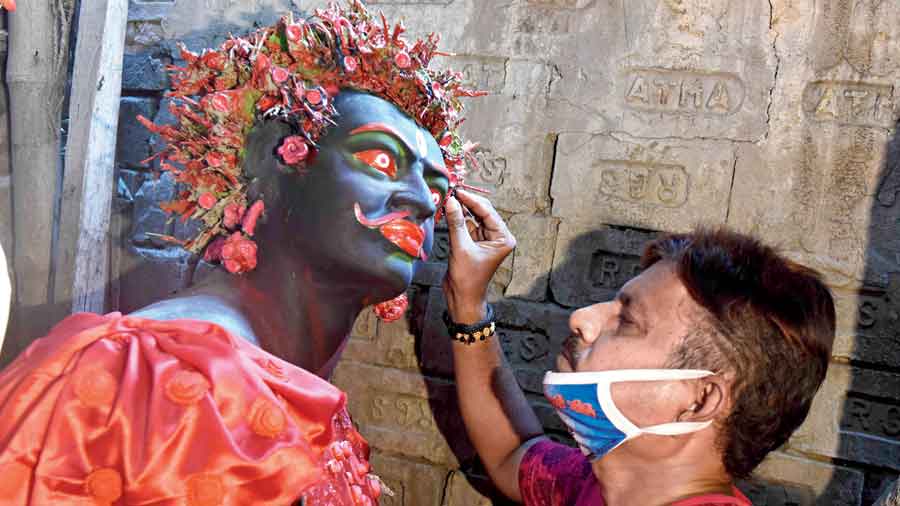 ---
|
Calcutta
|
Published 17.10.20, 03:10 AM
---
⚫Daktarbabu, when will Covid go away?
⚫Can I go for Puja shopping?
⚫I am planning my daughter's wedding in January, will it be possible?
The Covid-19 pandemic has changed a lot of things in our lives, including the questions we ask doctors. Queries once reserved for astrologers are now being directed at doctors.
One doctor recently received a handwritten letter from a patient which contained questions like whether he could go out to buy milk or drink warm water mixed with fresh lime juice. "Most of these questions are not related to treatment. But we understand that people are now under a lot of stress and are often unsure about taking any decision," said a public health expert.
From travel plans to children's marriage, many are turning to doctors for advice.
The Telegraph spoke to some leading doctors in the city — surgical oncologist Gautam Mukhopadhyay, pulmonologist Ajoy Krishna Sarkar, nephrologist Arup Ratan Dutta, psychiatrist Ranadip Ghosh Ray and liver diseases specialist and public health expert Abhijit Chowdhury — to know some of the questions people are asking and the answers.
When will Covid go away?
None of the doctors, public health experts or scientists dealing with viruses knows the answer. In all likelihood, Covid will stay like most other viruses and can mutate. We have to wait for some time to know the answer.
When the vaccine arrives, can I return to normal life after getting a shot?
There are several unanswered questions like when a Covid vaccine will arrive, when it will be available for mass distribution and how effective it will be. "The influenza vaccine provides only 60 per cent protection, so we are not sure about the effectiveness of the Covid vaccine," said one of the doctors.
Air pollution is again rising after the lockdown norms were eased. Does increased air pollution make me more vulnerable to Covid?
Air pollution has no direct link with someone getting infected by the coronavirus. But there is definitely an indirect link, said doctors. "Dust particles enter our lower respira-tory system and prolonged exposure to air pollution compromises the condition of the lungs. Since Covid-19 essentially attacks the respiratory system, someone with compromised lungs is more likely to become critical," said a doctor.
Can I go for Puja shopping?
This is a public health issue. Public health experts and the state government are apprehending a spike in the number of Covid cases during and after the festival season. Shopping in a crowded place is one of the worries. One should take adequate precautions like wearing masks, sanitising hands and avoiding touch as much as possible. These measures will definitely bring down the risks.
Is it safe to go pandal-hopping?
Like shopping, one should take necessary precautions. It's better to avoid crowded pandals. The best option is to stay home.
If I meet friends and relatives and go pandal-hopping on all Puja days like before, will anything happen to me?
No one has an answer to this question. The higher the exposure, the more the risk of getting infected by the coronavirus. The problem is many infected people are asymp-tomatic and temperature checks at pandals, shopping malls and restaurants will not be able to detect infected persons. So doctors are advising people to celebrate in a restricted manner and take as many protections as possible. Again, the best option is to stay home.
If I have Covid, will it stay in our genes and affect the next generation?
Covid is extremely contagious. So, a Covid patient is kept in isolation. But there is no scientific data suggesting that the virus stays in genes.
Will I be able to fight Covid better if I drink warm water mixed with fresh lime juice on an empty stomach? Will multi-vitamin pills protect me from Covid?
Micronutrients such as Vitamin C and zinc are important to develop the immune system and play a vital role in promoting health and nutritional well-being. However, there is no scientific evidence that micronutrient supplements can play a role in Covid treatment.
Is it safe for me to travel to Mumbai to meet a relative or for the relative to visit me in Calcutta?
Mumbai has a high number of Covid cases and in Calcutta, too, cases are rising every day. People are now flying between Mumbai and Calcutta. If one takes proper precautions all through, it does not matter who goes where.
Can I go on a holiday?
Travelling is not advised by public health experts at the moment unless it is absolutely necessary. Also, regular international flights and long distance trains have not yet resumed. But, people are planning holidays. Taking precautions is important. One should go through government advisories carefully.
My daughter's wedding has long been scheduled for January. Can I go ahead with the plans?
The state government is allo-wing wedding ceremonies. But social distancing should be maintained and the number of guests needs to be restricted.
Can I visit the market to buy vegetables and fish? Can I go out to buy milk?
People are going out to buy stuff, so there is no reason why one should not. But those with co-morbidities and el-derly people should avoid going to markets and other congested places. Anyone visiting shops must wear masks and sanitise hands frequently.
Can I colour my hair?
The state government has allowed parlours to reopen. So one can visit a parlour provided the staff are maintaining all hygiene norms prescribed by the government.