Time to show off your pets
The Dum Dum Youth Canine Association gave out handsome cash prizes to four-legged champions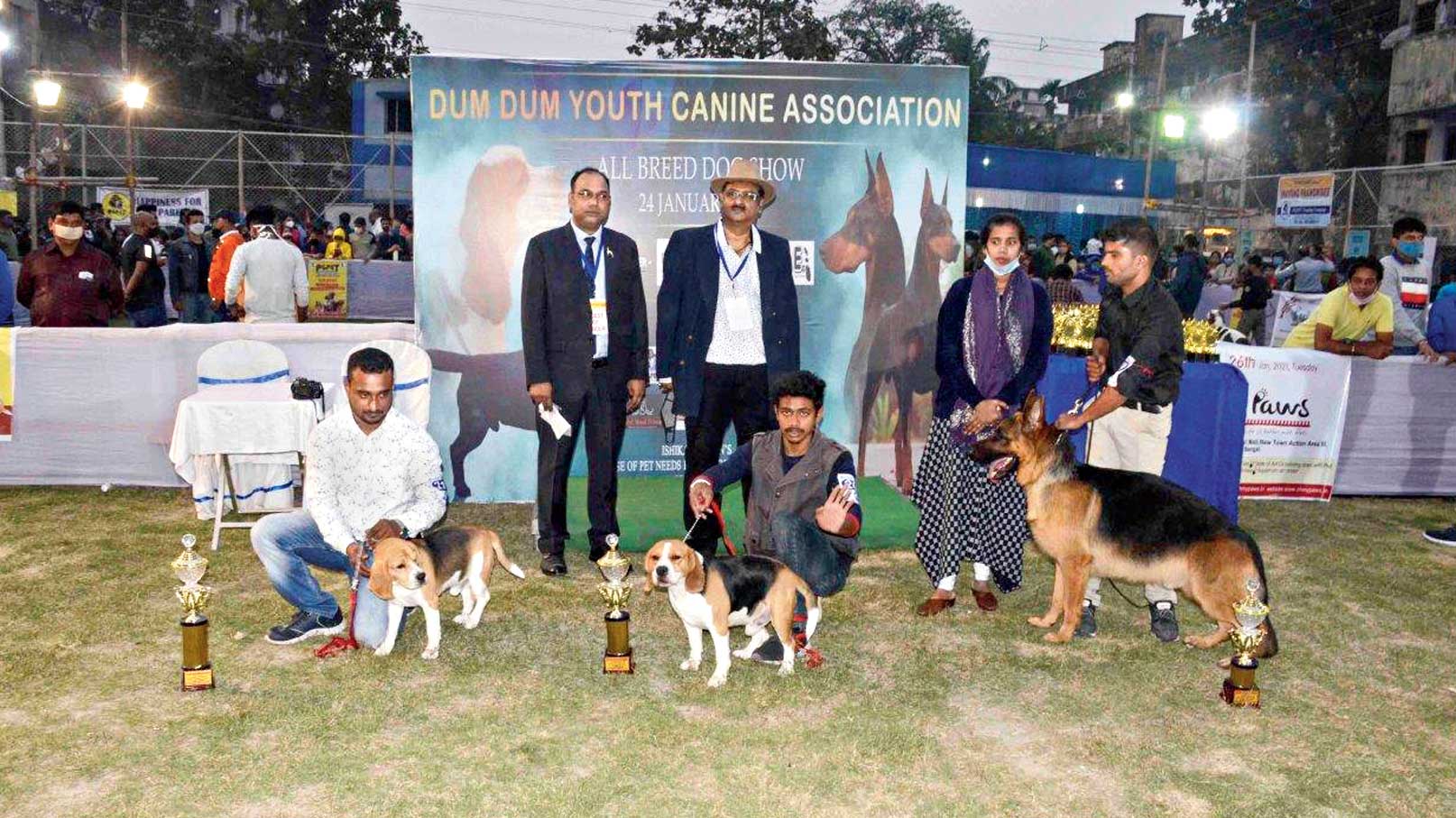 ---
---
The Dum Dum Youth Canine Association held a pet show earlier this year that gave dogs a chance to come out, play and show off the skills they had been honing all through the pandemic year.
The show drew 164 participants, including some from different states. Don, a Rottweiler, and Simba, a German Shepherd Dog, had come from Jharkhand. "Please don't come too close! It's Don's first show and he's very protective of us. He might get aggressive," said Amrita Deep, who had driven seven hours to get to the show.
Then there was Rambo, another Rottweiler, who "didn't know how to bite". "People are scared of him seeing his size but he's gentle and loving," said Subrata Sarkar, who had brought his dog from Howrah. "I have another Labrador at home and they are thick as thieves. If I don't serve a meal to one of them, the other refuses to eat."
Pragya Paul, a student of Class VII, couldn't stop talking about her Lhasa Apso Disney and Pomeranian Gublu. "Gublu is the naughty one and teaches Disney the ropes. He loves climbing up things and when I sit for my online classes he climbs up the table and sits on the laptop," she smiled.
Disney, on the other hand, was timid. "I play the violin and whenever I hit the high notes he runs and hides in his cage! Even when guests come and he goes missing, we know he's retreated into his cage," Pragya smiled, drawing the dog into an embrace.
Souryasree Chakraborty, who had come with her Cane Corso Zoe, knew all about naughty dogs. "We choose this breed after some research. The internet had praised this breed to the skies, calling them loyal, strong and great guard dogs. The only point it forgot to mention is how naughty they can get!" laughed Class VI student. "Zoe has ripped off all wires and pipes at home."
Lockdown days
There was also a Saluki, curiously named Chile. "Well, actually his tail is shaped like the map of the South American country Chile so that's what we named him," reasoned Prasenjit Dey. Chile has been enjoying the lockdown to the hilt, what with everyone home with him all day. "We have a huge terrace for him to run in so he's not cooped up either," said Dey.
Vivo, the Great Dane of Kankurgachhi, has been enjoying the lockdown with both Vijayendra Singh and their Grey Parrot Angel. "Truth be told, he's scared of Angel," laughed the businessman. The bird had obviously not come to the dog show but Vijayendra was full of stories about her too. "Would you believe she chants Om namah Shivay?" he said proudly, as Vivo turned his massive head to him so as to not feel left out. "I've been with Vivo all through the pandemic and might have spoilt him in fact," he smiled. 
Ten-year-old Debapriya Bhadra got the best gift possible during the pandemic — a St Bernard puppy. "Happy is barely six months old but is already 42kg. He'll be 100kg by the time he turns two," said the girl who said Happy was naughty but not more than herself. "We have another dog at home — a Rottweiler named Lucky — but didn't get him as it would get too much to handle. All my boredom flies out the window with these dogs around."
Official word
The Best in Show awards in the two rings went to Sudip Kundu's Beagle and Goutam Giri's Golden Retriever.
"One of the reasons our show got a huge number of entrants was the prize money. Besides trophies and titles, we gave away a total of Rs 65,000 in cash prizes," said one of the organisers, Subhajit Chakraborty.
The other reason, he felt, was because no pointed shows were being held at all. "Not only are dogs missing the action, but trainers and handlers are missing out on their income too. Pet shows like this try to get the wheels spinning," Chakraborty said.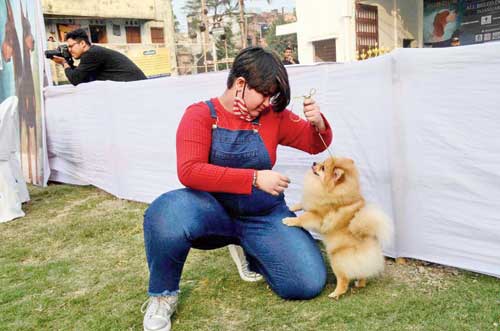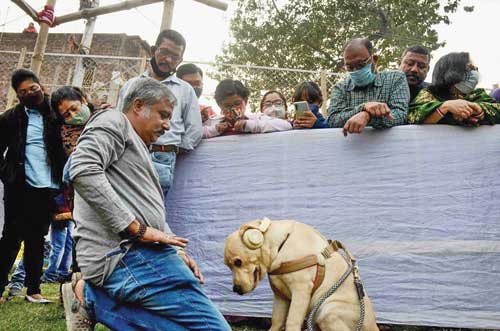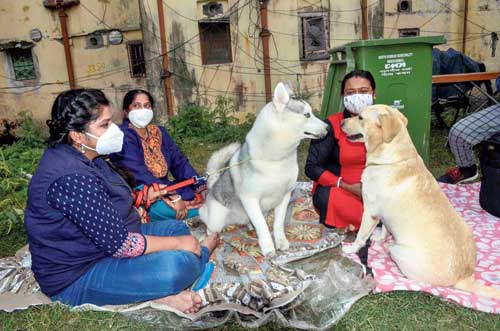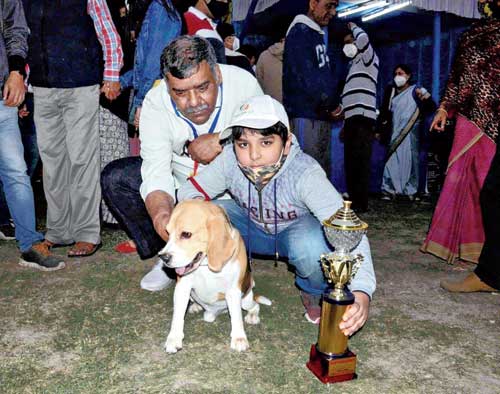 Best of the rest
The show also had a round for dogs who do not qualify in pointed shows. But here such dogs were given a red carpet, with the top prize going to Duke, an FD Block Beagle. "Duke has a bite problem but he's a wonderful dog. All other dogs in this round were given consolation prizes and I hope other pet shows introduce this round as well," owner Sanghamitra Hazra.
Pictures by Basudeb Behera