Dum Dum Park club gifts Durga puja to Amphan-hit village
It was decided that Tarun Dal will sponsor a pulao lunch in Hinganlganj on Navami, just as they used to do in their own neighbourhood in other years, and a set of new clothes for every villager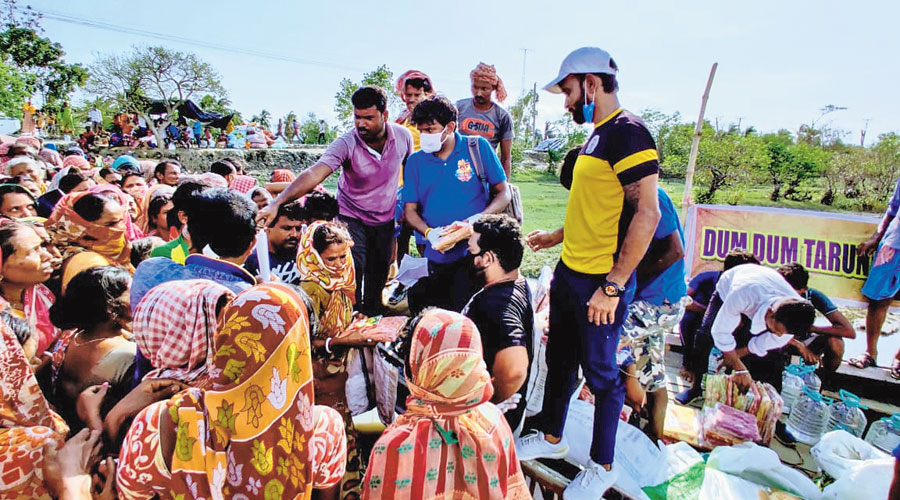 Relief material being distributed by Dum Dum Tarun Dal members in Chhoto Sahebkhali village of Hingalganj after Amphan
Telegraph picture
---
Dum Dum
|
Published 05.10.20, 02:39 AM
|
---
This year Dum Dum Tarun Dal, a popular puja in Dum Dum Park, will organise not one but three pujas. Two of them will be in a far-away village in Hinganlganj.
The club had gone to Chhoto Sahebkhali in North 24-Parganas in end-May to distribute relief materials in the aftermath of Cyclone Amphan. "It takes a five-hour drive and a boat ride to reach there.  We had found 210 of the 325 huts in the village inundated. So when Durga Puja came closer, we went back to check on their plans," said Biswajit Prasad, the club's general secretary.
The answer was disheartening. "The villagers said when they had little to eat they could hardly afford to raise funds for a puja." The majority of the villagers were into pisciculture and, with salt water flooding the bheris, their income had been drastically hit. Many tailors had lost their jobs in the city and went back home.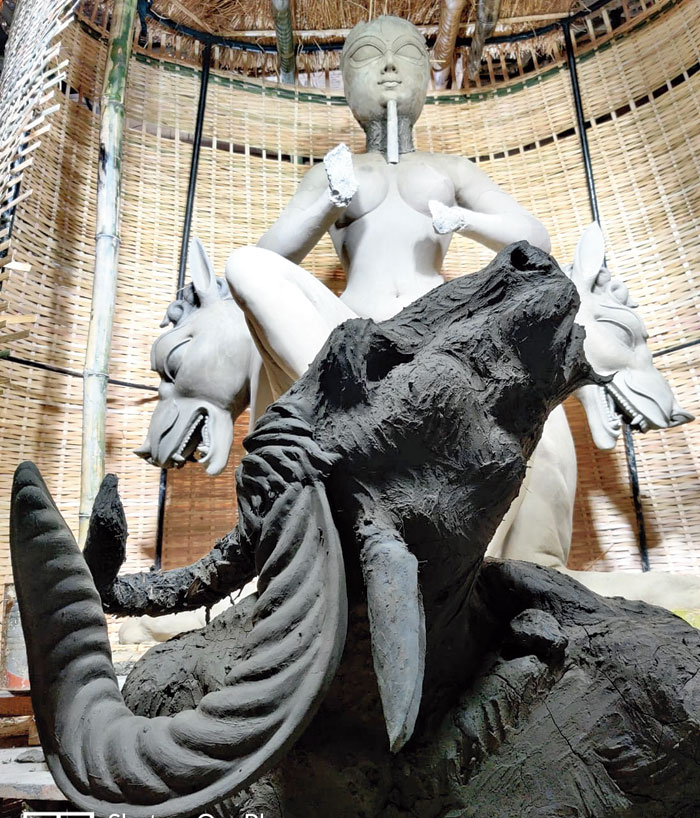 "Their situation made us determined to do something for them. When we brainstormed, it struck us that we would not be able to hold the community lunch for our neighbours anyway this year because to the pandemic, so the fund required for that would be saved," said Prasad.
The last edition of the puja was a Rs 70-lakh affair. This time the budget was reduced to half. "From that, we set aside Rs 15 lakh for the village," he said.  The club members went back to the village to take an estimate of their overheads. "Their idol costs Rs 19,000, their pandal Rs 25,000 while the bill for lights comes to Rs 20,000. But we wanted to do more than help just the puja organisers. We wanted the villagers to smile as well during the festival," Prasad said.
So it was decided that other than the two pujas in the village, the city club would sponsor a pulao lunch there on Navami, just as they used to do in their own neighbourhood in other years, and a set of new clothes for every villager. "It is a Covid-free zone now," said Prasad.
"Our members went back twice more to do a door-to-door survey on the number of men, women and children and their respective ages," said Prasad. The saris have been bought. "Today I deposited an advance for 373 panjabi kurtas," Prasad smiled. Children are getting baba suits and frocks.
At the club's own backyard, the theme this year would be  Ma-er ghor (Mother's house). Theme maker Debatosh Kar will be decorating the pandal with cane artefacts. Inside, Durga will be seated on two horse-like lions while the demon king would rise as a human figure with the head of a buffalo. "We showed them a picture of our idol under construction. They did not like it at all. They said they preferred the work of their local idol-maker to our Rs 3-lakh creation!" laughed Prasad.  
So the orders for the two pujas have been placed with the village idol-maker who was too happy to get work. "Even the lunch will be cooked locally. We will just carry the rations from Calcutta. This way, we are contributing to their economy as well," said Prasad.