Dry winds heat up Bengal poll season
Little chance of Nor'wester now: Met office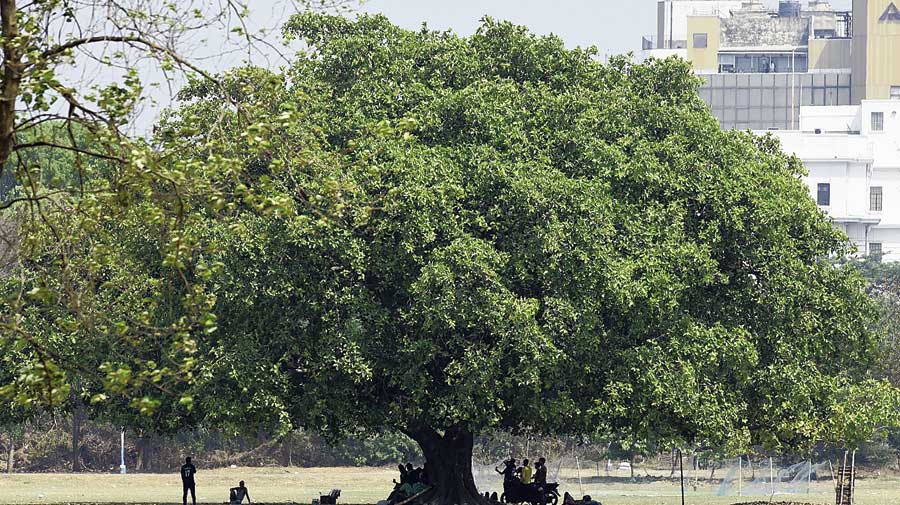 People in the shade on the Maidan on Tuesday.
Sanat Kr Sinha
---
Calcutta
|
Published 31.03.21, 01:29 AM
|
---
The heat is on the rise in the poll season, literally.
The mercury climbed to around 38 degrees in Calcutta on Tuesday, a couple of notches up from the day before and three notches above normal. The next couple of days could see the maximum temperature rise to 39 degrees, the Met office has warned.
In the western districts of Bengal, the mercury could rise to 41 degrees, said a Met official.
The Met office has attributed the rise in temperature to hot and dry winds flowing into south Bengal from Bihar and Uttar Pradesh.
"A trough of low pressure is stationed over parts of Uttar Pradesh, Bihar, the Northeast and Bangladesh. Westerly winds are originating under the trough. These hot and dry winds are flowing into Bengal via Jharkhand, pushing the Celsius up," said G.K. Das, director, India Meteorological Department, Calcutta.
"Dry weather is likely to prevail over the districts of Gangetic West Bengal. Gusty wind (30-40 kmph) likely at one or two places over the districts of south Bengal. Heat wave condition likely to prevail over the districts of Purulia, Bankura, West Burdwan, Jhargram and West Midnapore," said a Met bulletin on Tuesday.
In Calcutta, the weather portal AccuWeather showed the temperature to be 37.5 degrees around 3.15pm. The RealFeel was a staggering 44 degrees.
From north to south, umbrellas were out on the city roads to shield pedestrians from the scorching sun. People often took shelter under a shade or a tree.
A week ago, the humidity content in the Calcutta air was unusually low because of very little moisture incursion from the Bay of Bengal. The minimum relative humidity, a measure of the moisture content during the driest part of the day, had been in the range of 20 per cent, compared to the around 40 per cent which is usual for March-end.
But over the past few days, the moisture content has been rising. On Monday, it was a little less than 40 per cent. Some moisture incursion from the Bay has increased the relative humidity, the Met office said. But there is no chance of rain in the city over the next couple of days.
"The dry winds are expected to weaken after April 1. If the moisture content increases in the coming days, it can combine with the pent-up heat to form rain-bearing clouds," said a Met official.
"The showers, if any, will be brought by local clouds. There is very little possibility of Nor'wester in the coming days," the Met official said.
While rain is unlikely in south Bengal, the Himalayan regions of Bengal and Sikkim are likely to get widespread rain because of another trough over north Bengal and Sikkim, the Met office said in a bulletin issued on Tuesday.