Drugs dealers appeal to state govt to stop growing trend of 'panic buying' of medicines
Senior officials said there is little they could do to formulate a policy that would prevent people from buying certain drugs in bulk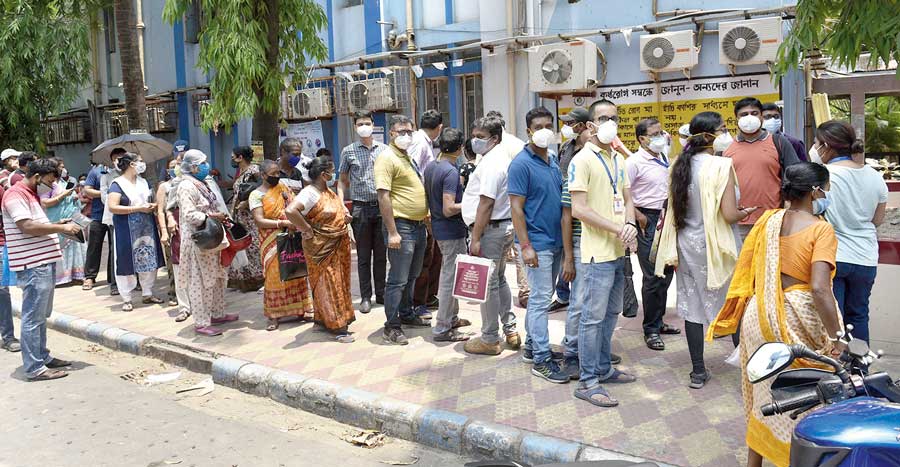 ---
Calcutta
|
Published 09.05.21, 02:24 AM
|
---
Medicine and drugs dealers across Calcutta have appealed to the state government to intervene and find some way of stopping the growing trend of "panic buying" of certain medicines by a section of people leading to mismatch in demand and supply.
Most of these medicines, a certain variety of antibiotics, vitamin C and multi-vitamin tablets, are sometimes being prescribed by doctors to treat asymptomatic or mildly symptomatic Covid patients in home isolation.
Several medicine dealers said while a physician's prescription would be for a lone family member who has tested positive, a buyer would usually end up procuring the medicines in bulk for the rest of the family members often in anticipation that many others could be taken ill.
What drug dealers termed as 'panic buying' is a reflection of real fear across many homes.
Several families that Metro spoke to said they had bought more than their immediate quota of medicines out of fear that they may not be able to step out in the future if any one of the members tests positive.
Senior officials of the health department said there is little they could do to formulate a policy that would prevent people from buying certain medicines in bulk.
"Some of these drugs including Vitamin C tablets were never on the top priority list before. The pandemic has changed it all. People are afraid," said a senior official from the Directorate of Drugs Control. "We have appealed to the clearing and forwarding agents dealing with medicines from all major pharma companies to push up their demands for Bengal so that they receive medicines in bigger numbers."  
Several medicine shop owners from parts of Gariahat, Shyambazar, Maniktala, Behala, Dum Dum and Jadavpur said the trend for bulk buying has been growing with every passing day as the number of Covid-19 patients continued to go up.
"Several buyers are turning up and questioning us whether there is any ban on sale of some of these medicines in bulk quantity and why we wouldn't give them when they were ready to pay," said Uttam Roy, a medicine shop owner on EM Bypass near Patuli. "A few others have been coming and showing names of certain drugs that they have found on the internet and asking for multiple strips of these medicines."
With some of these medicines flying off the shelves faster than their supplies would reach the shops wholesale and retail medicine dealers appealed to the health department to find a way to address this demand-supply gap.      
At a meeting on Friday with representatives from the health department medicine dealers requested the state government to spread awareness against what they felt was erratic hoarding of medicines.
"If Calcutta requires around two lakh strips of Doxycycline in normal times, the demand has shot past the five lakh figure now," said Sankha Roy Chowdhury, president of the Bengal Chemists and Druggists Association. "The same holds true for a few other medicines including vitamin-C, vitamin-C with zinc."
Across wholesale medicine hubs in Burrabazar and Bagree market, traders have been Whatsapping a list of certain medicines asking their counterparts to stock up as much as possible from the distributors to meet with the demand.
"The distributors are saying they can only ask the pharma companies to increase their supplies to Bengal but they can't force their way," said Chandresh B Sanghvi, president of the association of drug dealers operating out of Mehta Building.