Dressed as first in their fields
The programme took place before the pandemic stalled all activities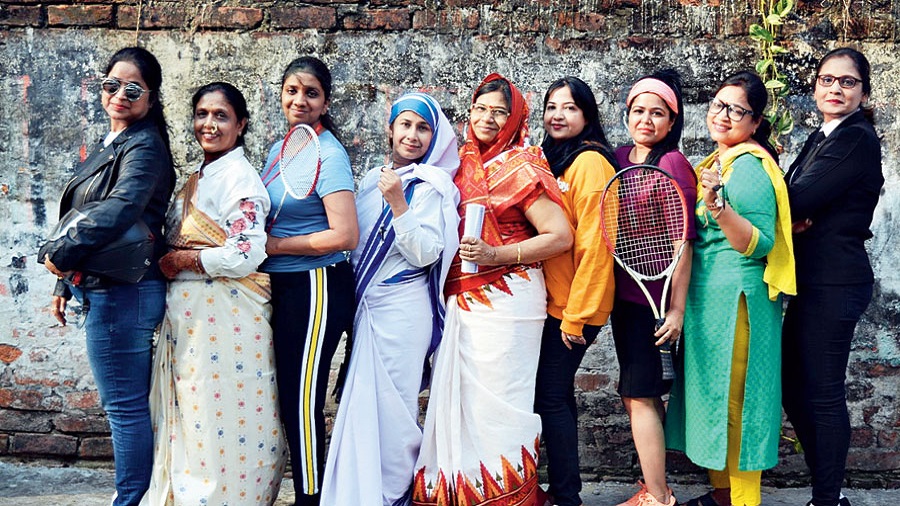 The ladies dressed as the first Indian long distance biker Roshni Sharma, doctor Anandi Joshi, Sania Nehwal, Mother Teresa, Pratibha Patil, Kalpana Chawla, Sania Mirza, the first lady auto driver Shila Dawre and pilot Durba Banerjee.
Sourced by the Telegraph
---
Published 04.09.20, 04:22 PM
|
---
As a child I wanted to become a pilot but it didn't happen. Nonetheless, I got to look and feel like a pilot at a programme to pay tribute to women this year and it turned out to be next to the real thing," smiled Priyanka Kejriwal, who had dressed up as Durba Banerjee, India's first woman commercial pilot.
Priyanka and eight other women celebrated their gender by dressing up as Indian women who were firsts in their field. The fun project was the brainchild of Namitha R. Dalmia, who runs Ssidhh Studio in Kankurgachhi. The programme took place before the pandemic stalled all activities.
"I first picked the personalities I wanted to feature, studied their dressing styles and chose women from among my clients and friends to play them. I assigned them roles as per their figures as it would bear the closest resemblance," said Namitha, a fashion designer.
The participants had a ball. Whether it was AJ Block's Suman Jhawar who felt all important draping the ghoonghat over her head like former president Pratibha Patil or Suddha Dalmia, who sat behind an autorickshaw wheel to pose as the country's first lady auto driver Shila Dawre.
"We had hired an auto for the shoot and, no, I didn't try to drive it lest I also stage the first auto accident by a woman!" laughed the lady who had worn a green and yellow salwar to match the colour of autos in the city.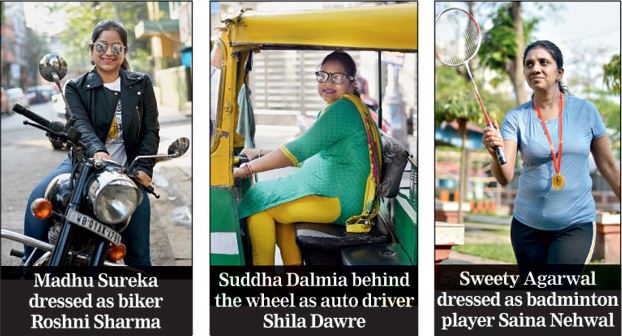 Madhu Sureka, smartly turned out in jeans, shades and leather jacket, posed with an Enfield. "I play Roshni Sharma, the first lady biker to ride from Kanyakumari to Kashmir," said Madhu, who confessed she had to Google Roshni to learn about her. "The lady had a point to prove. Riding was her passion and she didn't let anyone stop her," said the lady who runs a boutique. The bike, by the way, was borrowed from the photographer who was covering the event.
Rekha Choudhary was flattered when told she would be playing the beautiful Sania Mirza. "My husband and I play tennis and I've watched Sania playing too. Her wardrobe, however, is nothing like mine and I had to borrow my daughter-in-law's skirt to wear for the role. I couldn't source a nose ring like Sania's either and I finally resorted to jugaad by using a pin from a chandelier for the job," laughed the resident of CD Block.
To play Saina Nehwal, Sweety Agarwal took tips from her daughter, a district level badminton player. "It was great fun but next time if Namitha holds such a shoot, I would like to pose as Rhonda Byrne, author of my current favourite book The Secret," said the lady who runs a furniture business.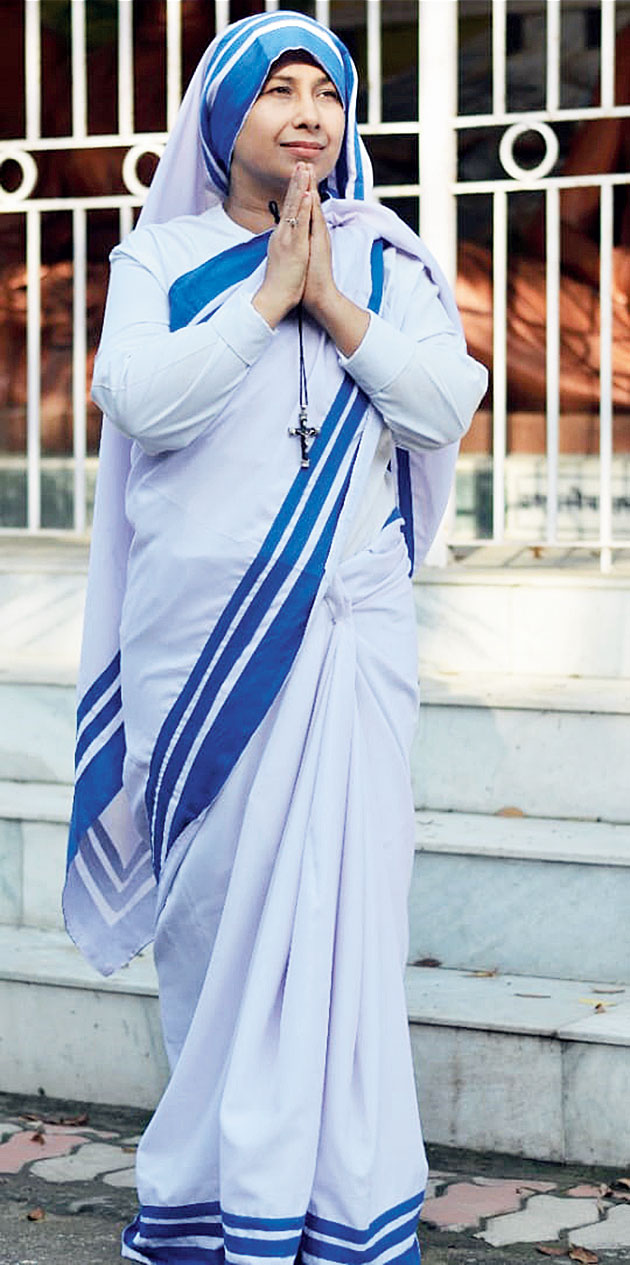 Priyanka jests that she had an upper hand at playing a pilot as she lives so close to the airport. "I can see the airport from my terrace at Ujwala Luxury Complex in New Town and we can hear flights taking off and landing all day. If I was a real pilot I would have travelled the entire world by now."
For those like Indra Choudary, the opportunity was one to live their dreams. "How else could I feel like I'm going to outer space?" asked the lady who played astronaut Kalpana Chawla. She wore an orange sweatshirt and draped a black dupatta in a way that resembled the NASA space suit and let her straight hair down to recreate the iconic picture of Chawla.
"I played Anandi Joshi, one of the first lady doctors, and I can only imagine how difficult it must have been for her to fight for an education so many generations ago," said Usha Saraf, a resident of AJ Block. "She remains a role model for women today."
Rekha does not have a daughter but says has asked her daughter-in-law to do everything she herself wanted and couldn't.
Everyone wanted to know what Namitha, the brains behind this project, would dress up as. "They all thought I would save a beautiful princess-like personality for myself but I told them I'm like a mother to them all. So I dressed up as Mother Teresa."