Drainage hope for Chinar Park
The low-lying areas get inundated every rainy season. The accumulated water takes days to dry out and by then mosquitoes multiply.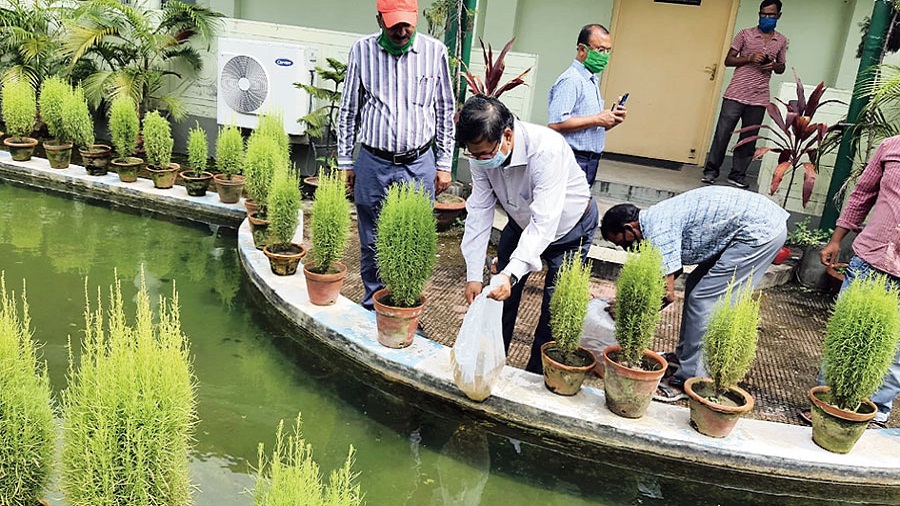 ---
---
A drainage pumping station will be set up near City Centre II to prevent water-logging in monsoon. It will be built jointly by Bidhannagar Municipal Corporation (BMC) and the Housing and Infrastructure Development Corporation (Hidco).
Areas lying on the border of BMC and New Town Kolkata Development Authority (NKDA) jurisdiction such as Chinar Park, Haldiram's and Teghoria are low-lying and get inundated every rainy season. The accumulated water takes days to dry out and by then mosquitoes multiply.
"High-powered pumps will be placed and a network of drainage lines will be laid so the water drains off quicker," said a corporation official. "It will be built near the corporation's stackyard."
"The water will be emptied into the Bagjola and the Kestopur canals that cut across New Town, and the height of the banks of these canals will be raised by at least 2ft so they don't overflow," added an NKDA official.
During a survey conducted jointly by the BMC and NKDA, waste dumped in canals was found to be the prime cause of them choking. "The dwellers living along the banks of Kestopur and Bagjola canals throw household waste regularly into the canals so we are planning to set up nets over these canals. That way, even if they throw something it won't reach the water and can be cleaned up easily," said the NKDA official.
Mayor Krishna Chakraborty said they would work jointly with NKDA and Hidco to ensure that these projects run smoothly. "We have also started fumigating and spraying larvicide in all 41 wards of the corporation. Door-to-door fever surveys have also started," she said.
In New Town, NKDA has started drone surveillance to check for accumulated water on top of buildings and will release around 3 lakh guppy fish in the waterbodies in all three action areas of the township.
"These fish eat mosquito larvae," said Debashis Sen, chairman of NKDA. "We will also maintain a vigil on construction sites. We have already asked the authorities of colleges and universities, that are now shut due to the pandemic, to ensure there is no stagnant water on campus."
Sen, who also heads Nabadiganta Industrial Township Authority (NDITA), said that drones will be flown in Sector V to check for stagnant water, focusing on rooftops of office buildings that are shut due to the pandemic.