Move to calm frayed nerves
Don't harm tigers, Forest department tells villagers in Sundarbans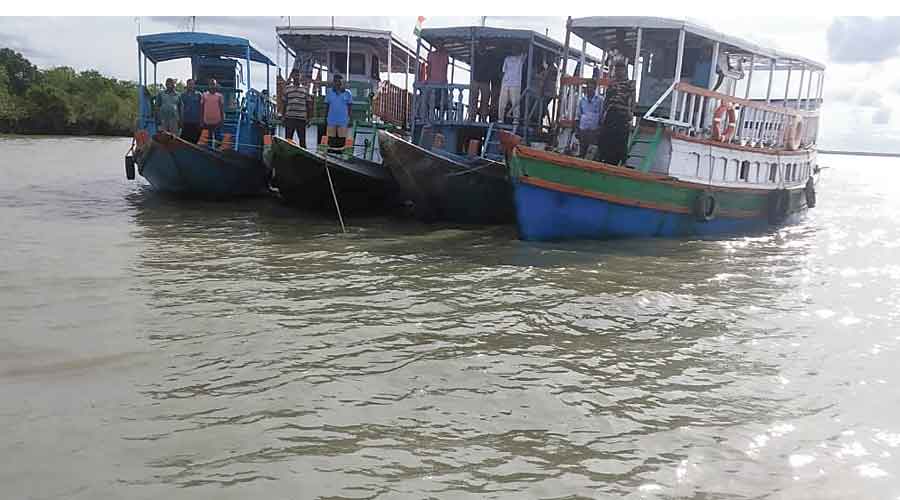 ---
---
Forest department officials have held meetings with panchayat pradhans, members of joint forest management committee members and villagers from the Sunderbans and asked them not to harm tigers if they spot one.
Tempers are frayed in the region after three men got killed in tiger attacks in the Jhila forest area.
Anger is simmering as villagers and fishermen believe a single tiger has been attacking them, a forest official said. Villagers have asked forest officials to "do something" about the tiger, the official said.
Forest officials have told representatives of fishermen and villagers that all the three men who had been attacked had moored their boats and were on the banks of the muddy creeks, either laying crab nets or cooking.
"We told them not to get off of their boats. Fishermen are not allowed nor are they supposed to go anywhere near the creeks or channels in the Sunderbans," an official said.
Thousands who hail from the Sunderbans have lost their jobs because of the pandemic and have returned to their villages. But farms and ponds inundated were left with saline water in the aftermath of Cyclone Amphan.
A large number of villagers have been venturing deep into tiger territory to catch crabs and fish.
Some fishermen have told the forest officials at the meeting: "It is our right to fish wherever there is water."
The idea can set a dangerous precedent to man-animal conflict in the region, an official said.
The Sunderbans tiger reserve field director Tapas Das said forest officials had asked villagers who go out to fish not to get off their boats and lay nets on the banks of creeks to catch crabs or cook food. "They are not supposed to enter narrow creeks. We have asked them not to enter them at any cost."
The lure of crabs is a strong pull as earnings are higher than fishing, another forest official said.
Tigers in the Sunderbans region face multiple difficulties while hunting their regular prey that includes deer and wild boar among others because of the muddy terrain and exposed roots of mangroves that act like thorns and prick their paws, Das said.
"Humans are easier to attack and more so when somebody moors the boat and gets on land. We asked the village heads to ensure this is stopped," he said.
The forest department is thinking of imparting vocational training and setting up poultry farms and small fishery projects as a means of alternative livelihood for fishermen.
Apart from the meeting, the forest department has started boat patrols near the Jhila forest and daily 10 boats carrying forest officials and villagers have been patrolling the channels and creeks along Jhila 2, Jhila 4 and Jhila 6 forests.
In Jhila 6, a 57-year-old man was killed by a tiger while preparing lunch. Two other fishermen were killed on September 3 and 4.