Dismantling of Vivekananda flyover to start from the middle of June
Decision comes more than five years after a 41-metre portion of the flyover collapsed killing 26 people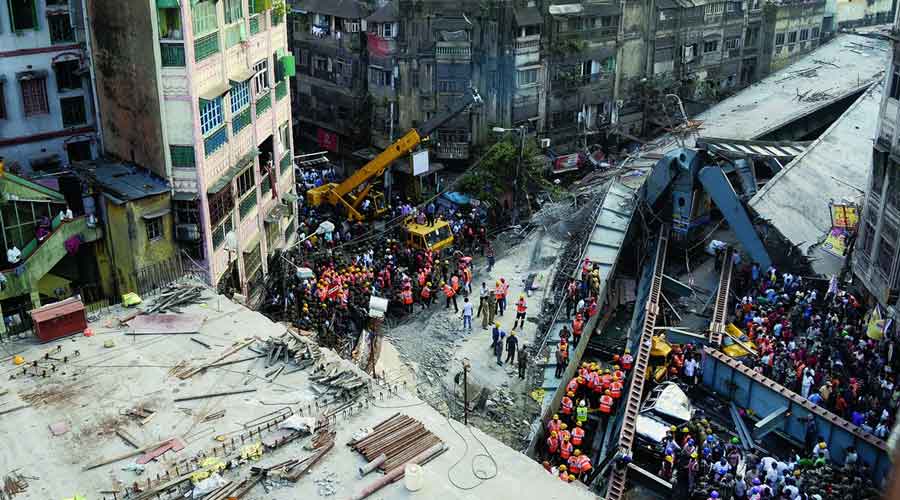 Vivekananda Road flyover
File picture
---
Calcutta
|
Published 03.06.21, 02:14 AM
|
---
The dismantling of the Vivekananda Road flyover will be done in four phases beginning from the middle of June, more than five years after a 41-metre portion of the flyover collapsed killing 26 people.
In the first phase, the 250-metre stretch of the flyover on Strand Road will be pulled down.
"This stretch runs in front of the Old Mint House on Strand Road, between the mouth of Howrah bridge and the intersection of Strand Road-Kali Krishna Tagore Street," said an official of Rites, the railways subsidiary that is the technical consultant for the demolition work.
The second phase, as of now, would be the 300-metre stretch between Ganesh Talkies crossing, where a 41-metre span of the flyover collapsed, and Girish Park.
The third and fourth phases were yet to be decided.
Even the second phase could be tweaked depending on the progress of the work.
The plan was announced after a meeting among all stakeholders at the Calcutta Municipal Corporation's (CMC) headquarters. Firhad Hakim, the chairperson of the CMC's board of administrators, chaired the meeting.
"The dismantling is suppose to begin from June 15. We have fixed a deadline of seven months to complete the work. Since this would be a very challenging job, it could take some more time," said the Rites official.
A Mumbai-based company, Edifice Engineering that specialises in demolition of built structures, will carry out the demolition.
A police officer, aware of the developments, said police had wanted the Strand Road stretch to be pulled down first.
"Because of the lockdown and Covid restrictions on travel, this stretch is relatively less crowded now. It would be easier if it is pulled down before the heavy crowd returns...," said a police officer.
Police will soon release a traffic diversion plan for vehicles when the demolition begins.
Hakim met traders and shop owners in the area during Wednesday's meeting where he sought their cooperation during the demolition.
The Rites official said that the dismantling and demolition would be done using modern technology. "The spans, portions between two piers, would be brought down on the road and then demolished. The spans will not be demolished above the ground," the official added. All the piers will also be pulled down.
A committee appointed by the state government to decide the fate of the Vivekananda Road flyover had recommended its demolition in September.