Disabled patient accuses Calcutta lab of being unfriendly
Diagnostic centre admits to problem, pleads for relaxation of CMC rules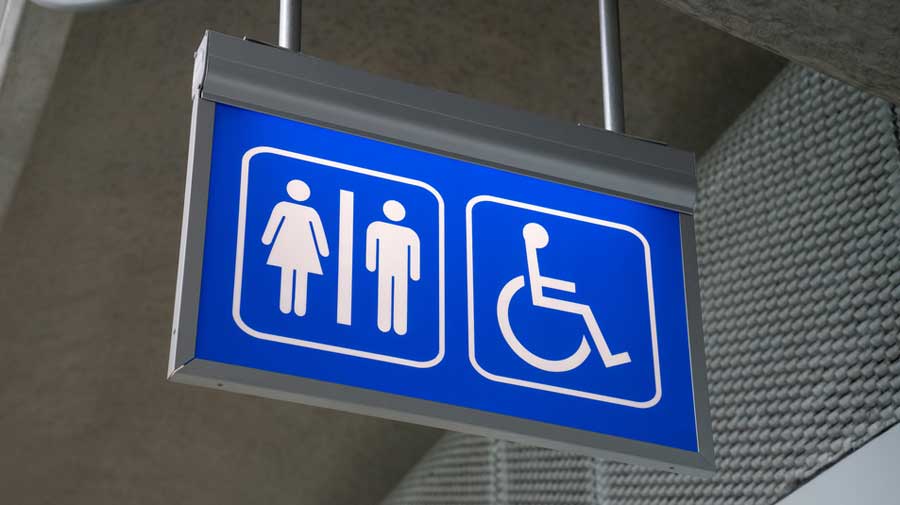 ---
|
Calcutta
|
Published 11.09.20, 02:30 AM
---
A 33-year-old physically challenged woman has lodged a complaint with the West Bengal Clinical Establishment Regulatory Commission against a diagnostic centre saying the USG room or the washrooms there were not equipped for a person with physical disabilities, the panel chairperson said on Thursday.
The woman has told the commission that she faced difficulties when she went to Quadra Medical Services, on Hazra Road, for an ultrasonography test in August last year. The woman approached the commission in January this year.
The woman's complaint has brought to the fore an issue that is not restricted to one clinical establishment. Only a handful of public spaces in the city have facilities that can make visits by physically challenged people free of troubles.
During the hearing conducted by the commission on Thursday, an official from Quadra said they were unable to create a washroom designed for the physically challenged as they did not have any more space in the building and any new construction would violate rules of the Calcutta Municipal Corporation (CMC).
Retired judge Ashim Kumar Banerjee, the chairperson of the commission, said they had told the CMC requesting it to consider offering some relaxation to Quadra so it could do the needful.
"The woman told us that she faced problems both in the room where ultrasonography was done and also while using washrooms. We have told the CMC to consider the case in a humanitarian context and see if they can allow some relaxation to construct a toilet for the physically challenged people," Banerjee said.
People with physical disabilities face similar problems at clinical establishments across the city, said disability rights activists, doctors, civic officials and architects.
Jeeja Ghosh, a disability rights activist, said most public spaces in the city were not friendly for people with disabilities. "It is a problem that is faced everywhere. The door in washrooms meant for people with disabilities must be wider than a door in washrooms for people without disabilities. Besides, the basins and urinals must be at a lower height so that someone who is in a wheelchair can use them. Also, there should be handrails on the walls," Ghosh said.
The CMC's Building Rules, 2009, do mention that all public utility buildings should have "disabled friendly devices like ramps with railing, toilet and drinking water facilities. Braille or auditory signals shall be provided in all lifts".
Not all public utility buildings adhere to the rules. Moreover, the buildings that came up or the building plans approved before 2009 often did not make provisions for people with disabilities.
Architect Abin Chaudhuri said the National Building Code had very clear instructions on what facilities a public utility should have to welcome people with disabilities.
"The code is detailed and clear. I also think the civic authorities should make a rule that forces owners of old public utility buildings to make changes so the buildings become friendly to physically challenged people. They should do whatever is possible within the structure. No one stops them from doing that," he said. "But none would do so till the authorities force them. That is why a rule or a law is needed to that effect."
In the case of Quadra, the building has ramps and lifts but no toilet especially designed for the physically challenged.
"We do not deny that this is a problem. After the woman complained to us, we fitted hand railings on the walls of our washrooms. But we do not have space to construct a new washroom for people with disabilities. If the CMC offers some relaxation, we can build a washroom," said Pinak Pani Bhattacharya, one of the directors of Quadra.
A CMC official said Quadra did not need their permission to lower the height of basins, urinals or commode.
Negligence charge
The clinical establishment regulatory commission on Thursday asked Midland Nursing Home, In Belghoria, to deposit Rs 5 lakh with it after it found that the hospital was prima facie negligent in dealing with an 18-year-old who went there in July. The teenager died subsequently.
"The youth's mother lodged a complaint saying he was taken to Midland... . Midland conducted a rapid test and said the teenager was Covid positive. They asked the family to take him elsewhere," said Banerjee.
During Thursday's hearing, Midland officials said the hospital was not equipped to treat Covid patients.
"We told them they should have given him some treatment. We have asked the nursing home to file an affidavit explaining what med-ical aid they had extended to the patient. We have asked Midland to deposit Rs 5 lakh as an interim measure…. Prima facie, it seems they were negligent," said Banerjee.
An official of Midland, when contacted, said he was on medical leave and would not be able to speak.