Dhakuria flyover to be shut till Monday 6am
A load test will be carried out to prepare a detailed project report for repairs and retrofitting works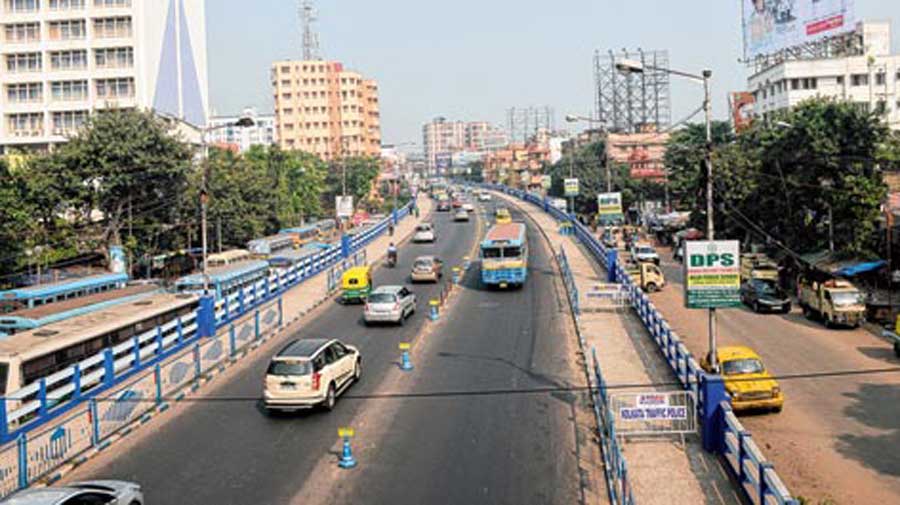 ---
|
Calcutta
|
Published 24.07.20, 02:24 AM
---
The Dhakuria flyover will be shut from 10pm on Friday to 6am on Monday for a load test, police said.
Built in 1963, the 380m-long bridge without piers has been under the scanner since the collapse of the Majerhat flyover in 2018 because of its crumbling structure.
The load test will be carried out to prepare a detailed project report for repairs and retrofitting works on the flyover, an official of the Calcutta Metropolitan Development Authority, the custodian of the flyover, said on Thursday.
Buses and minibuses headed towards the flyover from Ballygunge Phari will be diverted from the Gariahat crossing to Rashbehari Avenue, SP Mukherjee Road and Prince Anwar Shah Road. Buses moving towards the Bypass from near Jadavpur police station will be diverted from the Gariahat crossing towards Bijon Setu and further east towards Ruby.
"Buses headed towards Gariahat from Garia will be diverted from Jadavpur police station to Prince Anwar Shah Road and SP Mukherjee Road," a police officer said. "Buses that take Jibanananda Setu from the Bypass to reach the Dhakuria flyover will be diverted towards Ruby along the Bypass from the Avishikta crossing."
Autos will operate from Garia to Jodhpur Park second lane, the police said.
The Dhakuria flyover stands on inclined concrete walls filled with sand and soil. The rail tracks run below an 80m suspended portion of the bridge.
The technology used to build the flyover is outdated as there are no piers holding the flyover, structural engineers have said. It has concrete walls from the bottom to top with soil in the middle. The paved road has been built above the soil.
A few years ago an inspection had revealed that rats had burrowed large holes beneath the flyover.
In June 2013, a portion of the walkway along the flyover had collapsed and created a gap wide enough to raise doubts regarding the structure's stability.
Engineers had then said the soil beneath the 4ft-wide elevated walkway at the AMRI hospital-end had caved in, bringing the damaged portion down to the level of the road.
"The load test will throw up the structure's weight-bearing capacity and help determine what structural strengthening is needed to increase it," a CMDA official said.