Detentions shed light on New Town fires
People setting fires on grasslands, when questioned offered wide range of reasons — driving out snakes, waste burning and "starting fires just to see the grasslands go up in flames"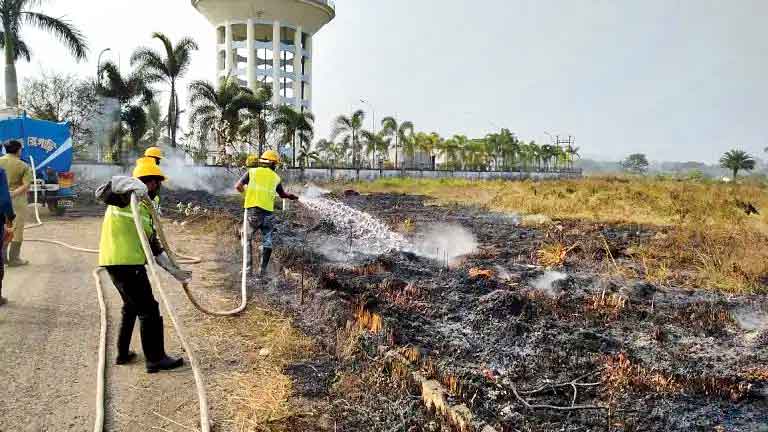 ---
|
New Town
|
Published 23.12.20, 03:48 AM
---
Fires on New Town's grasslands are being lit for reasons ranging from burning waste to scaring away snakes, an official of the New Town Kolkata Development Authority said.
Residents' resistance groups, the NKDA and police have caught several people setting fires on grasslands. All the men were questioned and a wide range of reasons — driving out snakes, making a safe passage for cattle to graze, waste burning and "starting fires just to see the grasslands go up in flames" — have emerged.
Some of the men were found to be waste collectors not listed with the NKDA, the official said. The men said they did not want to carry the non-recyclable items to a dumping ground.
The Telegraph had reported on several occasions how fires on grasslands have made it difficult for the residents to breathe. They are forced to keep doors and windows shut because of the dense smoke. The fires also have a devastating effect on the habitat of a variety of birds.
A senior NKDA official said they held a meeting with officials from the forest department and NGOs to chalk out a strategy to prevent fires on the grasslands.
New Town's Action Area II has large swathes of grassland that are frequented by birdwatchers from across the city. The grasslands are home to many birds because they provide a steady food supply. The birds include seed eaters like species of munias and weavers, insectivorous birds like Pipit, Lark, Eurasian Wryneck, Siberian Rubythroat, and birds of prey that feed on rodents such as Black Shouldered Kite, Indian Spotted Eagle, Common Kestrel and Pied Harrier, among others.
Debashis Sen, the chairman of the NKDA, said that they had sent out a request to all housing complexes, cooperative housing societies and standalone buildings not to hand waste to unauthorised collectors.
"If need be, the residents can visit the zero waste shop near the New Town bus stand where there are provisions for segregated collection of waste items," Sen said.
A retro-fitted water tanker has doused 12 fires in different places following alerts from the NKDA cell that gets real-time inputs from drones that scan the township for such fires, he said.
The areas where the tanker has doused fires include a large grassland near the Hanuman Mandir behind Eco Park, a grass-land near the headquarters of the Border Security Force's South Bengal Frontier, and one near Alia University.
"We are actively campaigning and putting up signs asking people not to set such fires. Although we have let some people off with stern warnings, we are now mulling legal action and calling the police when we spot anyone starting a fire," Sen said.
Metro had earlier reported that the New Town authorities have formed a cell that flies drones over grasslands and empty plots to try and stop people from setting dried grass, shrubs and waste on fire.