Dense fog disrupts flight operations for five hours at Calcutta airport
Thousands suffer as 27 takeoffs are delayed and 5 incoming as well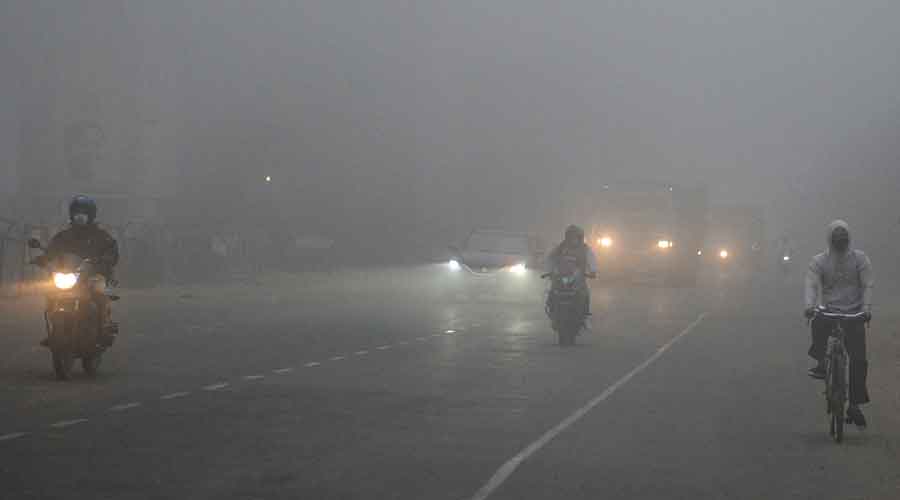 Vehicles on a fog-covered EM Bypass ply with their headlights on around 6.30am on Tuesday.
Picture by Gautam Bose
---
Calcutta
|
Published 09.12.20, 04:30 AM
|
---
Dense fog disrupted many flights at the Calcutta airport on Tuesday morning, the first time this season.
Low visibility triggered by the fog delayed the departure of 27 flights. The arrival of five flights was delayed, too, and one had to be diverted. The fog caused disruptions between 4.30am and 9.30am, said an airport official.
A SpiceJet cargo flight from Delhi to Calcutta had to be diverted to Visakhapatnam before it could return to the city, airport officials said.
The visibility started dropping around 4.30am, leading to disruption. Departure of flights came to a halt around 6.45am, when the visibility dropped below 50 metres, airport sources said.
The Category III-B instrument landing system, which was installed at the Calcutta airport in January 2018, enables flights to land at a minimum visibility of 50 metres. Earlier, with the CAT II ILS, flights could land with a minimum visibility of 350 metres.
At 8am, when visibility went up to 100 metres, planes started taking off again. Airport sources said a SpiceJet flight for Bagdogra was the first to take off, at 8.14am. The delays, however, continued.
Two cargo flights of IndiGo from Delhi and Mumbai and one passenger flight of GoAir from Bangalore landed amid fog. The IndiGo flight from Delhi was the first to land, at 6.27am.
A cyclonic circulation over Jharkhand and a high-pressure area over the Bay of Bengal triggered moisture incursion into the city and fog formation on Tuesday morning, said a Met official.
The city had been witnessing foggy mornings for the past few days but the density of the fog was much more on Tuesday. Around 6.40pm on EM Bypass, it was tough to spot a car just 10m away. Every car had its lights on to ensure visibility.
A group of morning walkers kept clicking pictures of the road, which "looked like that of a hill station," said one of them.
The fog reduced the intensity of the sun's rays reaching the earth, which made the day a tad cooler on Tuesday.
"The cyclonic circulation over Jharkhand is almost gone but the high-pressure zone persists. The next couple of days are also likely to be foggy," said the Met official.
The minimum temperature on Tuesday was 18.4 degrees, three notches above normal. But the fog brought the maximum temperature down to 26 degrees from almost 30 degrees a day ago.