Dengue fear in Salt Lake
Piles of garbage all along the banks of Kestopur canal and mosquitoes buzzing over the water in the Eastern Drainage Channel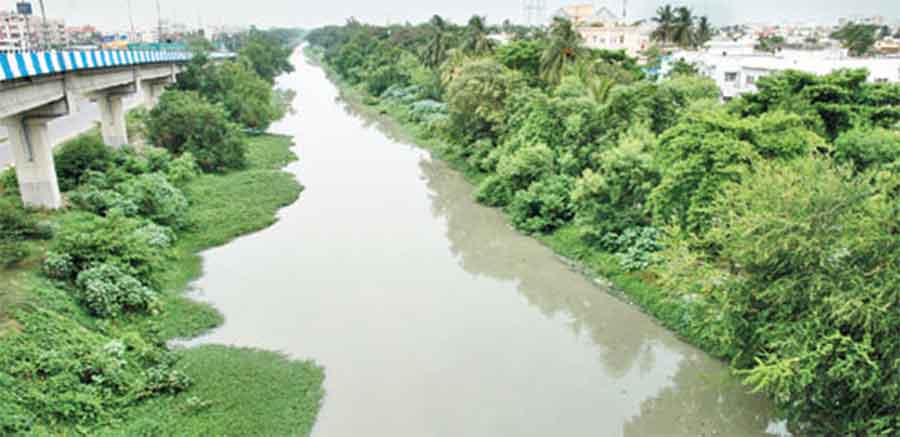 ---
---
Swarms of mosquitoes have invaded Salt Lake and its adjoining areas. Dengue cases, too, are being reported regularly, triggering a scare among residents.
Over a 100 residents have dengue and more than a dozen have dengue and Covid, an official of the Bidhannagar Municipal Corporation's health department said.
In Salt Lake, many blocks off the Kestopur canal in sectors I and II and off the Eastern Drainage Channel in sector III have reported an increase in the number of mosquitoes in the past weeks.
"The water in the Kestopur canal has turned stagnant and it is a perfect breeding ground for mosquitoes. I am forced to keep all my windows and doors shut at all times," said Priyadarshini Choudhury, a resident of AL Block.
A resident of BC Block said that they had not seen civic workers spray larvicide before or after Durga Puja. "They are not spraying larvicide in the block. The number of mosquitoes has gone up manyfold in our block. This has created a scare in our block as several residents are already down with Covid-19," said Nirmal Dasgupta.
A civic official said that many contractual labourers who are part of vector control teams have not returned after Durga Puja. "We are expecting them back once Kali Puja is over. We are managing with a smaller workforce."
On Saturday, Metro saw several garbage dumps near City Centre, CGO Complex and on empty plots, where Styrofoam plates and used sanitaryware were dumped.
There were piles of garbage all along the banks of the Kestopur canal and mosquitoes were buzzing over the water in the Eastern Drainage Channel.
Public health experts have warned that things should not be dumped in places where water can accumulate because they provide an easy breeding ground for mosquitoes.
The dengue causing Aedes ageypti mosquito can breed in a coin-sized pool of water.
A BMC official said that the civic body had been spraying larvicide and conducting door-to-door dengue surveys. "We are facing the twin challenge of Covid and dengue. We are trying our best to ensure that it does not spiral out of control."
Awareness is key and residents should not allow freshwater to accumulate near or inside their houses, an official said.