Demonetisation and lockdown snatch jobs, man soldiers on at 51
He has been working as a delivery executive with an online food aggregator since April, but soaring fuel prices have now crippled his income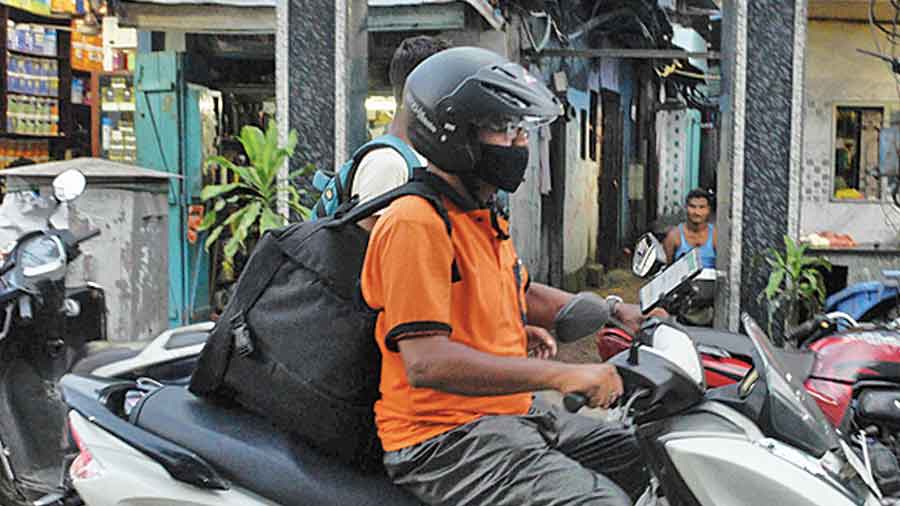 ---
Calcutta
|
Published 09.07.21, 12:12 AM
|
---
A man lost his first job in 2017, amid the slump triggered by the demonetisation.
The Covid-19 lockdown robbed him of his second job, a contractual one.
At 51, the man started another rigorous job. But now, the soaring fuel prices have crippled his income.
He has been working as a delivery executive with an online food aggregator since April, when the price of petrol was around Rs 90 a litre.
He rides around 80km every day, the bulk of it between eateries and delivery points in central Calcutta. He lives in Kamarhati, around 13km from Esplanade.
The delivery executive earns around Rs 600 every day in commissions and incentives. But a third of the income is spent on petrol every day. He owns a scooter that offers a mileage of around 40km per litre. The price of petrol breached the Rs-100 mark across pumps in Calcutta on Wednesday.
The executive has been trying to trim his daily expenses to the extent possible. But he is out on the road from noon to close to midnight and eating outside costs him around Rs 50 every day, which means he is left with around Rs 350 daily. If he works 25 days a month, his earning is Rs 8,750 every month.
"At my age, it is not easy to be on the road for such a long time. But I have no other option. Zindagi patri se chhoot gayi hai (My life has got derailed)," he said.
He lives in a rented house with his wife and a 15-year-old daughter. His monthly rent and EMI for the two-wheeler — he bought a scooter for his new job — add up to Rs 5,500 per month. The rising prices of groceries and other essential commodities have only aggravated his crisis.
He has been forced to discontinue his daughters' tuitions. The family has rice or roti and one curry for both lunch and dinner, most days of the month.
"For the past three years, I have not been able to buy new clothes for my daughter on Id. Earlier, we used to go for movies and eat out at least once a month. I was planning to buy a small flat. Those things seem like a distant dream now," he said.
The delivery executive started working in a leather unit in Howrah in 2006 and rose through the ranks swiftly. When he joined work, his salary was Rs 3,200. When he was laid off, he earned Rs 18,200 a month.
At the time of his exit in August 2017, he was given a one-time sum of Rs 1,20,000, which saw the family through the next couple of years, during which he kept looking for jobs. Just around Puja in 2019, he found work as a freelancer.
"I had shifts at several units till March 2020," he said.
After the contractor's cut, he earned Rs 300 every day. But he had no fixed salary and no work meant no pay.
By the time the first lockdown started in March 2020, he was jobless again.
He joined the food aggregator in April this year. The rise in the price of petrol has come as a lethal blow.
He is constantly looking for new orders on his phone. But the surge in the number of delivery executives means he gets limited orders each day, despite being out on the road for a long time.
"It is still better when I am riding to pick up or deliver food. Every time I sit idle in between, all sorts of anxiety creep into my head. I keep thinking of the past," he said.