DD Block temple to hold sole outdoor Rathyatra
'This year, the idols will not be taken out of the house'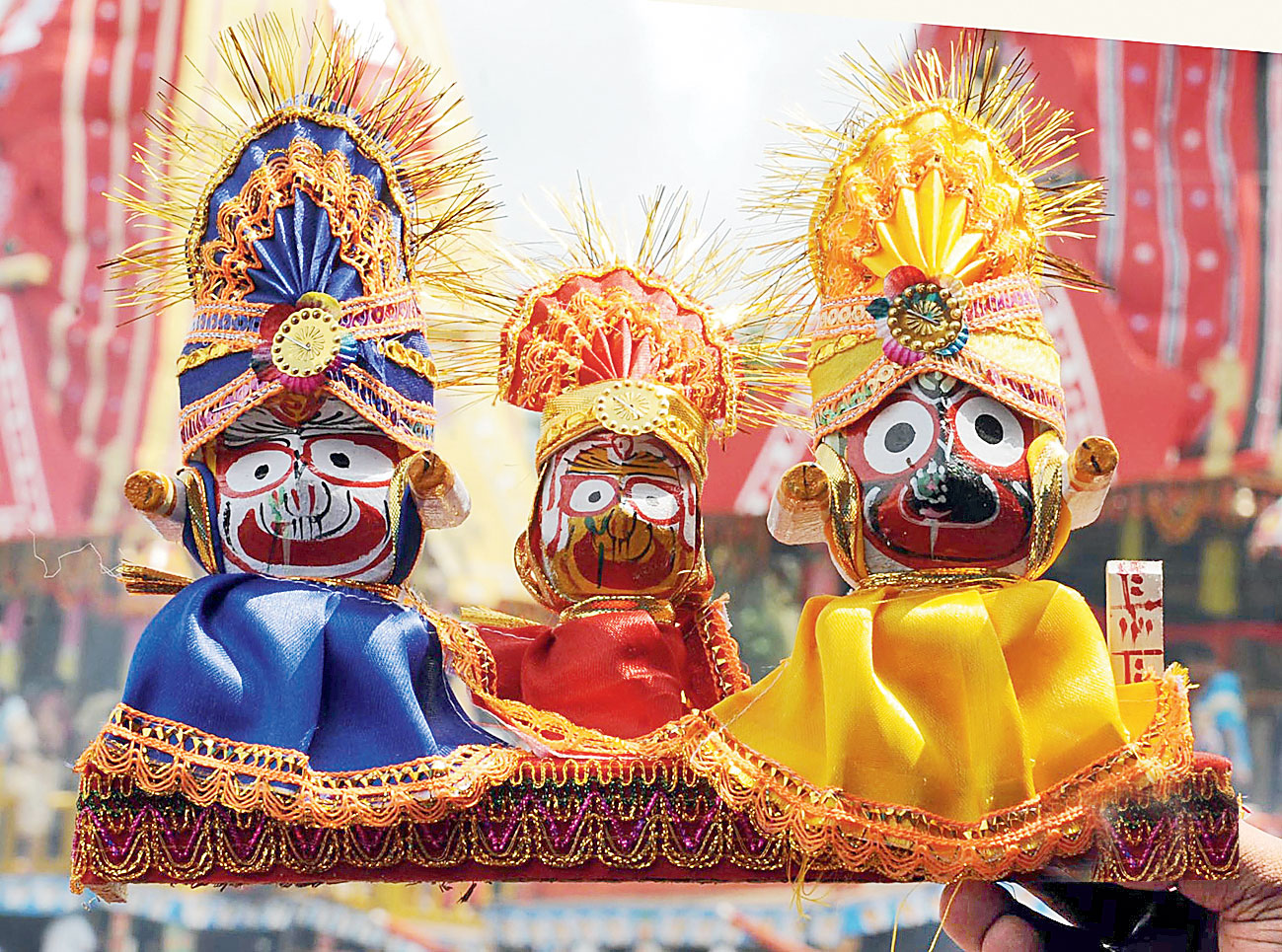 ---
---
Rathyatra is slated for June 23 but the pandemic-induced lockdown has ensured that celebrations are rather muted this year.
Bidhannagar Ramakrishna Vivekananda Kendra is perhaps the only institute in Salt Lake that plans an outdoor procession. "But we expect very few devotees. We have now opened for devotees on a regular basis but even for that people are too scared to step out so I'm sure the procession will be a small affair. We shall walk around DD Block and maintain social distancing," says president of the body, Chanchal De, adding that a special prayer for respite from Covid-19 will follow.
Being a place of worship, the centre had acquired police permission to observe rituals all through the lockdown, even if no devotees were allowed to come. "Blocks and clubs are now wondering about the fate of Durga puja but on the day of Lord Jagannath's snan yatra in early June we went and paid an advance amount to our idol-maker for our Durga puja. The day is said to be auspicious and we do this traditionally every year on this day."
The Shri Jagannath Utsav Samity rathyatra is so popular that the house it starts from — CB 54 opposite Tank 2 — is known as the rath bari among locals. Every year, thousands throng to pull the rope that draws the chariots of the lords. As part of the procession are trailers with bhajan singers, classical dancers and priests who distribute prasad to motorists and passers-by.
"This year, the idols will not be taken out of the house. Nor can we allow devotees to come into the house to seek blessings," says Manas Rawat, at whose CB 54 house the idols stay. "My parents and uncle are senior citizens with co-morbidities and we cannot take a chance. Next year, we shall have a grand celebration," he promises.
The other big procession — by Bidhannagar Sree Chaitanya Bhagabat Samaj — usually takes off from opposite Tank 2, roams the township and culminates at Central Park, where a Rath er Mela commences. "This year we are thinking of tracing our regular route by car. We shall place the idols of Jagannath, Balaram and Subhadra in three separate cars and make a symbolic halt outside Central Park. The idol will return to BF 20 at the end of the trip," says general secretary of the body, Kumar Sankar Sadhu.
At CB Block, the idol will be taken out of the house from one door and brought in through the other, to symbolise a yatra. At BF Block, devotees will be allowed in but 10 at a time, provided they wear masks and use sanitisers before darshan. "We are receiving many calls from people who come every year. Far from feeling dejected, they are consoling us and telling us that we shall make up for this year in 2021. Our group is very happy to have made such a special place in people's hearts," said Sadhu, a resident of GD Block.
Sri Jagannath Seva Samiti, which holds its rathyatra from Central Park to Swabhumi, has cancelled the festival altogether. "Our idols come from our Kidderpore temple all the way to Salt Lake since 2003. But this year, the Lord will only get down from the first floor of the temple to the meeting hall on the ground floor," said member G.K. Swain. The week-long cultural programme at Swabhumi, organised by the Samiti's cultural wing Utkala, will not be held either.
Digital offering
DB Block had been celebrating Rathyatra for the last few years and so this time a group of ladies in the block — calling themselves Gulabi Gang — have planned a celebration over Skype video call. "Rinku Banerjee, who has a Jagannath idol, will begin the show by blowing a conchshell before it. I'm sure one of us will have a miniature rath at home that we'll give her beforehand. Rinku will decorate it and move it around, with the idol seated inside," says Sonali Basak, one of the members.
The ladies will then perform music, dance and recitation themed around Krishna and the dashavatara. "The vote of thanks will also weave in the 108 names of Krishna. We will miss the gathering and bhog of the community event but at least we'll be able to offer something to the lord," says Basak.