Daily scan of Vivekananda Road flyover
The structure had collapsed near Girish Park in 2016, while it was still under construction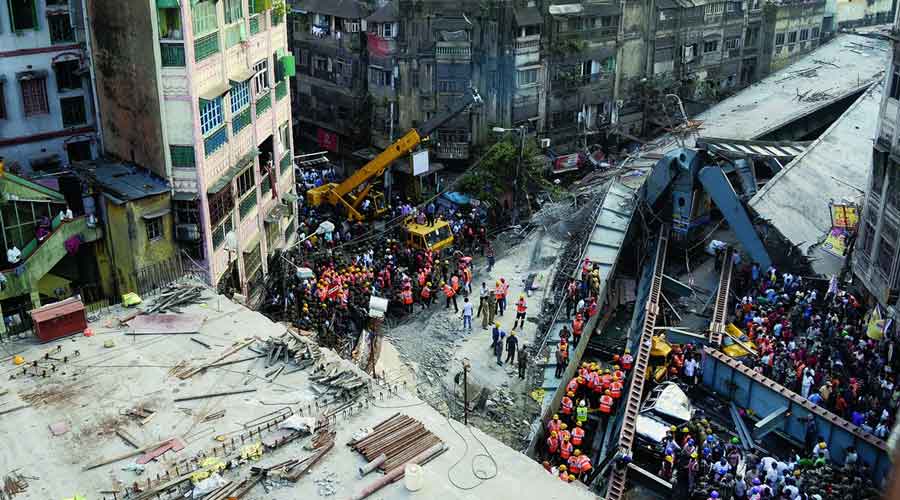 ---
|
Calcutta
|
Published 02.12.20, 02:47 AM
---
Six CMDA engineers, working in two shifts, are scanning the Vivekananda Road flyover in north Calcutta, a part of which collapsed in March 2016, every day for signs of any further damage that could bring down the rest of the structure.
The engineers are examining the flyover from 9am to 9pm, with their trained eyes as well as with the help of machines, looking for signs of subsidence in the concrete, deflection caused by stress and lack of maintenance.
The flyover was still under construction when a portion of it, near Girish Park, collapsed.
Rows of steel rods have been lying dumped on a portion of the 2km-long flyover, adding to the weight on the deck slabs. Water has been seeping into the concrete, resulting in growth of plants and making the structure even more vulnerable.
Over the past few years, several experts have warned that portions of the flyover that do not have concrete casting are less stable and their collapse could lead to another disaster.
The urban development department has decided that a team of three engineers on every shift will assess the structure and note down their observations.
What will they look for?
Slight cracks in concrete slabs or railings, presence of unwanted materials such as tubular steel structures on the deck slab, outgrowth on the walls and the nature of loading and unloading activities around the piers in the heart of the Posta wholesale market — every minute detail will have to be noted down.
A 41m-long deck slab of the flyover had collapsed on March 31, 2016, killing 26 people. The structure has since remained untouched even though a committee appointed by the state government to decide on the fate of the structure has recommended its demolition.
"Demolition will take time because a company that specialises in such work will have to be engaged. Till that happens, we don't want any further deterioration of the structure, which has been without any maintenance for almost four years," said a senior official of the urban development department.
"Necessary arrangements are being made so that there can be surveillance even after 9pm by engineers."
Engineers will ensure that no trucks are parked close to the piers of the flyover, so that if a vehicle topples because of weight imbalance, none of the piers has to take the load of the impact.
Officials said observations of the engineers will be discussed at the end of every week so that necessary arrangements can be made for adequate protection or removal of unused materials from the top of the deck slabs.