Dad recounts 'fenk dunga' threat
Accused purportedly told the police that he had committed the crime in a 'fit of rage'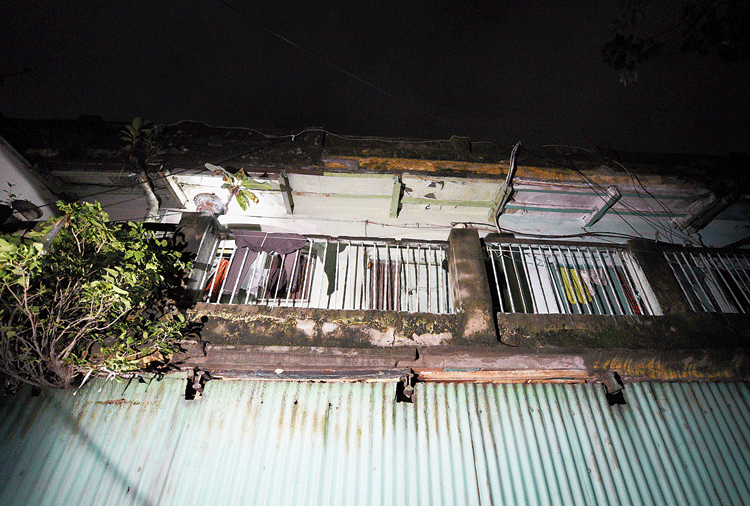 The balcony of the Burrabazar building.
Picture by Gautam Bose
---
Calcutta
|
Published 15.06.20, 10:27 PM
|
---
The father of two-year-old Shivam Sau who died after being flung from a balcony on Sunday evening alleged on Monday that neighbour Shiv Kumar Gupta had said he would "throw away" Shivam if the child kept disturbing him.

"He (Gupta) had threatened me 'Apne bachche ko samhal, nahi to fenk dunga' (keep your child under control, or else I will throw him)," alleged Shivam's father Vikram.
Gupta allegedly threw Shivam and his six-year-old uncle Vishal from the common balcony on the fourth floor of the Burrabazar building where the families live.
Shivam died on the spot after landing on the concrete road below. According to a preliminary post-mortem report, he had fractured his skull, nose, jaw, femur and hands.
Vishal, Vikram's brother, survived with a fractured leg after his fall was arrested by an asbestos shade jutting out of the first-floor balcony, police said.
Vishal has been admitted to the NRS Medical College and Hospital. "He has regained consciousness and has started speaking. But he is still under trauma and could not sleep properly," said Vikram.
Police said a woman who saw Gupta throw Vishal had screamed, saving a third child from being thrown off the balcony.
"The woman said by the time she had noticed, Gupta had already thrown Shivam. She saw him fling Vishal in the air and then grab another child. She screamed at the top of her voice, which alerted others," said an officer of the homicide wing of the detective department, which has started a murder case and an attempt-to-murder case against Gupta.
Police sources said Gupta had initially tried to derail the investigation by trying to put the blame on Shivam's mother, alleging that she had tried to kill Vishal so that her husband became the sole claimant to their ancestral property in Bihar's Begusarai.
"Gupta, however, confessed to the crime when he was asked if Vikram's wife had really wanted to kill her brother-in-law, why would she first throw her own son to death," an officer said.
During interrogation, Gupta purportedly told the cops that he had thrown the kids to punish them for entering his home unannounced and disturbing him on Sunday evening. An officer quoted Gupta as saying that he had committed the crime "in a fit of rage".
Gupta, a real estate broker who also runs a small transport business, has purportedly told the police that he was sleeping in his home when one of the children had sneaked in and kicked him, the officer said.
His youngest son, a Class XII student, had gone to market to buy vegetables. The police said it was not clear whether Gupta had deliberately sent his son out to ensure no one could prevent him from throwing the children.
A neighbour who had seen Vishal lying on the shade attached to her balcony said on Monday she had been unable to sleep since. "Every time I am closing my eyes, I can see the child on the shade and the screams of the woman upstairs," said Rima Yadav.
Sources said the police would record the statement of the children who were playing with Shivam and Vishal on Sunday evening.