Thousands of migrant labourers have come back to the Sunderbans since 2020, most of them during the lockdown last year and some following the onset of the second wave of Covid infections.
These people had their incomes drastically reduced but they somehow managed to make ends meet by farming paddy, vegetables or fish.
The inundation of vast swathes of the mangrove belt, following a storm surge coinciding with high tide during the landfall of Cyclone Yaas, has posed a livelihood challenge to these people once again.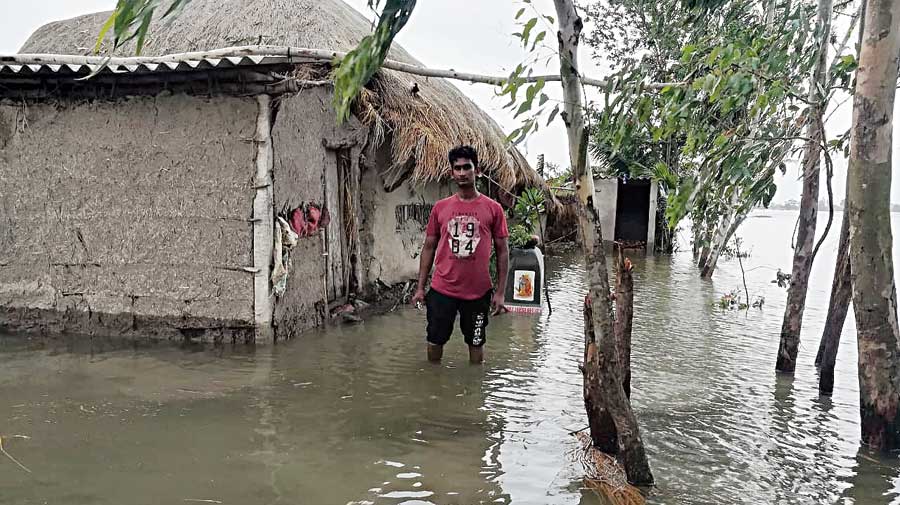 Rajkumar Mondal, resident of Purba Sridharpur, a village in the Mathurapur II block of the Sunderbans that has been inundated Telegraph picture
Rising salinity would make many farmlands and water bodies unproductive for at least a couple of years, said residents. They know from first-hand experience.
Cyclone Aila had hit the coast in May 2009. The invasion of salt water had left vast areas of farmland infertile for five years.
Alok Shikari, a resident of Purba Sridharpur village in Mathurapur II block, used to work as a mason in Kerala's Kozhikode. He came back during the lockdown last year and has not gone back since. His family did not own any land and the 34-year-old was working on another villager's farmland.
In Kerala, Shikari worked under a contractor who gave him Rs 600 for each day's work. He used to get 25 days' work a month on an average. Back home, the daily wage was around Rs 350.
"My income had come down drastically. But we got two meals a day. Every other day, we caught some fish from a village pond. But now, everything has been destroyed. We are staring at starvation," said Shikari, who lives with his mother, wife and two children.
The swelling Thakuran river flooded his village on May 26 morning, when Yaas was making landfall in Odisha.
Rajkumar Mondal, another resident of the same village, used to work at a toothbrush manufacturing unit in Kancheepuram district of Tamil Nadu. He had returned home during the lockdown last year but went back to the southern state before winter.
In late April, he came back again because he "sensed" that more curbs would be enforced to contain the spread of the virus. Coming back in 2020 was extremely difficult and he did not want a rerun.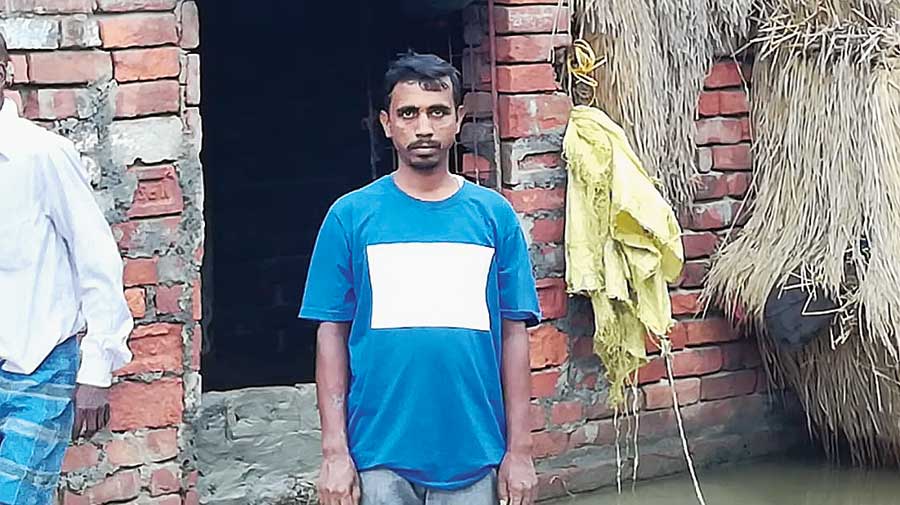 Alok Shikari, resident of Purba Sridharpur, a village in the Mathurapur II block of the Sunderbans that has been inundated Telegraph picture
Back home, Mondal cultivated seasonal vegetables like okra and pointed gourd and sold them at a wholesale market. He made "much less" money than he did at the factory.
"With the land flooded, I will have to try and move out for work again, risking my
life against the virus," said Mondal.
Though Yaas did not leave a trail of destruction like Cyclone Amphan did last year, the long-term damage to embankments has been severe this time, officials said. The embankments bore the brunt of the cyclone this time because of an unprecedented high storm surge.
Based on preliminary assessment on Thursday, irrigation department officials had said nearly 156km of river embankments in four districts — East Midnapore, Howrah, North and South 24-Parganas — were either breached
or damaged.
Some 55 embankments were damaged in the Basirhat sub-division of the Sunderbans in North 24-Parganas, said an official.
"At least 50 embankments were breached in the areas that we work in," said Sankar Halder, the founder of an NGO called Mukti that works in a dozen blocks in the Sunderbans.
Since Wednesday, tens of thousands of people have been dependent on relief materials from NGOs like Mukti.
"If salt water penetrates beneath the surface, it takes more than a couple of years to get the same yield from that farm land. The process of desalination is expensive and laborious. These people can't do that without government support. With the surge in Covid-19 numbers, any logistical support is doubly difficult," said Halder.
Desalination is a distant dream for Animesh Barik, a resident of Dakshin Kashipur in Patharpratima. He was gearing up to sow the seeds of aman rice in June. But now, his land stands submerged in salt water.
Barik thinks he has no other option than going back to Mumbai — where he worked at a plastic cap making unit — as soon as possible.
"Our lives will once again shift between two threats — to life and livelihood," he said.