Protests over lack of power & water in several parts of Calcutta
Neither the civic body nor the power supply utility is responding to our desperate calls: Demonstrators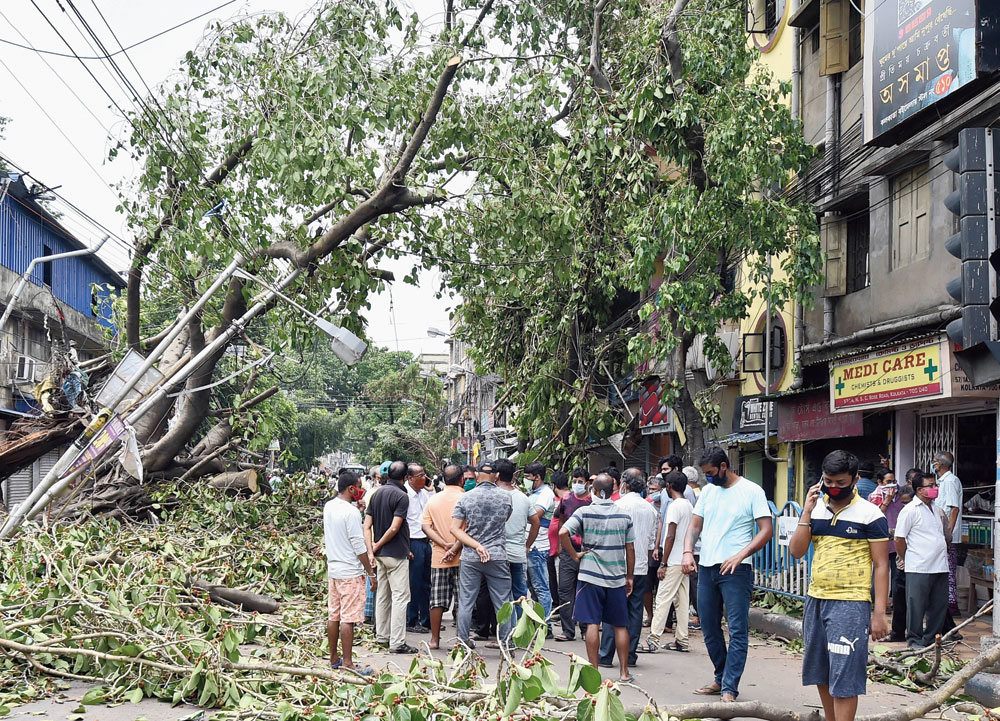 ---
|
Calcutta
|
Published 22.05.20, 09:49 PM
---
Angry Calcuttans came out in several parts of the city to set up blockades and cut fallen trees on Friday, after spending two days since Cyclone Amphan passed without water and electricity.
The protesters alleged neither the civic body nor the power supply utility was responding to their desperate calls.
By the evening, the protests spread to adjoining districts such as Howrah and Hooghly.
Calcutta Municipal Corporation officials said the storm had felled more than 5,000 trees and 4,000 electric poles. Power supply was switched off to prevent electrocution.
Many Calcuttans said they were aware of the extent of devastation inflicted by Amphan and waited for a "considerable" period of time for the power and water supply to resume.
Their patience ran out as the services were not restored even by Friday morning.
IT employee Vijaylakshmi Dubey, a resident of Suryanagar in south Calcutta's Bansdroni, alleged her house did not have power since Wednesday evening.
"As there is no power, we cannot pump water to the roof-top tank from the underground reservoir. So, we are having to do without water, too," said Vijaylakshmi, who took part in a six-hour road blockade set up by residents on NSC Bose Road, between Garia and Tollygunge, on Friday morning.
"I called up the local CESC helpline and the CMC borough office several times but no one answered," she alleged.
Vijaylakshmi said a tree had fallen on the wires on the verandah of their two-storey house. They had to vacate the house fearing electrocution.
Vijaylakshmi and her sister had to lift their grandmother, Gita Goswami, 81, to a relative's house closeby.
In the evening, a group of residents in Kasba's Rajdanga organised a protest on a road. "We are calling CESC and corporation offices but no one is answering. No one came to our area to tell us when the trees will be removed and power supply restored," alleged a resident.
A woman in the gathering said they did not have potable water since Thursday.
At Lake Gardens, residents saw groups of people coming out with sickles and cutting huge branches themselves and then removing them from the roads.
Residents of the Bondel Gate area set up a blockade on Friday afternoon. Priyanka Sharma, one of the residents, said they had been without electricity for more than 24 hours. "We tried calling up CESC repeatedly but they did not respond. So, we organised the blockade," said Sharma.
The blockade was removed in the evening following requests by police.
Residents of several parts of Dum Dum, too, blocked roads to protest the delay in restoring water and power supply.
At Garia Park, Raja SC Mullick Road was blocked for one-and-a-half-hours from 3pm.
"CESC electricians fixed the lines in an adjacent locality on Friday morning. But when we contacted the service office in Ramgarh, we were told there was no directive for repairs in our area. How long do they expect us to suffer in silence?" said Kanti Jana, one of the agitators.
A police team reached the spot around 4.15pm and requested the protesters to let buses pass. But they refused. A CESC team arrived an hour later.
On learning that a repair team had reached Garia Park, residents of the adjoining Milan Park went to the spot and demanded that their lines be repaired first. That led to a scuffle between residents of the two areas.
Power supply had been restored to Milan Park around 3pm following protests by residents, but lasted for only 10 minutes.
Residents of Parnasree staged an agitation outside the police station against CESC and also complained against the delay in removing the bodies that were floating on the street.
At Agarpara, on the northern fringes, Debalina Ghosh has stopped cooking. "There is no water to wash utensils. So how will one cook? Many residents are collecting dirty water from the road to use it in washrooms," said Ghosh, who teaches at a city college.
WBSEDCL officials said several posts had been uprooted across the Barrackpore sub-division and it would take days to restore the supply. The CESC spokesperson did not answer calls from Metro.