Post-storm, beware of the hazards
Immediate dangers: broken power poles, hanging wire, fallen trees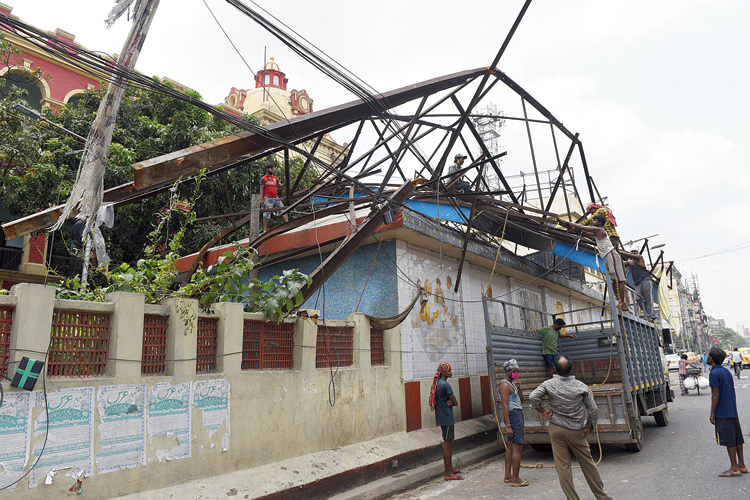 ---
|
Calcutta
|
Published 25.05.20, 09:31 PM
---
Calcutta's cyclone-scarred roads have dangers lurking in every corner.

Perilously suspended electric poles, hanging tree branches, mesh of cables lying across a road or hanging close to the ground and hoardings that came loose while Amphan was barrelling through the city have made walking or driving dangerous.
Urban designers said a situation like this would not have happened if the overhead cables were not allowed to be hung around poles and trees were cared for, instead of pruning them unscientifically.
Rickety hoardings, too, should not have been allowed to stand anywhere in the city, they said. The civic administration's apathy has allowed the situation like this to come to pass, they added.
Under the impact of the cyclone, poles and trees toppled like cards. The loose ends of hoardings and their steel frames can easily turn into missiles if they are hit by strong winds.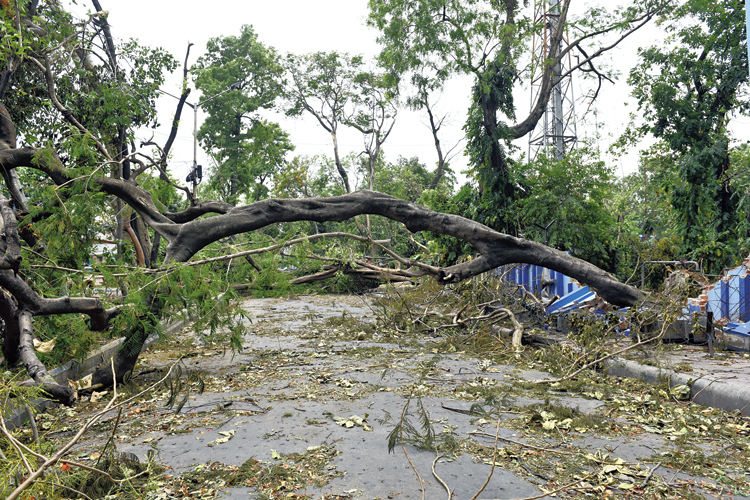 An urban designer said most hoardings in Calcutta have been put up without a good structural design. Proper design is important as that can ensure that the steel frames are robust and can withstand strong gusts of wind.
"A hoarding that is cast inside a building's wall will not collapse easily but a standalone hoarding is more likely to collapse because the structure will have to take the entire thrust of the wind. That is why a proper structural design is very important," said Debatosh Sahu, a fellow of the Institute of Urban Designers of India.
The Calcutta Municipal Corporation (CMC) has an advertisement department but it rarely checks the engineering or the structural design of a standalone hoarding. "The department's main function is to earn revenue for the civic body," a CMC official said.
Sahu said if the steel framework was not robust, it was unlikely to withstand strong winds.
The problem with the city's trees is somewhat similar, felt naturalists. The CMC prunes trees before every monsoon, but the pruning is done very casually and without trying to maintain any balance among all sides of the tree.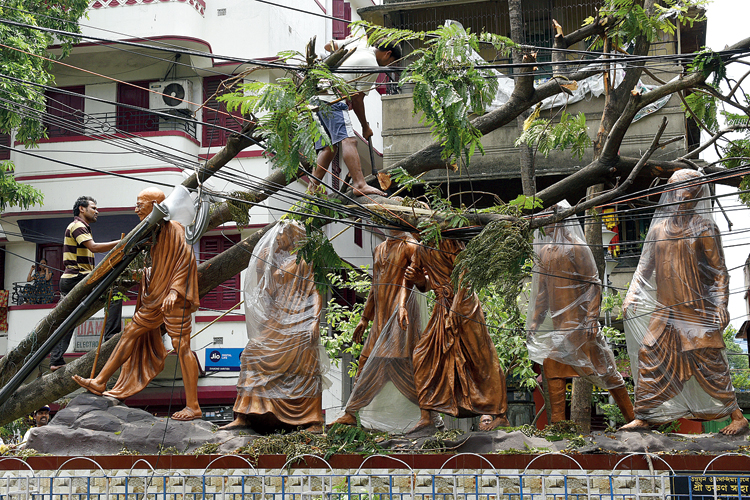 "There is no proper supervision. The side that is easily accessible is readily pruned. But the other side is never trimmed. As a result, the side where branches are not pruned become heavier," said naturalist Arjan Basu Roy. During strong winds, trees topple on the heavier side.

CMC engineers have admitted that cables hanging from a pole make it unstable, increasing the risk of toppling. "If there is only the pole standing, winds pass by its two sides. But when cables hang from a pole, the wind gets blocked by the wire mesh and that puts the pole under greater stress," a CMC engineer said.
Another designer pointed out that New Town was an example in contrast. There is no advertising panel with steel frames and the street lights do not have any overhead cable hanging from them.
"We do not allow advertising on the Main Arterial Road. Even in the lanes off the arterial road, there are very stringent rules in place, a reason why advertisements are almost non-existent in the city," said an official of New Town Kolkata Development Authority.