Drive to replace felled trees with thinner ones begins
Mamata announces change in the city's plantation policy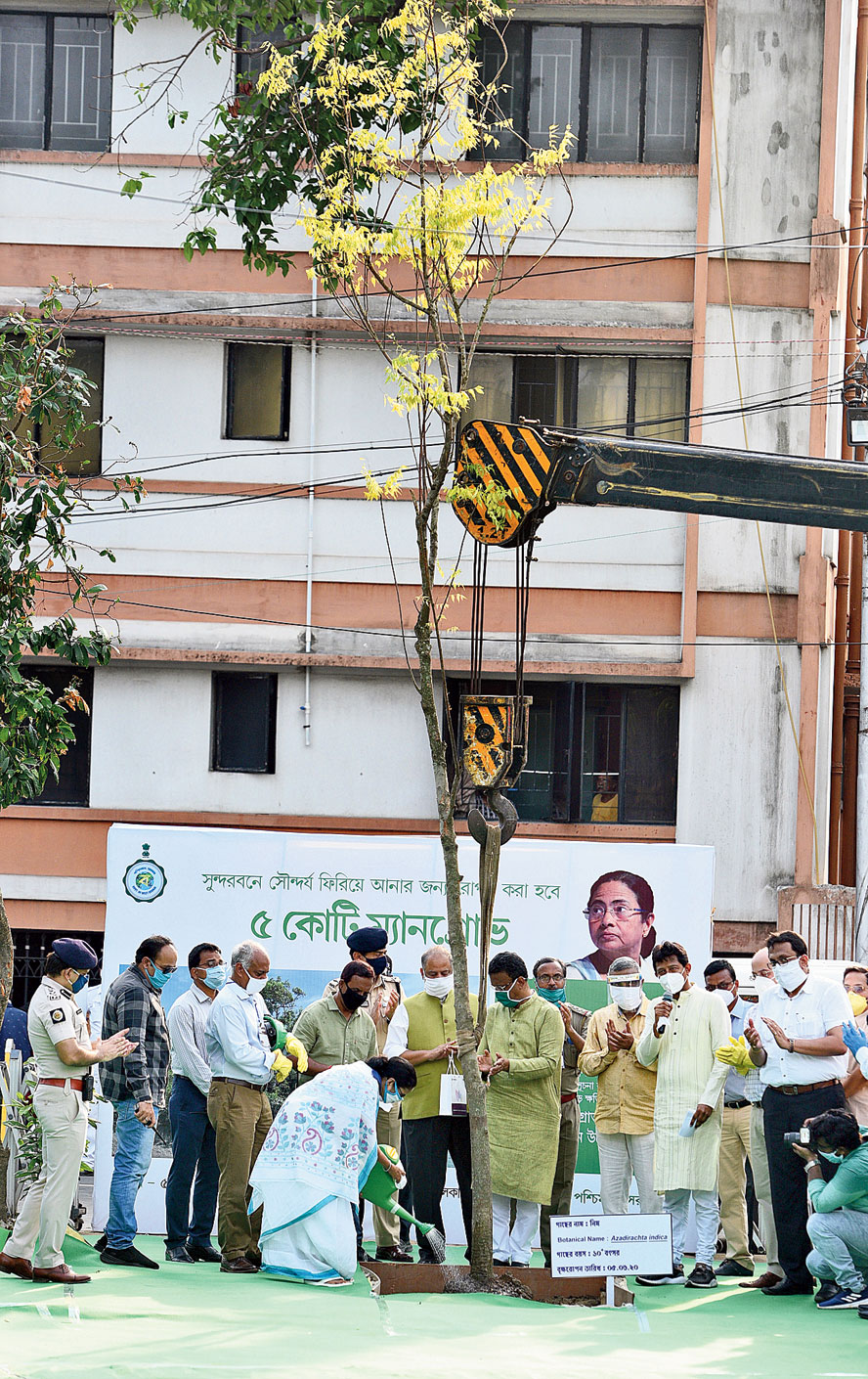 ---
|
Calcutta
|
Published 05.06.20, 09:25 PM
---
Three trees that were uprooted by Cyclone Amphan at Bhowanipore's Harish Park were replaced on Friday by five 10-year-old trees that were residents of a nursery for tall trees in New Town till the day before.

Storms have been uprooting old, shallow-rooted and disproportionately balanced trees in Calcutta for many years but this was the first time they were replaced by trees that have grown some foliage. Earlier, saplings and seedlings would be planted on special occasions.
Saplings take years to grow and often do not survive, while a grown-up tree has a better chance of survival. Also, the 10-year-old trees planted in Harish Park are more likely to develop a good volume of foliage by winter, so that their leaves are in a position to absorb fine particles and reduce air pollution.
It would have taken years for saplings to compensate for the loss of large trees.
Chief minister Mamata Banerjee laid some earth at the base of a replanted neem tree at Harish Park to launch the programme. Amphan, which struck Calcutta on May 20, felled about 16,000 trees in Calcutta and its neighbouring areas, Mamata said.
If the experiment of planting grown-up trees in place of uprooted ones succeed, Calcutta could get back some of the trees it lost quicker.
After launching the programme on Friday, Mamata also announced a change in the plantation policy of Calcutta. "We have to plant trees that are not uprooted during storms. We are going to plant neem trees. Many neem trees stood their ground during the cyclone," the chief minister said.
She added: "Ten thousand trees will be planted in Calcutta to compensate for the loss of the trees that were uprooted. Do not plant fat trees because they are uprooted in large numbers. Plant thin trees that do not get toppled easily."
A naturalist said planting neem trees was good but the authorities should also keep in mind that planting too many of a single species may not be a good idea.
"Neem trees are hardwood trees and they are less vulnerable to storms. Hardwood trees take more time to grow and they have more strength than softwood trees. Hence, they can withstand wind pressure more," the naturalist said.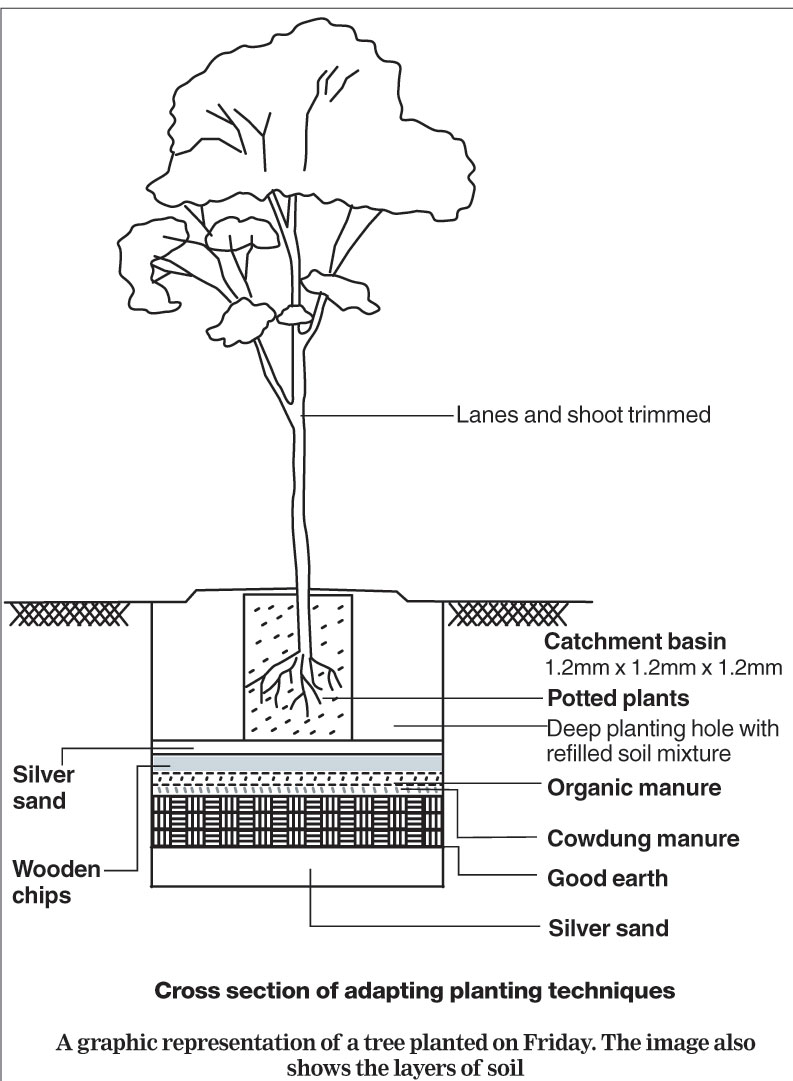 The five trees that were planted at Harish Park on Friday were of various species — ashok, bokul, neem, bilati gaab and bish. The trees were about 10ft tall.
Naturalists and green activists said the idea of planting grown-up trees had several advantages. Arjan Basu Roy, the founder of NGO Nature Mates, said that given the loss of green suffered during Cyclone Amphan, Calcutta could not afford to plant only saplings and wait for a decade for them to grow good foliage.
"A sapling grows into a tree in a decade or even more, whereas a tree that is 10 years old would be able to grow a good volume of foliage in a year," he said.
The trees that were planted at Harish Park on Friday may give the impression that a 10-year-old tree hardly has any foliage because they were trimmed before transportation. A forest department official said trimming was necessary so that the tree did not produce much resistance to wind and its vascular system was not strained.
Travelling 15-20km through city roads could have damaged the trees if they were not trimmed considerably, said the official. "Visit the same place two months later and you will be surprised to see the foliage," said the forest department official.
The official said a sapling could get drowned by tall weeds around it. A sapling can also be destroyed by cattle and be subject to human vandalism. A 10-year-old tree can withstand these challenges.
While the Calcutta Municipal Corporation (CMC) is the custodian of Harish Park, the state forest department supplied the trees that were planted on Friday and would also nurture the trees for some time. The CMC has also planted five three-year-old trees along Harish Mukherjee Road where multiple giant trees were uprooted during the cyclone.
CMC officials said the forest department had told the civic body that there were thousands of trees — aged between three and 10 — in their nurseries and these can be supplied for plantation along Calcutta's roads.