250 IIEST trees fall, 50 can be saved
Those close to the Hooghly riverbank have been battered the most, said an official
A tree at IIEST Shibpur that were damaged by Cyclone Amphan on May 20
Telegraph pictures
---
Calcutta
|
Published 01.06.20, 09:33 PM
|
---
Cyclone Amphan uprooted more than 250 trees on the IIEST Shibpur campus but about a fifth can be saved, a group of horticulturists said after inspecting the damage on Monday.

An official of the institute said some of the uprooted trees were more than 150 years old. The land where the institute stands was allotted in 1820.
The Botanic Garden authorities had allocated almost 21 acres on its southeast corner to the Society for the Propagation of Gospel. This had led to the birth of Bishop's College. The institute was established in 1856.
Calcutta Civil Engineering College, which was set up at the Writers' Buildings in 1856 after some years at the erstwhile Presidency College, came to the present campus as The Government College, Howrah, in 1880. Subsequently more land was acquired, enabling the campus to grow across 121 acres.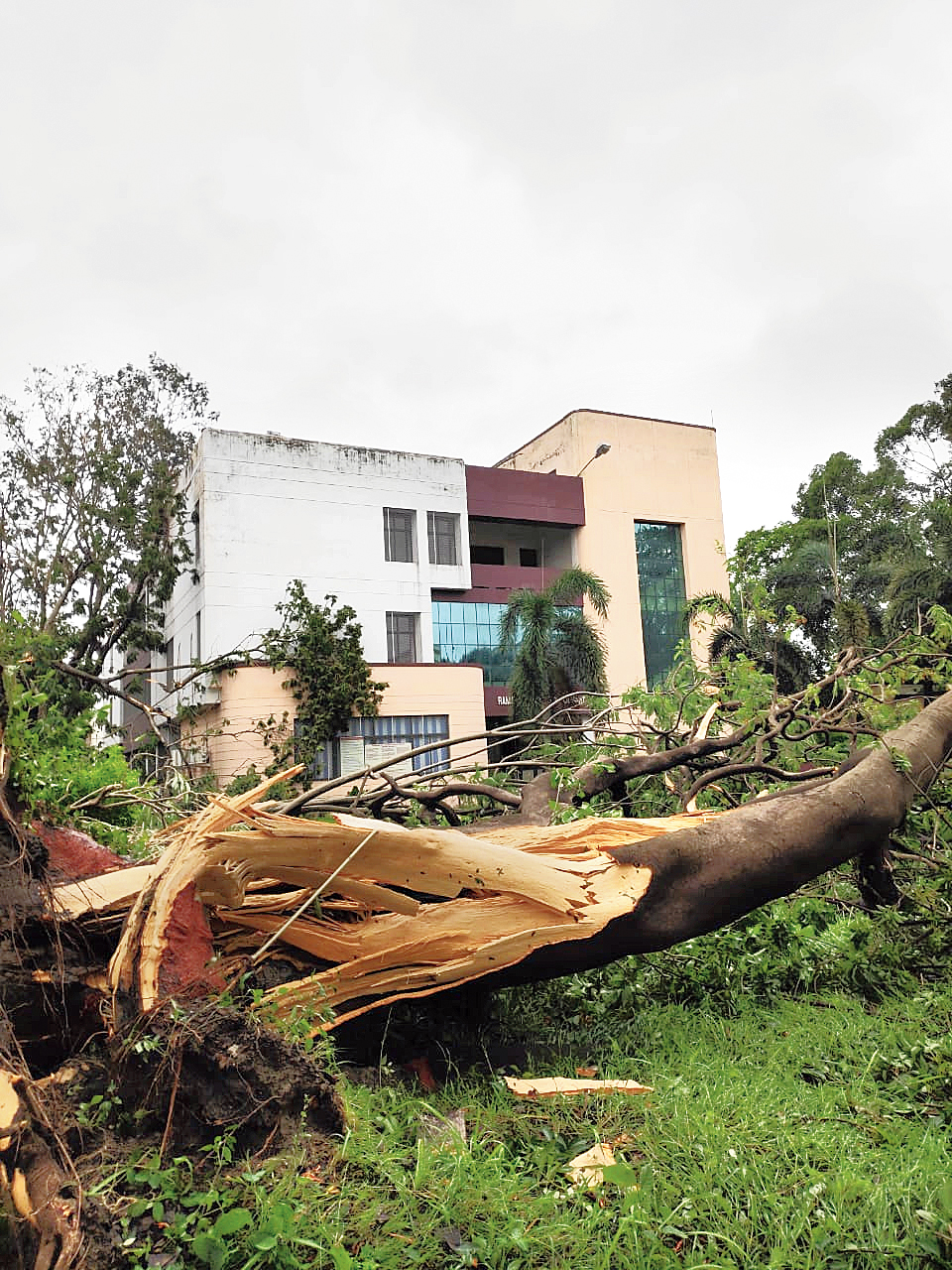 Bishop's College had shifted to Calcutta.
"So some of the trees are as old as 200 years. The East India Company had planted sal and teak trees apart from banyan, mahogany, walnut, peepal, gulmohar, and copper pot for ships that were then made of wood. Since it was expensive to get wood from Rangoon, the trees were planted," the institute official said.
While trees have fallen across the campus, those close to the Hooghly riverbank have been battered the most, another official said. "The two giant mahogany trees that adjoin the Oval stadium have fallen."
IIEST director Parthsarathi Chakrabarty had called the team of the horticulturists to explore the possibilities of saving trees on the campus that has more than 4,000 trees.
Trees that were uprooted with a considerable chunk of soil attached to the roots and have remained so for the past 12 days are easier to restore, according to the team.
D.T. Bhutia, a member of the team said they had advised the institute some immediate measures to revive the fallen trees. "The institute must cover exposed roots by hessian cloth and keep watering them. There should be heavy pruning of branches but care must be taken to leave some branches with leaves to sustain the basic needs of trees."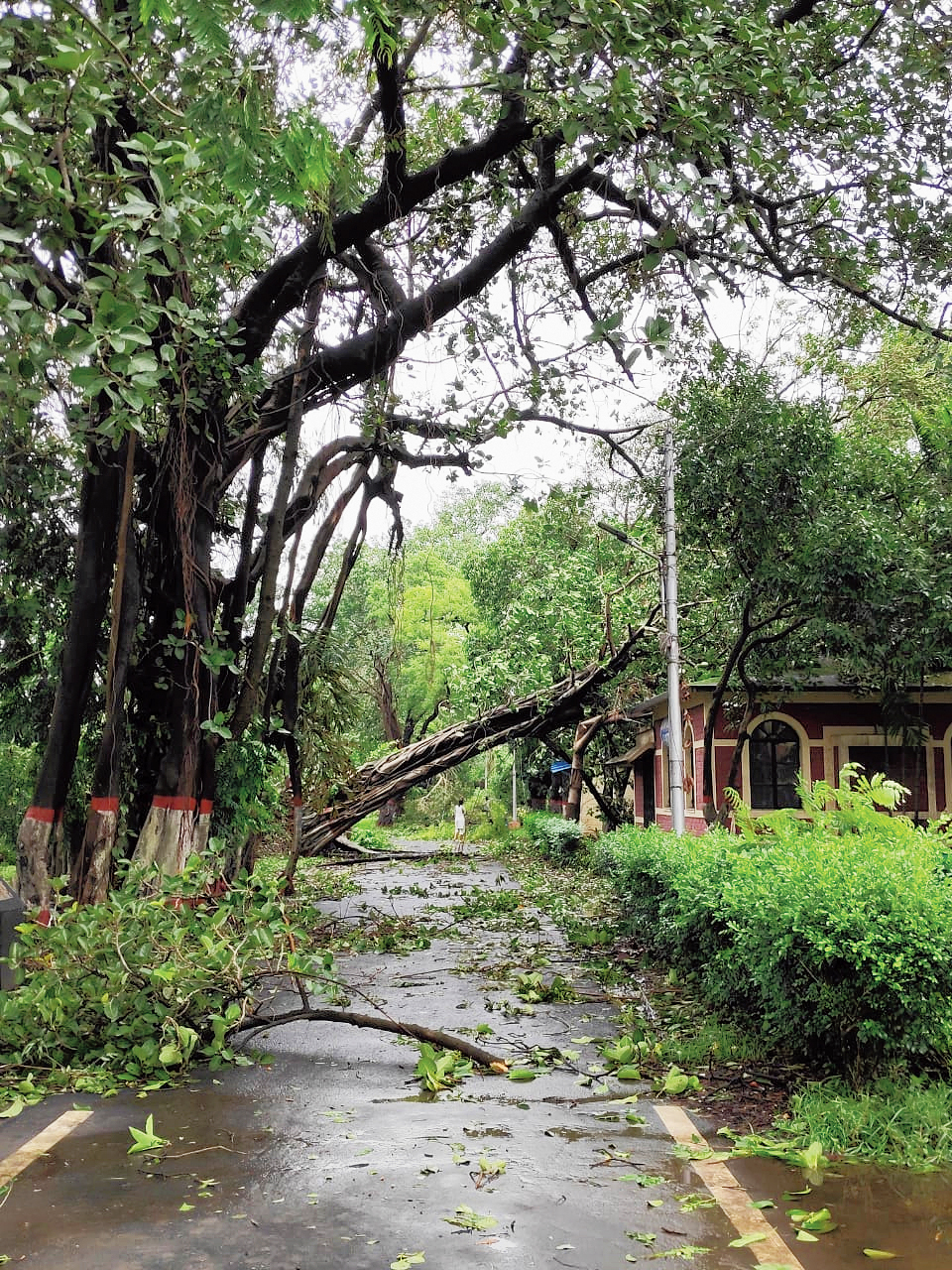 The remaining part of the roots will have to be protected and watered as the branches draw water from the roots to prepare food. "Hessian cloth, along with watering, will help in moisturising the exposed roots and help in transpiration loss," Bhutia, who is also the assistant director of the CPWD horticulture wing, said.
Tapas Roy, the officiating superintendent engineer of the institute who accompanied the team, said they would start covering and watering the roots from Tuesday.
"All operations like straightening the trees and preparing pits have to be done with the help of hydraulic cranes and excavators under supervision," Roy said.
Director Chakrabarty said the team had said some of the trees were still drawing nutrition from the soil attached to the roots. "If we take care of them, many of the trees will survive".