Vacant stare at static fan
The Telegraph visits pockets of Behala, a week after Amphan battered the city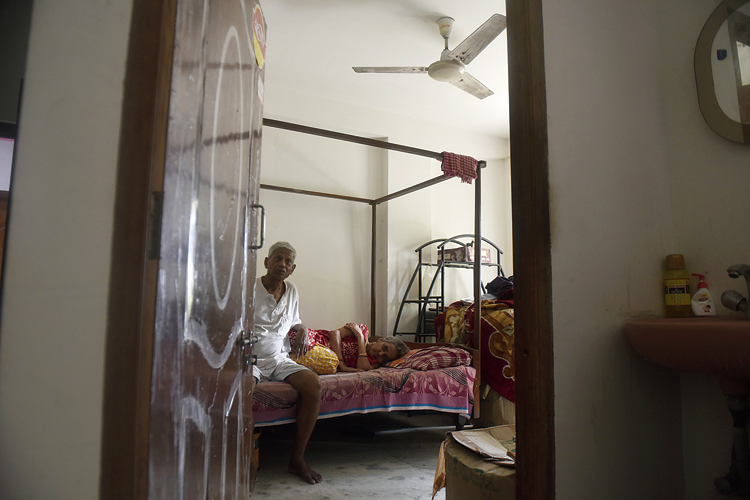 ---
|
Calcutta
|
Published 27.05.20, 09:48 PM
---
Power supply has been temporarily restored to many places of the city since Amphan struck a week ago but thousands of people are still in the dark. The Telegraph went to two such pockets of Behala on Wednesday afternoon, a week after Amphan battered the city.
Staring at the ceiling fan
A three-storey apartment block on Biren Roy Road (West) is like a dark island with power back in most adjacent houses. A septuagenarian couple live in a first-floor flat of the building.
Tarun Kumar Ghosh, 78, was sitting at the feet of his bedridden wife, Juthika, when this newspaper visited the apartment on Wednesday around 3pm. "My wife was diagnosed with a brain tumour a year and a half ago. She cannot speak much but keeps looking at the ceiling fan. Life has been a misery for her. For the past few days, it has become unbearable," said Ghosh, a former employee of Coal India Limited.
A pair of windows in the east is the only respite for the couple, who live with their son, daughter-in-law and two-year-old granddaughter. A series of empty bottles of mosquito spray were lined under the bed. "Swarms of mosquitoes make things worse after sundown. But we cannot shut the windows to prevent feeling suffocated," said Ghosh.
Post-sundown, he always stays by his wife's side because she "panics when she is alone in the dark".
The building has 12 flats, with people living in seven of them. The residents together have been spending Rs 3,500 a day to use a generator for an hour to pump water to the rooftop reservoir.
A van ferrying CESC workers had arrived on Wednesday afternoon, trying to organise a temporary supply from an adjacent feeder box. A man accompanying the van said he was sent by Partha Chatterjee, the Trinamul MLA from Behala West and state education minister, to "address the problems of power outage".
Grounded: pole and hope
Less than a kilometre away, around 100 people had gathered outside Sarsuna police station. The gates were closed and the men and women, some with folded hands, were pleading with two cops inside. "We have been without power for eight days. At least arrange a makeshift connection," a woman told a cop.
The group had come from multiple pockets of Sarsuna. One of them was No. 2 Kartiknagar, in Ward 127 of the Calcutta Municipal Corporation.
An uprooted electric pole with dangling wires lay at the entrance to a narrow lane that led to the neighbourhood. "Over 100 houses are without power. We are neglected because we don't live in highrises. There are so many senior citizens and patients here," said Dipak Das, a resident.
In a single-storey house, a stone's throw from the fallen pole, Sukla Ghosh was resting on a bed. The house stood in the middle of an alley and very little sunlight made it to the room.
"She is a kidney patient and underwent dialysis on Monday," said her daughter Shilpi,who is pursuing MCom from an open university. The insulin that Sukla needs has to be preserved in a refrigerator. Shilpi said she had to go to a friend's home — where power has been restored — every day to keep the medicine in the fridge.