City in hot pursuit of power repairmen
Calcuttans wary of CESC workers being hijacked by neighbours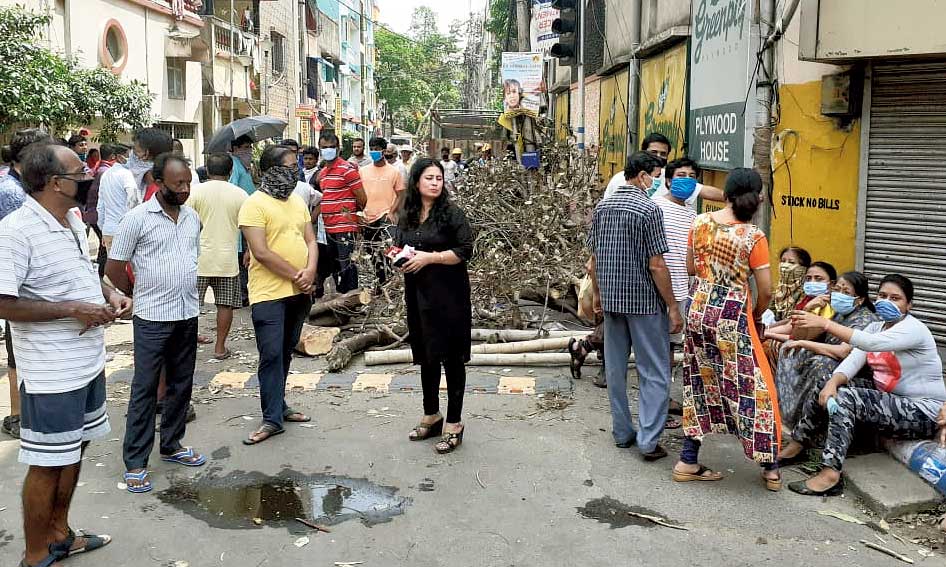 The group from Pallishree waits 20 yards away from the spot where the CESC workers were repairing cables at Suryanagar along NSC Bose Road on Sunday afternoon.
Picture by Subhankar Chowdhury
---
Calcutta
|
Published 24.05.20, 08:53 PM
|
---
If "CESC" has become the most sought after name in the city, desperation is driving Calcutta neighbourhoods to unparalleled lengths in their effort to catch hold of linesmen.
At Suryanagar in Bansdroni on Sunday morning, a group of CESC workers were repairing cables, surrounded by a group of residents who had not had power over the past four days.
Yards away, a knot of Calcuttans had formed another ring. They were from an adjoining neighbourhood, Pallishree, keeping vigil so that they could ensure the linesmen accompanied them to their locality instead of being hijacked by some other desperate group bereft of power.
"We are all camping here so we can catch hold of them," homemaker Gouri Kanjilal said, pointing at the CESC team.
In Lake Gardens on Saturday, a middle-aged woman was grateful and gracious enough to offer snacks to the CESC workers but not before she had taken the universal precaution of grabbing the ignition key from their pick-up.
She tied the key to her sari-end and kept it with her for several hours till late Saturday afternoon, that is, until the repairmen had fixed the lines.
"She offered them biscuits and tea. But the keys were with her till the job was done," an eyewitness said.
Scenes of linesmen being chased, cajoled, detained and released from captivity only after the mission has been accomplished have been playing out across a city shaken by the aftershocks of the cyclone.
In both tree removal —often a prerequisite for power cable repairs — and the restoration of electricity, there was visible improvement on the ground on Sunday. Several teams of tree cutters, including some from the army, were at work.
The state home department tweeted the names of several places where power had been restored.
"CESC today informed the state government that power was restored in Jadavpur, Selimpur, Mukundapur, Survey Park, Patuli, Regent Estate, NSC Bose Road, Behala Chowrasta, James Long Sarani, Silpara, Lake Town, Jessore Road, Nagerbazar, Rashbehari Connector, BB Chatterjee Road (1/2)," the tweet said.
(A resident of the main Survey Park told this newspaper at 9.30pm on Sunday that her home was without power for the fifth consecutive evening. She said the army had on Sunday cleared the area of fallen trees, some of which had already been cut down by workers hired by the residents.)
"(The state-run) WBSEDCL today informed the state government that power was restored in Garia, Bansdroni, Kestopur, Baguiati, Teghoria, Salt Lake, New Town, Barasat, Tamluk, Egra, Contai, Krishnanagar, Santipur, Ranaghat, Gayespur and Kalyani (1/2), Sonarpur, Baruipur, Rajpur, Narendrapur, Kakdwip and Namkhana," the home department tweet added.
A bus stop away from Suryanagar, in Netaji Nagar Colony, a five-member CESC team that was about to move on after an inspection was held inside a club building from Sunday morning.
Some of the residents said the five would be set free once power returned. "We have not misbehaved with them. We just want them to restore the power connection," said Arunabha Basu.
Basu's neighbour Ashis Das said "boys from the adjoining Sanghati Colony" had come and taken away two of the five personnel.
"This triggered tension among the residents of the two colonies but both sides had reason to act in such desperation; CESC must mobilise more men," Das said.
CESC has said that several of its staff had gone home to Bihar and Uttar Pradesh because of the virus-fuelled lockdown and have been unable to return at short notice.
At Suryanagar, scores of residents, wearing masks because of the Covid-19 threat, had assembled on Sunday morning around the point where the CESC workers had raised their ladder to disentangle cables from an uprooted radhachura tree.
No one was allowed to pass through the lane lest their movement disrupt the pace of work.
"It would not be proper to disturb them. Please wait," Jignesh, who identified himself only by his first name, was heard telling a young man on a bike.
For the Pallishree group, it was a long vigil. Standing a few feet from Gauri, Pradip Majumder said they were taking turns keeping watch. "We cannot afford to lose sight of the workers," he said.
The CESC team, which had started on the job on Saturday, worked till 3pm on Sunday to restore power in Suryanagar.
From Suryanagar, they were whisked away to Pallishree, which had its power restored by 6pm.
A doctor in the Rathtala area of NSC Bose Road was left wondering whether her side of the road was paying the price for not protesting on the streets.
"The houses on the opposite side of the road had their supply restored today but ours haven't. They had agitated yesterday; we only made a formal complaint. Perhaps that's why," the doctor said.