Last month's super cyclone Amphan left a trail of destruction that is not likely to be forgotten in a long time. Nature's fury went wreaking wrath everywhere, slamming, strangling, decimating. It didn't spare some of its own loveliest gifts to what also makes Calcutta what it is — a metropolis glorious in its abundance of trees. With thousands of them flattened — 5,500 is the estimated number — an aspect of Calcutta lies brutally bruised. And though a salvage effort was mounted in subsequent weeks — bids at reviving what could be saved, a drive to plant anew in the fatal gashes Amphan had opened — it's unlikely the wealth wantonly laid waste will be easy to recover.
The British colonisers brought with them to Calcutta new trees and planting patterns. This was in the late 18th century. And thus began to spread the canopy of mahoganies, cinchonas, casuarinas, rubber trees and hundreds others, big and small, from the womb that was the Calcutta Botanic Gardens, now called Acharya Jagadish Chandra Bose Indian Botanic Garden. Many of these magnificent creatures exist still, and can be spotted in nooks and corners across the city. Often they are the surviving fruit of mutual care — the old guarding the old; such as the trees on the grounds of heritage institutions like the David Hare Training College, St. Lawrence's School, Scottish Church, National Library, Victoria Memorial, Alipore court and old cemeteries.
Some of them could not stand up to the marauding force of Amphan, others emerged resilient. Here's a mixed cast of those we must mourn and some who we can still celebrate.
Baobab
Age: Over 100 years
Calcutta Botanic Gardens
Amphan-hit
The very word baobab brings to mind something that's ancient, stable, wise and giving. But Amphan knocked down this 100-year-old. "We are certain we will be able to revive it; it's high on our priority," says Basant Kumar Singh, who is the garden's botanical assistant. A 40-tonne crane belonging to the Metro Railways has been identified for this; only its handlers are awaited. But even in its horizontal position, the baobab may be able to extract nutrition and survive, adds Singh.
India has some old baobabs, although there are no written records on how this African tree arrived on our soil. "It may have come with the Arabian traders during the Mughal period when many spices and medicinal plants were introduced," says Singh. In Africa, the baobab has long been used as a cure for female infertility. Here too, traditional medicine men began to recommend it for female infertility. Perhaps that's why or perhaps because of its curious appearance — its bulbous trunk is full of water — it came to be regarded as a kalpataru, or heavenly tree. In many places in India, temples have sprung up beside these trees. "I saw a baobab in Allahabad that's probably over 600 years old, and another one in Muzaffarpur of the same age... Tree stories are often passed from generation to generation, based on which one may make an assessment of time," says the botanist.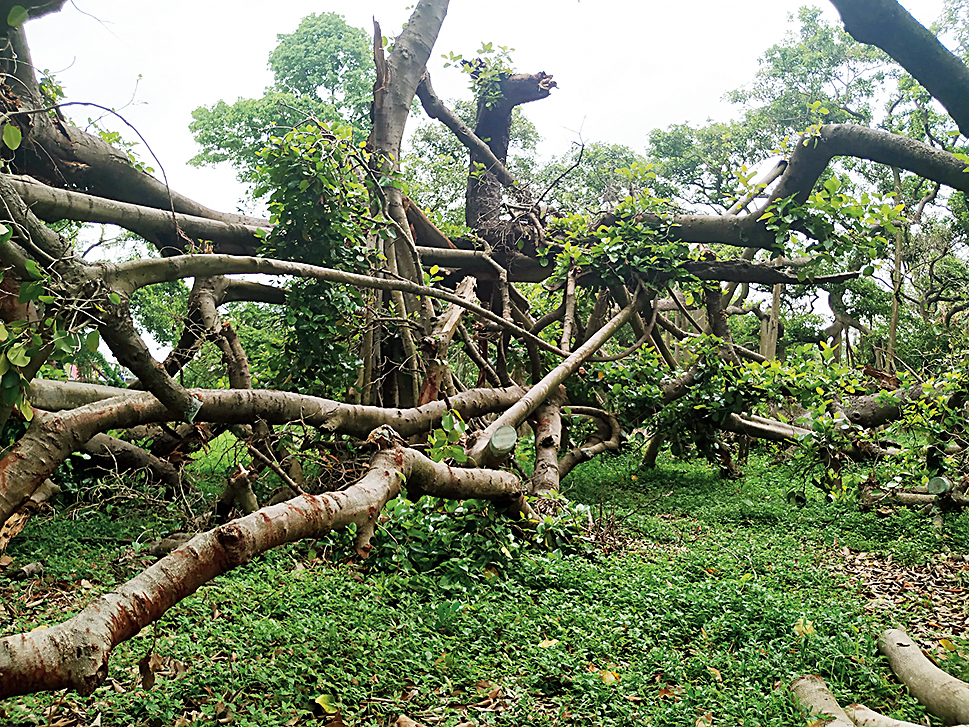 Broken prop roots of the Great Banyan. Paromita Kar
Double Coconut Palm
Age: Over 126 years
Calcutta Botanic Gardens
Amphan-proof
Palms have pliable trunks that give them resilience. What may have also helped this heritage plant is that it is housed in an enclosure with hundreds of others. This palm, the only one in India, figures in the International Union for Conservation of Nature's Red List of Threatened Species. It boasts of a past that may put to shame the best fiction writers.
The double coconut — so named because it produces only two at a time — arrived in the garden in 1894 from the Seychelles. It has siblings in the botanic gardens of Sri Lanka, Thailand, Edinburgh and a few other places.
The nuts of this palm — they are the heaviest seeds known to science — weigh 25 to 30 kilograms each. An extremely slow-growing plant, it takes about 100 years to mature. This tree began to flower in 2005-06, says Singh, which was when the scientists learnt that it is a female tree. Thus began the process of procuring male pollen.
They sought help from Sri Lanka and Thailand and as luck would have it, those plants too were in the flowering phase. After government MoUs, missives and consultations, fresh pollen arrived from Sri Lanka.
But pollination isn't a simple thing — it involves complex chemistry, biology, and environmental and time factors. "For six years, scientists made several attempts at pollination and failed. Finally, in 2013, they were successful," says an animated Singh. The fruit takes six or seven years to mature. "We harvested two coconuts this February, and stored them for future germination. Should there be a male plant, it would be a huge boon."
Sundari
Age: Over 100 years
National Library, Alipore
Amphan-proof
Calcutta has a few sundari trees; this one is quite a star. It is over a hundred years old with magnificent buttress roots — they prevent the tree from falling over. It survived that fatal evening of May 20, roots, branches and all.
Heritiera littoralis or looking-glass mangrove is a mangrove species, the ubiquitous resident of the Sunderbans and other marshy areas. But how and when it took root here isn't known. Maybe it simply liked the place and decided to acclimatise, quips Sukanta Biswas, who was the National Library garden superintendent for long years.
In the colonial days, that whole area comprised the Belvedere Estate — all luxuriant and with just a few buildings, including the Agri Horticutural Society of India. There was a large pond full of aquatic plants to separate the compound from the city's humdrum. There was also a canal that was part of the Hooghly water network built by the sahibs to wash the streets. Perhaps our sundari liked this proximity to water, who knows.
"I'm not sure even the trees in the Sunderbans have such big buttress roots and so huge a spread," says Biswas, fondly.
When the new auditorium of the library was being built, some of its roots had to be cleared. Resistance there was — an "andolan" — to have the building built elsewhere. "But who would listen," sighs the senior botanist. The seeds of this tree germinate while still on the parent plant and then fall. Viviparous germination, in botanical terms. Biswas planted a few of those saplings in the hope that they too will acclimatise.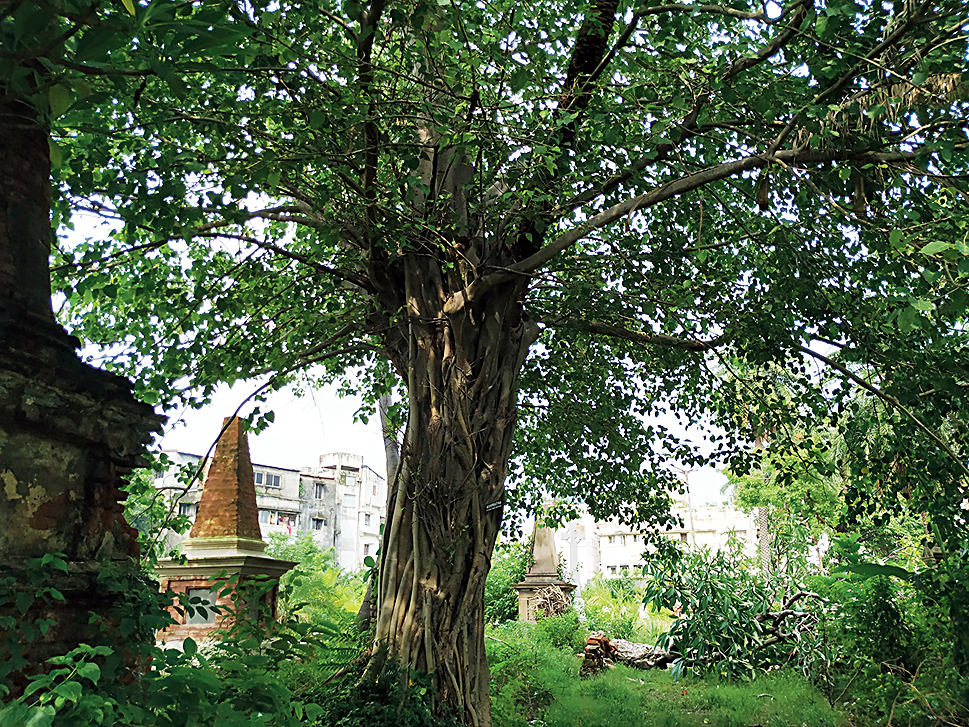 A peepal straddling an ancient palm (dark trunk emerging from the thick outer trunk) at the Scottish Cemetery. Paromita Kar
Krishna Vat
Age: Over 100 years
Calcutta Botanic Gardens
Amphan-proof
That evening, this Krishna vat, or Ficus krishnae, swayed and howled — "it was unimaginably scary", says the guard who was in the Roxbugh building 15 feet away. But this grand old gentleman emerged quite unscathed, its leaves shimmering in the sun two days later as if nothing had happened.
Talking about leaves, the leaves of this Ficus are unique. There's a little pouch-like fold at the base of the underside. The story goes that little Krishna used it to scoop out and store the butter he stole. And if caught by his mother, he would display the leaf front, with the stolen goody hidden on the other side. Some also believe that Krishna rolled it up with the butter inside, and that's how it assumed that shape. No wonder, it's also called Krishna buttercup or makhan katori.
Records reveal that in 1896, a Calcutta man showed a branch of this tree from elsewhere to David Prain, the then director of the gardens, explaining to him why the leaf was so shaped. The enthusiastic Prain soon grew this tree in the garden from a stem cutting. He also sent a piece to the Kew Gardens in London to be grown there, while leaf specimens were sent to various experts for identification along with the stories surrounding it. A botanist in Geneva could not decide if it was a new species or a freak of nature resulting from a chance mutation. In the meantime, though, he published its name as Ficus krishnae and the name stuck. Many years later, scientists concluded that it was indeed a freak variant of Ficus benghalensis, and its name was revised to Ficus benghalensis var. krishnae.
Peepal on Palm
Age: Over 150 years
Scottish Cemetery, Park Circus
Amphan-proof
This is actually a pair of trees in a tango, the central attraction of the 200-year-old cemetery. The host tree, a Royal Palm, is almost invisible, engulfed as it is by the roots and branches of the sacred fig, or Ficus religiosa. "The palm is about 150 years old," says Neeta Das, conservation architect and project head appointed by the Kolkata Scottish Heritage Trust. A row of such trees was planted to decorate the resting place of the deceased Scottish members of society — soldiers, missionaries, businesspeople and so on, she adds.
The tango is indeed a curious phenomenon of the plant kingdom. Ficus seeds often take root on another tree, via bird droppings. Drawing their nourishment initially from the host, they grow in size, gradually sending their roots deep into the ground. There comes a time when they choke the host to death or make it so vulnerable that it is easily felled. However, the whole process occurs at a very slow pace, over decades.
"Although spared by Amphan, the palm may not survive much longer," says Singh of the Calcutta Botanic Gardens. The peepal is fully grown and mature. "It has managed to disturb the host's centre of gravity considerably. The palm's trunk may have weakened from within, making the crown vulnerable," he explains. Of course, we know that when there's competition for nutrition, only the fittest survive.
The Great Banyan
Age: Over 270 years
Calcutta Botanic Gardens
Amphan-hit
This iconic Ficus benghalensis is a complete forest by itself. It's over 270 years old and spreads over 20,000 square metres. Its huge canopy is supported by around 4,000 prop roots, of which 42 to 44 were damaged by Amphan. Some of these are young while the others quite aged — 50 to 100 years old — and might have decayed anyway, says Singh. The younger ones are being restored but the older, heavier ones are difficult to move.
The interlink of these roots has been disrupted but it's only a temporary thing. Ficus trees possess great vigour and with the rainy season, it will make up for the loss it has suffered. This giant has come a long way from the time it was a sapling on a date palm. Over the years, the host died from strangulation. The banyan flourished, and how.