Covid: With third wave lurking, common man's struggle for existence intensifies
With strict norms in place, life has changed for several people working in shopping centres across Calcutta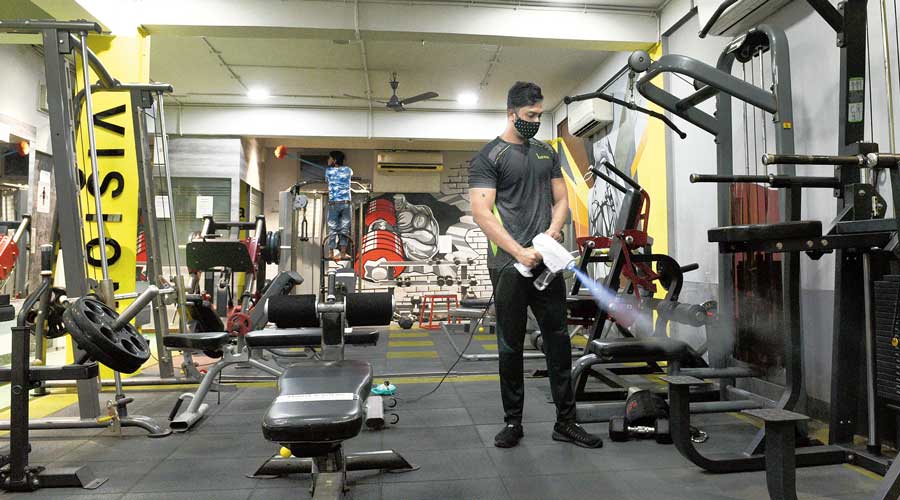 ---
|
Calcutta
|
Published 30.06.21, 01:26 AM
---
The young man at a retail store in a shopping mall in Calcutta now goes to the washroom only once in seven hours because there is no one else to look after the store anymore.
A youth works as a guard at another shopping mall for a monthly salary of Rs 9,000. He did not receive last month's pay. He has to spend Rs 250 on his daily commute to the mall and back home.
Life has changed for both these men and many others like them, who work in shopping centres across Calcutta, because of the Covid norms in place. Stores and malls were allowed to reopen on July 16, after having been shut for more than a month as a precaution against Covid.
The Telegraph talked to the two men to know about their ordeals. Both hope that the relaxations to the Covid curbs that will come into effect on July 1, including resumption of public transport at 50 per cent passenger capacity, would ease their struggle a bit.
"This would bring down my daily expenses," said the guard. However, the man at the store said he was not sure when his company would recruit people again so he would not have to man the store alone.
Also from July 1, malls can stay open from 11am to 8pm, an extension of two more hours. It brings with it the promise of more business.
Here's what they said:
Lone hand
The young man, around 30, lives in Lake Town and works at a store in a south Calcutta mall. Before the state government imposed stricter Covid norms in May following a renewed surge in cases, the store had three employees. Now there are only two.
The youth, who earns Rs 25,000 a month and recently married, is happy to have retained his job. But the ordeal is too much at times.
"The two of us come to work on alternate days because of problems in travelling. So only one person mans the store," he said. "Earlier, there would be three of us and one could take a break when needed without any hassle. Now, I go to the washroom only once in seven or eight hours," he said.
There are two reasons why he cannot leave the store for even five minutes. The shutter cannot be brought down during business hours, and so the expensive items will be left unguarded if he steps out.
Secondly, with business almost one-fifth of what it used to be, the store cannot afford to lose a single customer. "We are under a lot of pressure to increase sales," he said.
There is also a feeling of loneliness.
"The mall is almost empty and there are only a handful of people to talk to in adjacent stores. I feel so depressed at times. There are hardly any customers and no one from other stores walks in for a chat," he said.
"Also, there is this fear that if I suffer a heart attack no one will notice. I have heard about the manager of a retail luggage chain suffering a heart attack and dying when he was alone at the store."
The youth's problems start the moment he steps out of his home. With no public transport available, travelling to south Calcutta from Lake Town is a huge problem.
"I have made arrangements with a person who drives a car hired by a central government office. I pay the driver Rs 80 and he drops me near the mall. I reach around 10am and have to wait for an hour outside for the mall to open," he said.
Earlier, he would take buses to reach the mall and one-way journey would cost Rs 70.
One day the car was not available. The youth had to book an app cab for Rs 663. The usual fare is around Rs 300.
Returning home, an employee of another store offers him a ride on his two-wheeler. But three of them travel on the motorcycle, which is dangerous and illegal.
"It was raining heavily a few days back and I was scared that I could fall off the two-wheeler," he said.
No pay
The 32-year-old man stays in Jadavpur and works as a guard at a retail chain outlet in a mall.
"Earlier, I would spend around Rs 30 to travel to the mall by bus. But now I book a two-wheeler through a ride-hailing app for around Rs 250," the man said.
He earns Rs 9,000 a month, with which he supports his family comprising wife, son and mother. He has to pay more than Rs 1,000 a month on his son's private tuition. 
The man, the only working member in the family, said he did not get May's salary as the mall was shut following a government order.
"I have to spend so much on travel now. Why did the government allow malls to open but did not allow public transport to resume?" he asked.
"Many private guards have lost their jobs. At least I have mine," he said.