Covid victim's friends donate Rs 75,000 to Bhalopahar School in Purulia
Kamal Chakraborty, 77, co-founder and secretary of the institute, plans to set up a library with the money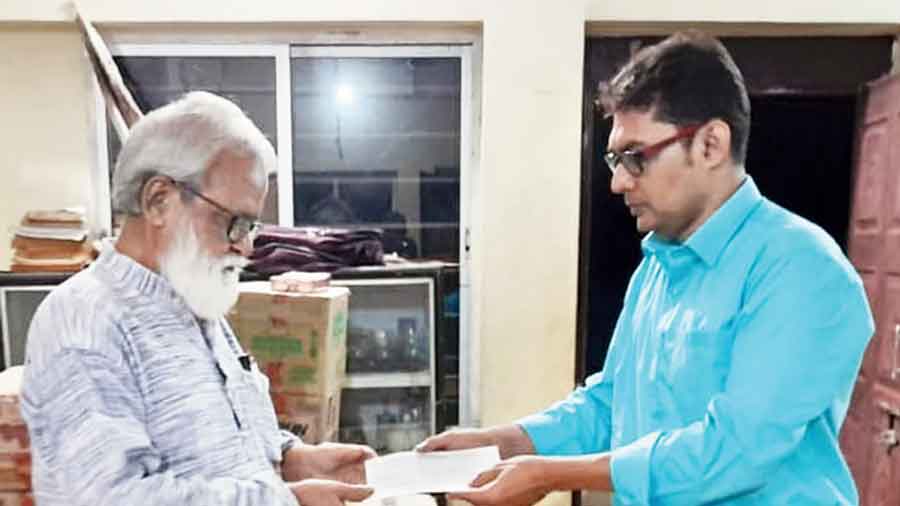 Debasish Sarkar, a friend of Abhigyan Mukherjee, hands over the cheque on behalf of Mukherjee's schoolmates to Kamal Chakraborty, the co-founder and secretary of Bhalopahar School
Telegraph picture
---
Calcutta
|
Published 26.07.21, 01:26 AM
|
---
A group of friends who lost schoolmate Abhignan Mukherjee — an inspector in Calcutta police's traffic department — to Covid last year, donated Rs 75,000 to a school in Purulia on the death anniversary of their friend. 
Most of the students at Bhalopahar School in Purulia's Bundwan block, about 300km from the city, are tribal and first-generation learners. Their parents barely earn a few thousand rupees a month. 
Mukherjee's school friends — 10 of them — handed the money to the school on Saturday, exactly a year after the inspector succumbed to the disease. They said they wanted to do something in memory of their friend for a school, because "school is where their friendship had been founded". 
The Purulia school, which depends on contributions, runs classes from Nursery to VIII and has 220 children on the rolls. The pandemic has shattered the aspirations of many of the children and their parents as the school had to be closed as a precaution against Covid.
"Many of us have lost at least one loved one to the pandemic. He (Abhignan) was at the forefront of the fight against Covid and we are proud of him. We wanted to do something in his memory that would be of some significance," said Debasish Sarkar, one of the 10 who raised the money, while returning from Purulia on Sunday.
"It is a joint effort. Friends from India, Singapore, Canada, the US, Nigeria and Dubai have come forward. None of us knows what others have contributed. That was intentional." 
The friends are from three batches of St Thomas' Church School, Howrah.
Kamal Chakraborty, 77, the co-founder and secretary of Bhalopahar School, plans to set up a library with the money. "No one reads now, but still I want to set up a library with the money," said Chakraborty, who founded the school with Jayati Chakraborty.
The school came up in 2004. "There were a few schools in the area but students would hardly go there. I got these children to school, gave them mid-day meals and also arranged for buses to ferry those who lived far away to school," Chakraborty said.
He rued that it was difficult to ensure that the children kept studying — and the pandemic has made the task even more difficult — because girls were married off early and boys started digging soil to earn a living.
"Also, some of their parents go to other states to work as contract labourers and the children are left behind…. It is difficult but I am trying," he said. 
Chakraborty had left his job in a private firm in Jamshedpur in 1996 and relocated to Bhalopahar, where he built the school and a health centre.