Covid: Use safe homes, government to patients
This will ensure better utilisation of the facilities and monitoring of patients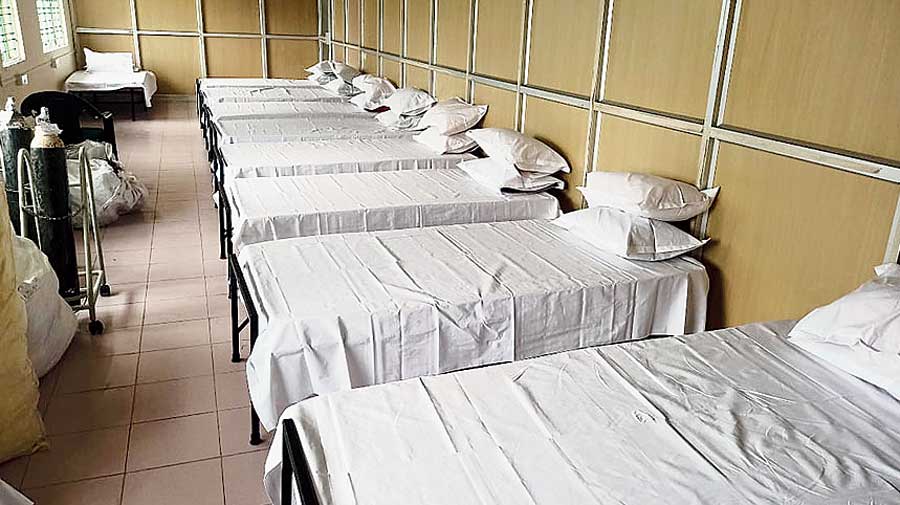 ---
|
Calcutta
|
Published 20.10.20, 12:59 AM
---
The state government wants more Covid patients —asymptomatic or with mild symptoms and staying at home — to be encouraged to use the safe homes.
This will ensure better utilisation of the facilities and monitoring of such patients, government officials have said.
The government recently held a meeting with district health authorities where the chief medical officers of health of the districts and civic officials were present. They were told to urge Covid patients, especially the elderly or those with comorbidities, to stay either at government safe homes or at the satellite units run by private hospitals.
When the health department receives information of a Covid patient, the CMOHs and civic health officials would be asked to speak to these patients.
If they are elderly or have comorbidities such as hypertension, diabetes, renal problems, chronic obstructive pulmonary disorder, cancer, or other diseases that compromise immunity, they would be urged to stay at safe homes or at private hospital-run satellite units, a government official said.
"Non-utilisation of safe homes and private satellite units is worrying. In the initial days of the pandemic, people with mild or no symptoms had rushed to hospitals. Now that the fear is gone, people prefer to stay at home and seek advice of doctors," the official said.
In Bengal, there are 200 safe homes with 11,507 beds. According to the state health department, on Monday, there were 1,276 occupants in these facilities, which is barely 10 per cent of the number of beds.
The safe homes have facilities for regular health monitoring of patients. If parameters such as level of oxygen in blood become abnormal then they can immediately be shifted to hospital. But that cannot happen if one is at home, another official said.
Although asymptomatic Covid patients and those with mild symptoms are advised home stay, many, particularly those with comorbidities, turn critical because they often fail to realise when hospitalisation is required.
"Several people have died because of delay in getting admitted to hospital. We have been able to bring down the number of deaths through timely intervention. But better surveillance by bringing more people to institutional quarantine will further bring down the death rate," a health official said.
In Bengal, 6,119 people have died till Monday because of Covid. Sixty-three people died from the disease on Monday, according to health department records. Of this, 84.6 per cent of patients had comorbidities.
The safe homes were created for people who would find it difficult to follow safety protocols at home and for those who needed monitoring.
There are at least two safe homes in Calcutta with proper infrastructure but most beds are empty, a health official said. One is at Anandapur off the Bypass and another at New Town.
At Calcutta airport, for example, a safe home was created for international passengers reaching the city. The facility was created at the old domestic terminal building but later it was shut down because for want of takers.
The satellite units run by private hospitals, too, have a few takers. Metro had recently written how many private hospitals were planning to shut down the facilities because of recurrent losses.
The government, though, has urged them not to do so. Private hospitals have tied up with hotels to set up the facilities.
"To popularise these satellite units, we have proposed to private hospitals that they will get clinical establishment licences to set up monitors, oxygen cylinders and other facilities so that patients with moderate symptoms, too, can be treated there," a government official said.