Covid: Sex workers and transgenders laud health department's jab decision
Public health specialists say these communities should get priority in vaccination as they are always at risk of contracting the virus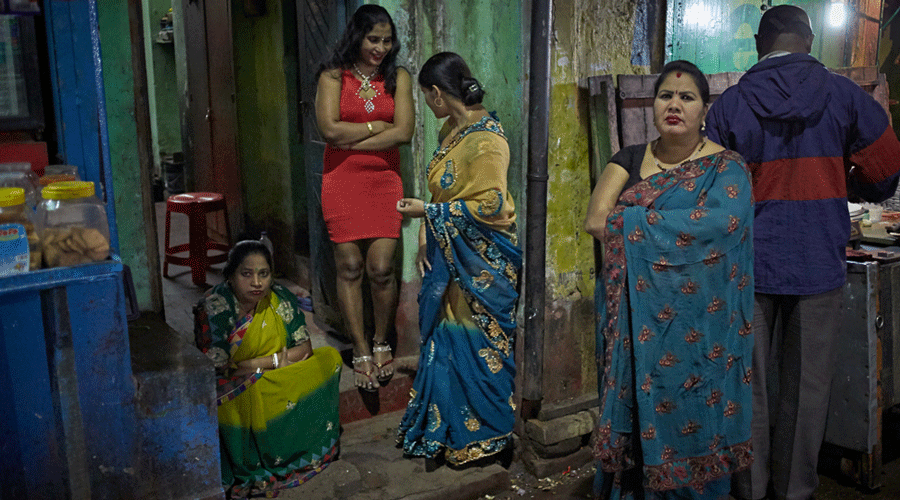 The government should do the vaccination of sex workers through clinics that we run in red light areas.
Shutterstock
---
Calcutta
|
Published 21.05.21, 01:14 AM
|
---
Sex workers and transgenders have lauded the state health department's decision to include them among groups that will get priority in receiving Covid vaccines and also urged the government to ensure that good intention does not suffer because of poor implementation.
Sex workers and trans-genders are among the most discriminated and disadvantaged sections of society and most of them do not have formal or fixed jobs. Almost all are daily wage earners and they cannot afford to sit at home.
Always at risk of contracting Covid, these communities should get priority in vaccination, said public health specialists.
While many welcomed the decision to vaccinate the two communities on a priority basis, they criticised the government for not giving the same treatment to private security guards.
Private guards have been playing a crucial role since the outbreak of the pandemic in March last year. At hos-pitals, housing complexes and offices, they went much beyond their call of duty and implemented Covid norms and helped patients and suspected patients in getting on and off ambulances.
"This is a welcome move. We have been demanding for a long time that transgenders be given vaccines on a priority basis. This should have been done earlier, but better late than never," said Ranjita Sinha, a transgender activist and the secretary of the Association of Transgender/Hijra in West Bengal.
Government officials have informed the community that there were 711 transgenders in the state according to the 2011 Census. The actual number, Ranjita said, would be many times more.
Kajal Bose, the secretary of the Durbar Mahila Samanwaya Committee that works with sex workers, said:"Sex workers are always at risk of getting infected. The government should do the vaccination of sex workers through clinics that we run in red light areas. That will result in fast vaccination."
Durbar has 60,000 sex workers registered with it, but there are many who are not part of any organisation because of the fear of reprisal in society.
"There are many trans-genders in districts who are not documented. The government should widely advertise the fact that they have recognised trangenders as a priority group for vaccination. Only then those who are not documented will come forward," said Ranjita.
"It is a very progressive and bold decision…. I think the decision to prioritise some groups is a wise decision gi-ven the practical reality of vaccine shortage," said public health specialist Soumyadeep Bhaumik, who is associated with the The George Institute for Global Health, India.