Covid scare: 2 weeks on, on-campus turnout in schools dips
Many parents are not keen to send their children to institutions and many students, too, prefer the online mode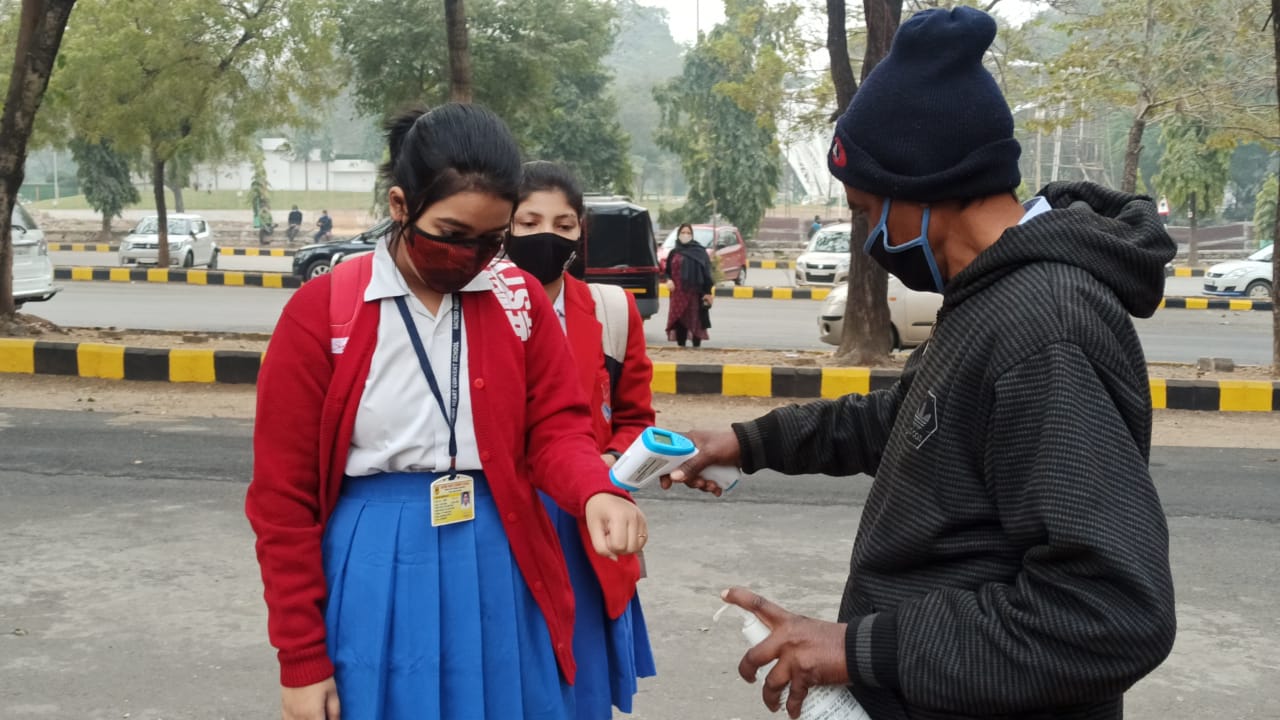 Student life with Covid protocols has become more "restricted".
File picture
---
Calcutta
|
Published 28.02.21, 01:44 AM
|
---
A fortnight into resumption of schools, in-person attendance in classes has dwindled.
Several schools that had reported attendance between 70 and 90 per cent in the first few days of resumption, said it had fallen to between 20 and 60 per cent now.
Schools across Bengal, which had shut down in March last year as a precaution against Covid, reopened for students of Classes IX to XII on February 12 following a nod from the state government.
Many parents are not keen to send their children to school and many students, too, prefer the online mode.
Some parents said it was almost the end of the academic session and there was no need to send the children to school. The spike in Covid cases in some states has also made them apprehensive.
Parents feel it might break the "rhythm of classes" because children have adjusted to the online mode and teachers are often conducting one-on-one doubt clearing sessions virtually.
At St James' Schools, in the initial few days about 90 per cent of the students who were called to campus turned up but gradually that started fluctuating and went down to 50 to 60 per cent.
At Lakshmipat Singhania Academy, only 20 per cent of the students who had consented to attending classes are going to campus.
At The BSS School, Class X initially had 85 per cent attendance but that has now gone down to 60 per cent.
At Indus Valley World School, for Classes IX, XI and XII, an average of 50 per cent showed up for doubt clearing sessions.
The Newtown School had planned to have both online and offline classes for IX and XI but aborted the plan of on-campus classes because the response from parents was very feeble.
Parents are not willing to send children to school except for practical classes or if there is no other option. They are not keen to send the students only for revision or doubt clearing sessions.
Several schools have had to cancel plans to conduct on-campus exams after parents protested.
In many homes, students now have their own space where they are not disturbed.
"Initially we would peep in every once in a while. But now, when she is at her desk we know she is not to be disturbed," said a mother whose daughter is in Class XII humanities. Class XII science students are an exception.
"On days that Class XII students have practicals they are on the campus but on other days when it is doubt clearing sessions, the number of students is very small," said Meena Kak, director, Lakshmipat Singhania Academy.
With the option of online classes available, students feel they are not missing out if they do not go to school. The initial excitement dwindled in a few days.
"There is a scare of infection among parents and if there is a provision of attending classes from home, they are comfortable doing so. But lessons can be more interactive in a classroom," said Sunita Sen, the principal of The BSS School.
Teachers also feel the absence of extra-curricular activities has made school less attractive. Student life with Covid protocols has become more "restricted".
"We are very strict with them and do not allow them to go play on the field or to the canteen or allow long breaks. In a way it is more constricted," said Terence Ireland, the principal of St James' School.
Classes have fewer students and if their friends don't turn up, others lose interest too, Ireland said.
Some school heads felt the online lessons will have to be integrated into the school system.
"Some of the curriculum will have to be taught online.... the turnaround time for doubt clearing is less online," said Sunil Agarwal, the founder-director of The Newtown School.