Photo studios see rush for portraits
With so many deaths in the Covid second wave, there are many families requiring framed photographs of the deceased for funerals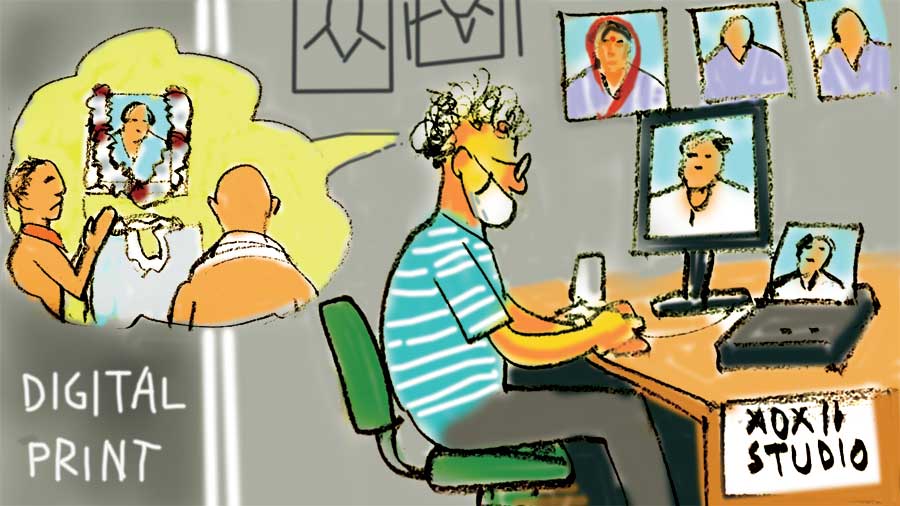 ---
Salt Lake
|
Published 11.06.21, 04:24 AM
|
---
Business is down in all sectors but in a cruel turn of events, photo studios are inundated with calls. With so many deaths in the Covid second wave, there are that many families requiring framed photographs of the deceased for funerals.
Studios are doing the best they can, working within the short hours they are allowed to stay open, with the limited staff who report for duty, but the depressing nature of the work is taking a toll on the mental health of these technicians.
"It would be wrong to count money at such a time. We are not looking for business but just trying to help the bereaved," says Mukul Khan of Studio Maa in Ramdhenu Complex opposite New Town's Coal Bhawan.
Online orders
Many bereaved families are still Covid positive and unable to go over to order or collect the pictures.
Not taking a chance, EC Block's Photo Centre has banned entry of customers. "We are asking people to email or WhatsApp the pictures and they are later sending drivers to pick up the frames from outside the store," says proprietor Somnath Dey, who lives on the floor above the studio.
Before the pandemic, the studio used to cover various assignments, especially for schools. "Now, much as I shudder to admit, our work is reduced to printing funeral pictures," Dey shakes his head.
Portrait Digital Photo Studio in New Town's Eden Shop says funeral photos used to be 10 per cent of their business before but it is now 80 per cent. "We are taking orders online and asking customers to get them delivered using Swiggy and Uber apps," says Prativa Praharaj, who runs the studio.
Lack of equipment
Then again smaller studios, that lack their own printing setups, are suffering as the stores they would rely on are shut. "We would get large printouts from Dharamtala. With our in-house equipment we can only print A4 size photos, which is much smaller than the standard funeral picture. But so desperate are times that we have had a couple of orders even for those," says Vikash Kumar Rana of VKR Studio in DF Market near Kolkata Gate.
Without proper printing backup, business has slumped such that Rana had switched to delivering milk and bread. But he had a scooty accident and is now on bed rest. "My wife is managing whatever little funeral picture orders we are getting at the studio," he says.
Staff crunch
Praharaj says only one out of her four staffers is able to commute amid the transport restrictions. "Even then, the working hours are short and odd — 8-10am and 12-3pm. It's not enough," she reasons.
Jayanta Dutta, who runs Studio Raj in Ultadanga, says they are struggling to complete work in just three hours a day that they can open for.
Judging from the ominous Covid trends earlier this year, the proprietor of a large studio in the heart of Salt Lake had anticipated the spike in deaths and, hence, the requirement for funeral photos.
"I made arrangements for my staff to stay back at the office during the lockdown. The staff are home delivering some photos now or friends of Covid-positive families are coming to pick them up through our back door. We are scared for our own safety as we are dealing with those in contact with patients, but can't stop this service, not when our customers need us most," says the man, asking not to be named.
Studio Maa is able to stay open beyond curfew hours as the store doubles as a cyber cafe, providing an essential service.
Depressed at work
Aura Studio has shut its BD Block store to save on rent but continues to take orders over phone. "It's heart-breaking to make funeral pictures of customers we have known for years," says Surupa Sircar, who runs the service. "A lady whose maternity pictures we clicked last year has now died, leaving behind her year-old Covid positive baby. Her mother-in-law has died, father-in-law is on the ventilator, brother-in-law is hospitalised. Families like these are placing orders for pictures of multiple members."
The owner of the large Salt Lake studio says his staff are slipping into depression, having to all day crop out funeral mug shots out of happy wedding pictures. "In place of one or two funeral picture orders a day in the pre-Covid world, we are now getting 10 to 15. And in this second wave it's not just the aged who are passing away. We are living with the horror of making funeral photos for people in their 30s and 40s. Many husband-wife couples are both departing. It's taking a toll on our mental health," he says.
Khan too is alarmed by the number of orders he is getting for people in their 30s and 40s. "The ratio of this age group to senior citizens is about 2:3 in the second wave," he says.