Covid: Private healthcare facilities keep vaccination on hold
The Centre has announced that from May 1 the hospitals will have to procure their doses directly from the manufacturers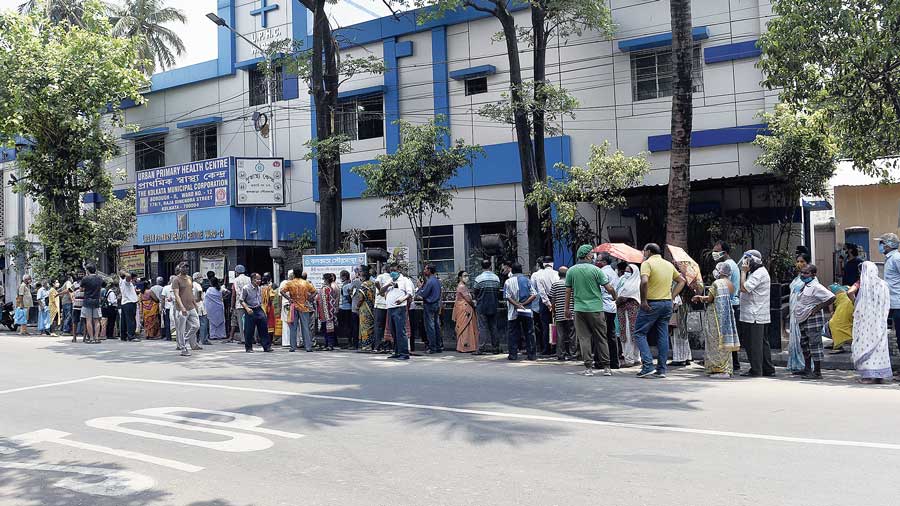 Recipients wait in queue for Covid-19 vaccine doses at a CMC health centre on Raja Dinendra Street on Friday.
Bishwarup Dutta
---
Calcutta
|
Published 01.05.21, 01:40 AM
|
---
Thousands of people queued up outside Covid vaccination centres in the city on Friday. Many had their second doses scheduled in the next four-five days. They queued up on Friday fearing that doses would become even scarcer later.
Private hospitals have had to return all their vaccine stock to the government. They will have to procure fresh stocks from the manufacturers at new rates from May 1. The change has led to a situation where private facilities may not have any doses to offer at least for the next few days. Metro tried to find answers to questions that are haunting potential vaccine recipients.
Will private hospitals continue to administer Covid vaccines Saturday onwards?
No, private healthcare facilities are left with no doses after Friday as they had to return all their stock to the state health department at the end of the day's vaccination session. The Centre has announced that private Covid vaccination centres will have to procure doses directly from the manufacturers from May 1. All private healthcare facilities have kept Covid vaccination on hold.
I have my second dose scheduled in the next few days? What if private hospitals do not resume vaccination by then?
Officials of most private hospitals asked all recipients who have their second doses scheduled in the next few days to wait. The recipients were advised to contact the hospitals after a couple of days at least. Once doses are available again, the private hospitals will restart inoculation.
"We have suspended vaccination on Saturday and Sunday. We hope some clarity will emerge by then about when we will get doses. We will be able to make any commitment only after we are sure about getting vaccines," said Rupak Barua, the president of the Association of Hospitals of Eastern India and the group CEO of AMRI Hospitals.
I am in the 18-44 age group? When can I get my vaccine at a private hospital?
Chief minister Mamata Banerjee has announced that vaccination for the 18-44 age group will start on May 5. Officials of private hospitals said they hoped they would get clarity by then and will inform potential recipients accordingly.
I am above 45 years, but yet to take the first dose. What do I do?
Like those who are scheduled to get their second dose, those above 45 willing to get the first dose at a private hospital have to wait till the hospitals resume inoculation. They can, however, visit a government-run vaccination centre.
Is it true that all vaccination centres are giving priority to second dose recipients?
Yes. "As the supply is irregular, we will prioritise second dose recipients," said a state government official.
Why are private hospitals suddenly unable to vaccinate?
The Centre has announced that from May 1 all private hospitals have to procure their doses directly from the vaccine manufacturers. But several private hospitals have said they have not received any commitment from the manufacturers about when they will be able to supply doses to them. Since they do not have any stock left, the private hospitals have been forced to stop vaccination for the time being.
At a meeting with the state health department, officials of several private hospitals have requested the department to procure vaccines from the manufacturers on their behalf. The state has written to the Centre asking if it can do so. Officials of some private hospitals said they did not expect any development on procurement of vaccines for private hospitals till the Assembly election results are announced on Sunday.
Will government-run hospitals continue inoculation during this time?
Yes, government hospitals and two health clinics in each of the 16 boroughs of the Calcutta Municipal Corporation will inoculate on Saturday. No vaccination session will be held at most government-run Covid vaccination centres on Sunday.
I took my first dose at a private facility. Can I take my second dose at a government facility?
Yes.
Will the doses remain free for everyone at government-run Covid vaccination centres from May?
An official at SSKM Hospital who is managing the vaccination at the hospital said they had not yet received any instruction from the state health department on whether people in the 18-44 age group would be vaccinated for free. Those who are 45 or older will not have to pay for the shot, the official said. However, it is likely that government-run centres will continue to vaccinate everyone for free.
If I wait for a few days and take my second dose at a private facility, what will be the price of the dose?
The Serum Institute of India has announced that it will sell each dose of Covishield to private hospitals at Rs 600. Bharat Biotech has announced that it will sell each dose of Covaxin at Rs 1,200 to private units. The price of each dose at private hospitals will be over and above the rate charged by the respective manufacturers.
Has the government set any cap on how much a private healthcare facility can charge above the cost price of the vaccine?
No.