Covid: Nobel winning economist calls for global solution
If they don't solve the problem worldwide, you can't solve it in one country: Abhijit Vinayak Banerjee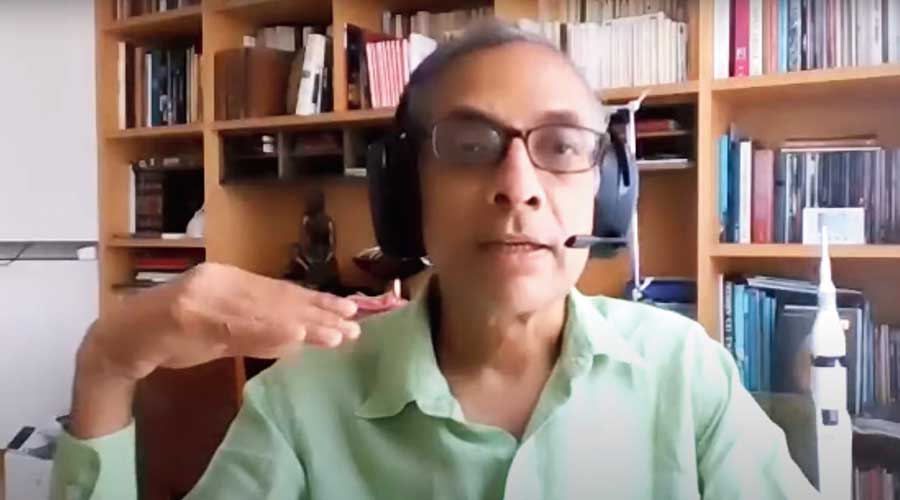 Abhijit Vinayak Banerjee speaks at the virtual session.
The Telegraph
---
Calcutta
|
Published 22.06.21, 01:34 AM
|
---
A global solution is the only solution to the Covid-19 pandemic, Nobel winning economist Abhijit Vinayak Banerjee said at a virtual session on Tuesday.
The Ford Foundation International Professor of Economics at the Massachusetts Institute of Technology, who heads the global advisory board to counsel chief minister Mamata Banerjee on Bengal's Covid-19 response, was speaking at a Bengal Club Library virtual talk session. He was in conversation with club president Soumendra Nath Mookherjee and Rudra Chatterjee, managing director of Luxmi Tea.
Excerpts from the conversation:
Finding hope
Mookherjee cited a few lines from the foreword in Banerjee and Esther Duflo's book, Poor Economics: The book "makes clear why hope is vital and knowledge critical, why we have to keep on trying even when the challenge looks overwhelming. Success isn't always as far away as it looks."
Mookherjee then asked the economist: "Today, in the midst of this pandemic, when India's economy has been devastated, a large number of people have fallen below the poverty line, how do we keep our hopes alive? Where do we look for hope?"
Banerjee said he did not want to give a recipe "for what the next step should be". But he suggested that people look back to the past two decades of human progress to find hope. 
"If you take 20 years before 2019, the most striking fact about this period is that overall world poverty declined massively. The second thing, may be even more important, is the quality of life measured by things like infant mortality, which has halved in this period globally. Maternal mortality has reduced by a third. It is extraordinary," said Banerjee. "There were a number of major breakthroughs, for example HIV medicine is now available essentially free everywhere in the world, a huge increase in vaccination of children. All of these have saved a lot of lives. I think we should not lose the perspective on the last 20 years. This (Covid 19) has been a disaster, perhaps a disaster that will have long-term consequences. But I wouldn't take away just the sheer magnitude of progress that leads up to 2019," he said.
Vaccine inequality
Mookherjee spoke of Banerjee's article in The Guardian, where he made an argument, "both moral and economic", for rich countries to share their vaccine stocks with the poorer nations.
"Most of these rich countries are democracies. Is it politically practical to get the leaders of these countries to really share the existing stocks of vaccines?" asked Mookherjee.
Banerjee said the leaders of the rich countries should explain to voters a simple logic — that it was important to share vaccines for their own protection. "They are dragging their feet partly because the political commitments are difficult. On the other hand, it is also a democratic failure. The UK is shutting down its planned opening because of the so-called Delta variant. This will keep coming. If they don't solve the problem worldwide, you can't solve the problem in one country. That's the whole point of a pandemic…. To be honest, this is not a question of democracy. You should be able to go to the voters and say, 'look, this just to protect ourselves, we are going to give them (vaccines) away because (if we don't) it's going to come and kill us," said Banerjee.
Monopoly
The co-founder and director of Abdul Latif Jameel Poverty Action Lab, Banerjee has done ground-breaking work on studying human inequalities. On Tuesday, Chatterjee asked him about corporate inequality.
"My question is on the inequality among companies…. It seems some companies have done incredibly well and most companies haven't done so well. It seems one day, we will all be shopping on Amazon. All our information will be on Google and maybe we will all be buying energy from Tesla. Where is this going in terms of corporate inequality? This is global, not just in any one country," he said.
Banerjee said he would "bet against Tesla supplying all our energy".
"There is a real difference. Both Amazon and Google have massive economies of scale. Once you have set up a supply chain, your advantages are so massive. If you have volume, you can have storage in the neighbourhood. If you don't have volume, you can't have storage except in some central location. Economies of scale are built into both (Amazon and Google). I don't think that is built into Tesla," he said.
"But having said that, we should be scared of these massive monopolies because they do have the ability to block productivity growth," added Banerjee.