Covid: NGOs struggle to raise funds to meet the needs of communities
They now require more money for medicines and nutritional food for children, apart from ration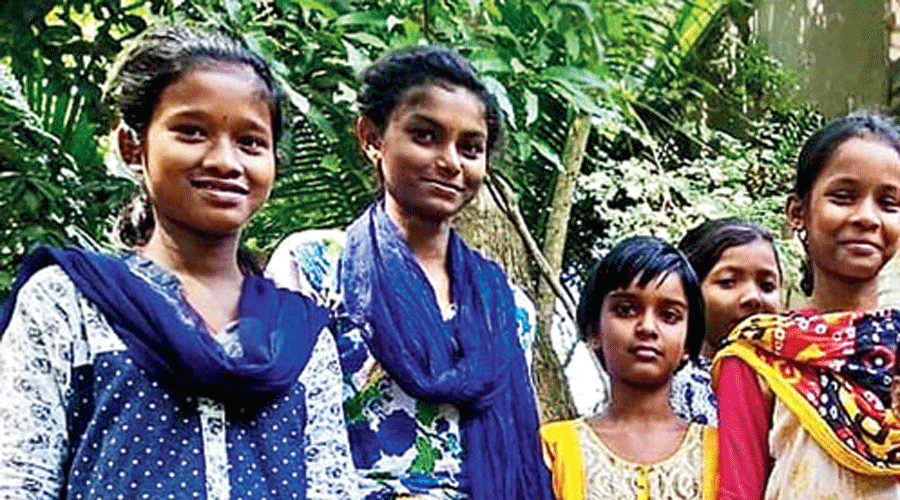 Students at Howrah Vivekananda Siksha Kendra in Bagnan.
File photo
---
Calcutta
|
Published 05.05.21, 01:54 AM
|
---
In a rerun of last year, people's livelihood struggle in the second wave of the Covid-19 pandemic has led to NGOs struggling to raise funds to meet the needs of the communities they work with.
In some areas, there are more people to provide for. Many daily wage earners have once again had to return from their places of work and many who work as domestic help are out of work because households have told them to stop coming.
An organisation in Bagnan, Howrah Vivekananda Siksha Kendra, said they were finding it difficult to raise the same amount that they had last year because the benefactors were trying to save for medical emergencies.
Ek Tara, which works for education of girls, said they were finding it difficult to raise money to provide devices to children for online classes because those willing to contribute only wanted to do so for health crises.
NGOs now require more money for medicines and nutritional food for children, apart from ration, because in the second wave, the spread of the infection among the communities they work with is much greater.
"The infection is not restricted to the city but is spreading in the districts, too. We also have to provide them with medicines and milk along with ration this time, which means we need more funds," said Sister Monica Suchiang, director, Kolkata Mary Ward Social Centre (KMWSC).
Howrah Vivekananda Siksha Kendra has estimated that it requires Rs 1,20,000 to provide ration to 80 families for a period of three months. They have been able to raise Rs 20,000 so far.
Raising money for health crises is not easy either.
IHA Foundation that started Langar on Wheels last year and has served more than 25 lakh meals and provided dry ration to 1.12 lakh people said "the second wave is more difficult organisations like ours".
"When you start you feel 1,000 people is a big number to serve but on the ground the requirement is much more and the funds get exhausted in no time," said Satnam Singh Ahluwalia, chairman, IHA Foundation.
To address peoples' medical needs, the foundation has sourced a consignment of oxygen concentrators for Covid-19 patients, which will be distributed with support from Gurdwara Behala.
"Families are running from one hospital to another trying to make arrangements while patients are gasping. We want to provide them with that support till they get admission or medical help," said Ahluwalia.
The first consignment of oxygen concentrators cost Rs 10 lakh.
Ahluwalia has also sent out an appeal: "We need your financial help and support to assist more and more people who are facing difficulties to survive this second wave... We humbly request you to kindly come forward and sponsor as many machines as you can in our mission to save people who are fighting for their lives."
Tanmoy Patra, the founder of Howrah Vivekanada Siksha Kendra, said regular donors were dithering to loosen their purse strings.
"We raise money with the help of individual donors who are people known to us. But this time people are holding back because they are apprehensive about their own safety and the safety of their families. With the rise in infections, they are scared that they might get it too and would need the money for treatment," said Patra.
Some NGOs had stopped distributing ration since the end of last year but with the surge in cases, they are now having to "aggressively" raise funds anticipating that they might have to provide help for many more months now.
"We had estimated that we would need to provide till the middle of this year but now, with the situation, we have to keep providing. There are reports of many of the parents of our children returning from other cities where they had gone for work," said Ananya Chatterjee, the education administrator at Calcutta Rescue.
As a result, there are now more people in some slums living in close contact with less distancing, an NGO head said.
"The areas where we work have also swelled in terms of numbers and so, we need to raise more for the same number of families and it is difficult. For example, if there was only the mother and two children now the husband and sons have also returned who also have to be provided for," Sister Suchiang.
KMWSC also works with sex workers in Sonagachhi, one of the sectors badly hurt by the second wave, they said.
"We are in constant touch with donors who are also empathetic to our cause. But one person who had given us Rs 10 lakh before is not in a position to pitch in this year and we cannot keep approaching him," said the head of an NGO.
NGO Ek Tara needs 75 devices so that children can attend online classes. The estimated amount required is Rs 7.5 lakh, which includes a year of data packs, but they are yet to raise a substantial amount.
"The second wave is making these children vulnerable to not just infection but other social issues," said Ek Tara's associate director, Manjusmita Bagchi.
The NGO has only been able to budget for one batch of around 75 students out of a group of 900 that they work with because of the lack of funds.