Bengal data reveals clear shift
Covid: More victims without comorbidities in Bengal
Among the patients who died since the outbreak till Thursday, 72.6 per cent had comorbidities, which means 27.4 per cent of the victims had no comorbidities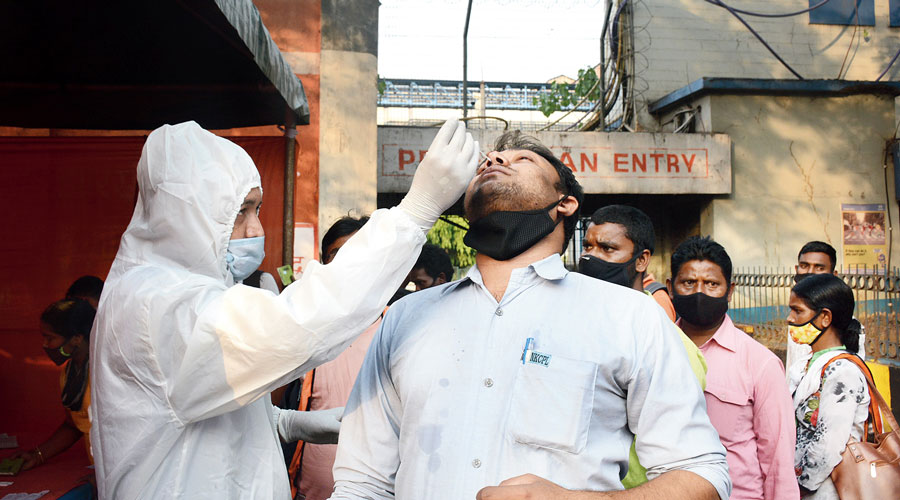 ---
Calcutta
|
Published 29.05.21, 01:44 AM
|
---
More people without comorbidities have died of Covid-19 in Bengal in the second wave this year compared with the first last year, the state health department's published data has revealed.
Among the Covid patients who died in Bengal since the outbreak of the pandemic till Thursday, 72.6 per cent had comorbidities. Which means 27.4 per cent of the victims had no comorbidities.
Bengal has lost 14,975 people to Covid till Thursday.
Seven months ago, the percentage of those without comorbidities among the dead was lower. The health department's Covid-19 bulletin published on September 27 last year showed that 14.8 per cent of those who had died of Covid till then had no comorbidity.
Till then, 4,781 Covid patients had passed away in the state.
"There is a clear shift among those claimed by Covid-19 in the second wave. A lot more people with no comorbidities are dying. A lot of younger people are dying, something that we did not see last time," said Abhijit Chowdhury, a public health specialist and a member of the state government's task force on Covid management.
Chowdhury said it was still not clear why the second wave had killed so many healthy and younger people. "Not just in Bengal. The trend is being noticed across India. There is no clarity yet on why this is happening," Chowdhury said.
Doctors and hospital administrators across the city — from government as well as private institutions — had similar observations to offer.
"It is too early to comment why this is happening but many people without any comorbidity have passed away in the second wave," said a doctor at Beleghata ID Hospital, a Covid facility run by the state government.
"We doctors saw so many people in their 30s and 40s losing the battle against Covid."
Sudipta Mitra, the chief executive officer of Peerless Hospital, said his hospital had recorded 132 Covid deaths since April 1. As many as 94 of the victims had no serious comorbidity.
"If we leave aside hypertension or mild diabetes, a large number of people who died of Covid had no comorbidities. So many people in their 30s passed away after contracting Covid. People of that age usually do not have any comorbidities," said Mitra.
The hospital, he said, considered conditions like serious ailments of the liver, kidney and heart; autoimmune diseases; cancer and uncontrolled diabetes as comorbidities.
Chandramouli Bhattacharya, a consultant in tropical medicine and infectious diseases who treats Covid patients at Peerless Hospital, said young people were catching the virus in larger numbers compared with last year.
"The prevalence of comorbidities among people in the below-50 age group is much less. This time, the severity of the virus is much more and younger people are getting affected. So the prevalence of comorbidities among Covid victims is much less," he said.
Sauren Panja, the head of critical care and internal medicine at the RN Tagore International Institute of Cardiac Sciences, said 60 per cent of his Covid patients who died were below 60 years and had no comorbidities.
"More younger patients are being admitted and are needing ICU (compared with last year)," Panja said. "One reason could be vaccination. I have seen none of those who are fully vaccinated, and two weeks have passed since the second dose, in need of CU care," he said.
The Centre had made people in the 18-44 age group eligible for Covid vaccines only from May 1. But only a handful of people in this group have received the jab because of paucity of doses. Vaccination began in India on January 16.
Rupak Barua, the group CEO of AMRI Hospitals, said the hospitals had seen many young patients with no comorbidities turning up for treatment very late.
"Younger people seem to think that nothing bad will happen to them and often tend to ignore early signs. But they should not do that," he said.
Another hospital official said because of the high prevalence of the disease in the second wave, getting a hospital bed was very difficult and that could be a reason why many people without any comorbidity became critical.