The Park requests excise department to lift liquor ban
The bar was imposed after 37 people were arrested from the hotel for violating the Covid rules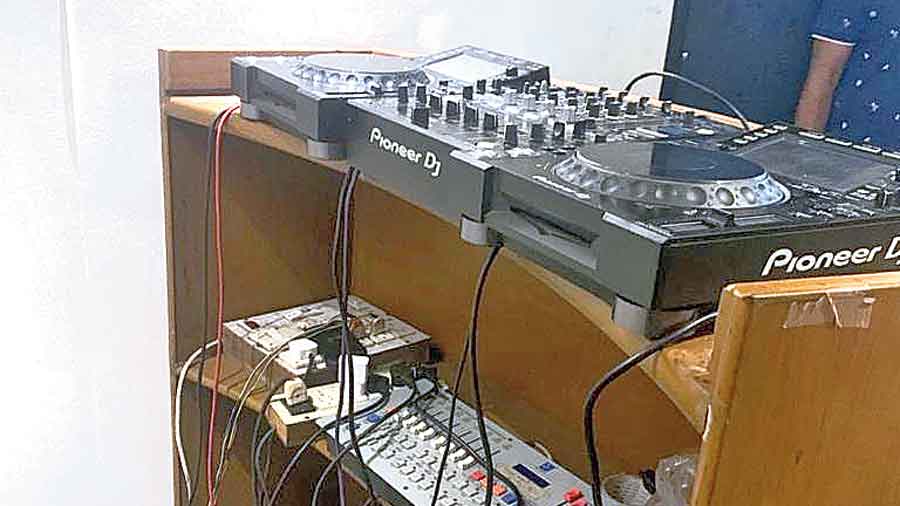 The DJ console that was seized from The Park
File picture
---
Calcutta
|
Published 19.07.21, 01:04 AM
|
---
The Park authorities have written to the excise department requesting it to reconsider a ban on serving liquor in the 10 bars as well as the rooms of the Park Street hotel.
The ban was imposed after the arrest of 37 persons early on July 11 for allegedly partying in the third-floor corridor of the hotel in violation of curbs announced by the state government to contain the spread of Covid.
The Park management has said in the letter to the excise department that the hotel staff did not serve liquor to the revellers. 
The management has said it is not sure whether the liquor bottles seized from the party spot were sourced from the hotel's off-shop, one of the bars on the premises or from outside, said an official of the department. The hotel authorities have said they did not see the bottles seized.
"We have nothing to say about the letter right now," said an official of The Park.
A team of officers from the detective department of Calcutta police had raided the hotel's third floor around 1.15am on July 11 and arrested the revellers, who were allegedly partying to loud music.
Apart from the liquor bottles, a few empty glasses, a DJ console box and several other items were seized from the spot. Park Street police station registered an FIR against the revellers and The Park authorities for violating the state government's order, under the Disaster Management Act and the Indian Penal Code. 
On July 14, the excise department issued an order barring The Park from serving liquor across the hotel until further orders.
Officials in the excise department who have gone through the hotel's letter said the management had cited the fact that the hotel industry had taken a severe beating during the pandemic and said they could not stay afloat and pay their staff unless liquor was allowed to be served.
"We received the letter on Friday from a hotel employee," said an official in the excise department. "No decision has been taken yet." 
Apart from the detective department of Calcutta police, the excise department has initiated a probe to find out whether the staff of The Park had served liquor to the revellers after the stipulated time of 8pm on July 10, violating government restrictions. 
The state government's order related to Covid curbs says all bar-cum-restaurants, including those in hotels, have to shut down by 8pm.
An excise official said on Sunday that unless the probe was over, no decision about withdrawing the blanket ban on serving liquor could be taken.
"Like any other case of violation, we will call the staff of The Park for a hearing and listen to what they have to say on the charges against the hotel brought by the police," the official said.  
The police have already questioned some of the hotel employees and summoned senior officials from the hotel's management for questioning on Monday.