Covid jabs-for-all: Calcutta units in the dark
Private hospitals are flooded with queries about how the vaccination for all above the age of 18 would roll out, but they have no answers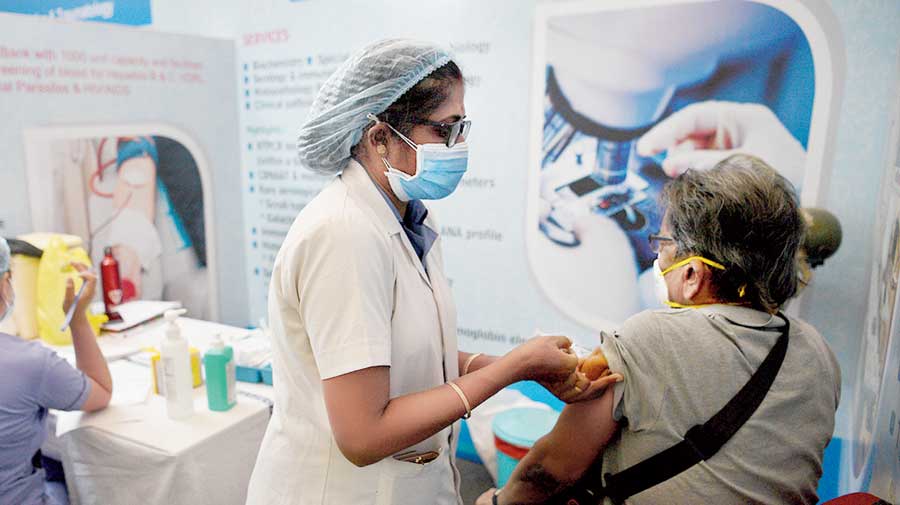 A man receives Covid vaccine at Peerless Hospital on Friday.
Gautam Bose
---
Calcutta
|
Published 24.04.21, 02:33 AM
|
---
One private hospital is receiving around 1,200 calls every day from people between 18 and 44, who are seeking bookings for Covid-19 vaccine shots.
Another private hospital is having 10 to 12 young persons standing in the vaccination queue, carrying their Aadhaar cards. They want to book slots for Covid jabs as soon as vaccination for all adults opens across the country on May 1, fearful that doses might run out soon.
In Bengal, people between 18 and 44 will be vaccinated from May 5.
Private hospitals are flooded with queries about how the vaccination for all above the age of 18 would roll out, but they have no answers. Till Friday evening, there was no clarity from the central government about who would procure the vaccine doses and from whom.
In the absence of such details, private hospitals are telling people that they are in no position to book appointments.
Now, private hospitals are procuring vaccines from the state government and are charging recipients Rs 250 for each dose.  
The Centre has stated that from May 1, the state governments can procure doses directly from the manufacturers. The vaccine manufacturers have been empowered to release up to 50 per cent of their supply to the states and on the open market at a pre-declared price.
However, in the absence of written guidelines from the Centre, the Bengal government is yet to tell the private hospitals how to proceed with the vaccination of those above 18.
"We are awaiting a clear guideline from the Centre, without which we can't tell private hospitals how to procure vaccines for the next phase. A meeting is scheduled with the Centre on Saturday and we are expecting some clarity," a health department official said on Friday. 
Amid the confusion, private hospitals are unable to plan the next phase of inoculation. Officials of several hospitals said they immediately needed clarity because the number of vaccine recipients would be huge post-May 5.
"We had contacted the Serum Institute of India (which manufactures Covishield) and Bharat Biotech (manufacturers of Covaxin) on how to get the supply. They are unable to give us any clarity about how the doses would be supplied to hospitals," said Rupak Barua, the group CEO of AMRI Hospitals and president, the Association of Hospitals of Eastern India.
The call centre of AMRI Hospitals receives around 5,500 calls every day. Now about 1,200 calls are from people between 18 and 44, who are keen to book jab slots.
"We are telling the callers that they would be able to register in the CoWin portal from April 28, as announced by the Centre, but they should call us before coming because of uncertainty over the supply of vaccines," said an official of AMRI Hospitals. 
The RN Tagore International Institute of Cardiac Sciences is receiving around 300 vaccine enquiry calls daily from people above 18.
"They are seeking appointments at the earliest. The most common questions include the date of commencement and price of vaccines. We don't have answers to both," said R. Venkatesh, regional director, east, Narayana Health, of which the Mukundapur hospital is the flagship unit. "Because of the surge in Covid cases, it would be difficult to arrange for the additional manpower once all adults become eligible for the shot," he said.
At Peerless Hospital, 60 to 70 people are calling up to find out about the new phase of vaccination.
"But there are 10 to 12 people who are queueing up with their Aadhaar cards. These people want to book appointments for vaccination when the drive opens for everyone above 18. There is a desperation among people to get vaccinated," said Sudipta Mitra, the chief executive of Peerless Hospital.