Covid-19: Elderly people asks private hospitals if they can administer vaccine at home
Those who suffer from ailments like cancer, which reduce their immunities, are reluctant to go to the health centre and get the jab amidst the pandemic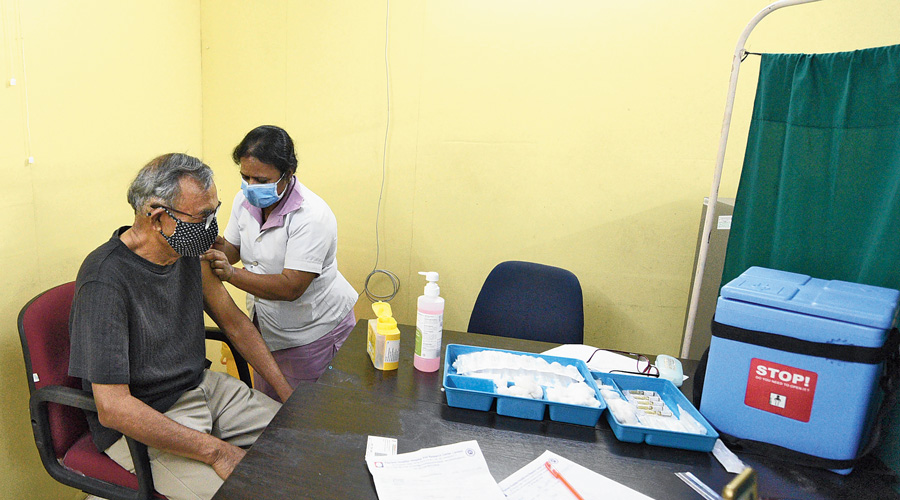 ---
|
Calcutta
|
Published 05.03.21, 01:20 AM
---
Many elderly people across the city, who are either too ill to go out or stay alone, are calling up private hospitals asking whether it is possible to administer the Covid-19 vaccine at home. However, the government's guidelines don't allow Covid vaccination at home.
Several private hospitals said they are flooded with phone calls from elderly people who either stay alone or are physically unable to go to the hospital and wait for hours to get vaccinated.
Last week, at a meeting with the state government, some private hospitals had asked if they could start giving vaccines at home for such people. However, sources said, the state government did not agree mainly on two grounds: there could be overcharging and there is no guideline from the Centre to give Covid-19 vaccines at home.
The vaccination of those above 60 and people above 45 with comorbidities started on Monday and thousands have been vaccinated. But there are also thousands who are unable to go to the hospital.
Some of the hospitals said sending ambulances would not be a practical solution because there are a limited number of ambulances and the demand may be for 20 or 30 in a day.
"We are flooded with calls from elderly people who either stay alone because their children are outside or suffer from ailments that make it difficult for them to come to the hospital and wait in the queue," said Sudipta Mitra, chief executive, Peerless Hospital. "The government should think about the plight of these elderly and ill people and find a way to get them vaccinated without coming to the hospital," he said.
Swapna Majumdar, 72, a resident of Netaji Nagar, is one such person. Her husband, Anil Baran Majumdar, 82, had one of his legs amputated several years ago. Their only daughter stays abroad.
"It's very difficult for my husband to move as he has several other ailments too. Usually, someone from a diagnostic laboratory collects blood and I take the report to the doctor. But to get Covid-19 vaccine, both of us have to go to a hospital. I called up hospitals but they said we have to go there," said Swapna.
Narendrapur resident Samar Nath Banerjee, 79, and his wife Bharati, 76, are also calling up hospitals seeking to know whether they can get vaccinated at home.
"Our only son stays in Singapore. My wife's both knees are severely damaged and she can barely walk. There is no young person in our home to take us to a hospital for vaccination," said Samar.
Some hospitals said people who suffer from ailments like cancer, which reduce their immunities, are reluctant to go to the hospital and get vaccinated amidst the Covid pandemic.
"There are people with medical conditions making them immunocompromised whose family members are requesting us to send personnel to their homes for vaccination," said Rupak Barua, group CEO, AMRI Hospitals.
"But we have to tell them no. Even if the government allowed, at this moment there are hundreds of people coming for vaccination every day and we have to open new sites. So, it's not possible to send our people to someone's home," he said.
At Belle Vue Clinic, officials are getting calls from people staying in big residential complexes requesting the hospital to arrange for bulk vaccination at their homes.
"One such residential complex has many elderly people who want to take the vaccine but are either physically unable to come or are scared of getting Covid. But unlike sample collection for Covid tests, we can't do vaccination at residences," said Pradip Tondon, CEO, Belle Vue. He said if someone goes in an ambulance, the hospital would ensure the vaccination is done in the quickest possible time and after the mandatory 30 minutes observation, the same ambulance can take them home.
A senior official of the state health department said the main concern was adverse effect of injection or AEI, because of which a person should get vaccinated at hospital where there is infrastructure to handle a situation if someone falls ill after vaccination.
"However, we are open to making changes. Let the first few days pass and then we'll take up the issue," said the official.