Rising fuel price adds to misery
Covid crisis: Suspension of local trains cripples large workforce
Calcuttans are dependent on these people for their daily chores — from getting a house painted to fixing a leaked pump to procuring vegetables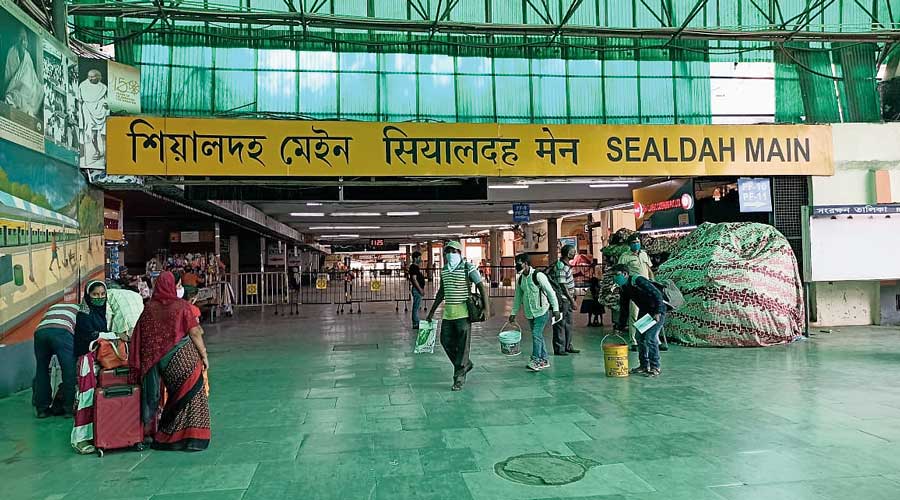 A deserted Sealdah station on Friday.
Telegraph picture
---
Calcutta
|
Published 08.05.21, 02:25 AM
|
---
The suspension of local trains has crippled the large workforce who come to Calcutta from suburbs.
Tens of thousands of people from the southern and northern suburbs take local trains every day to reach Calcutta, where they work as masons, plumbers, vegetable sellers, daily wage earners, domestic help and hawkers.
Calcuttans are dependent on these people for their daily chores — from getting a house painted to fixing a leaked pump to procuring fresh vegetables.
These people are also dependent on the city for their livelihood. The absence of local trains has left these people with three difficult options - pay through their nose to commute to Calcutta and back home, rent a place near the city and pedal their way to work and back, or sit idle at their home, often without two square meals a day.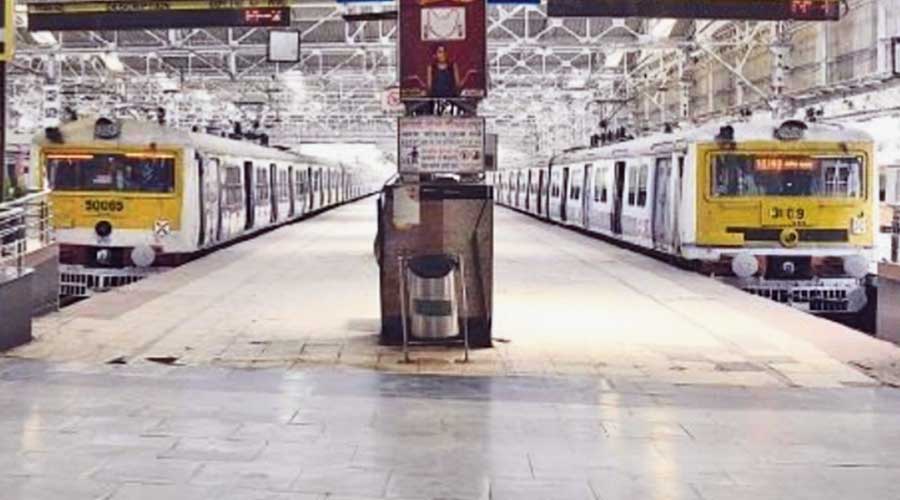 Madan Sardar, 23, lives in Taldi, the second last station in the Sealdah-Canning suburban section. Till April, he was busy painting houses in Jadavpur and Baghajatin, working for a contractor.
He got work five days a week and took home around Rs 500 every day. But the suspension of local trains has brought back haunting memories of last year's lockdown.
A monthly train ticket cost Sardar Rs 185. In the absence of trains, Sardar had to travel from Taldi to Baruipur in an auto, often two autos. From Baruipur, he would take a bus to Ruby.
"I had to pay exorbitant fares for the auto rides. Every day, my daily travel would cost around Rs 200," said Sardar.
The problem with a renewed surge in Covid-19 cases is that many Calcuttans are weary of letting outsiders in their homes. Repair and paint jobs are being kept on hold. Last year as well, the likes of Sardar had their work, and pay, cut drastically. "If I earn Rs 300 a day and my travelling expense runs up to Rs 200, it is a tough call to step out. But eventually, I will have to step out because I barely have any savings to pull through this lean phase," said Sardar, who lives with his wife.
His mother has recently rented a cramped one-room house in Baghajatin. She works as a domestic help in multiple houses. Her employers did not want her to travel in crowded local trains amid the surging pandemic.
Sardar's father, who used to work as a porter at Sealdah station, lives with his mother.
If the auto fare is Sardar's bane, the rising fuel price is a nightmare for Rabin Karmakar, a Baruipur resident who works with an elevator maintenance firm on Camac Street.
He has to visit clients' offices in Salt Lake and Howrah whenever there is a snag in an elevator.
Before the suspension of local trains, Karmakar used to take a train till Ballygunge and then a bus to Camac Street.
But now, he has to ride his bike to work. "I will have to spend at least Rs 200 on petrol every day. My company will not reimburse the full money," said Karmakar, who lives with his father, wife and their 12-year-old son. He is the sole earning member of the family.
Not everyone is able to travel to the city. Sankar Roy Karmakar works at a stall selling kurtis and dupattas on the pavement in front of Traders Assembly in Gariahat. The 60-year-old lives in Baruipur, around 25km from Gariahat.
When the hawkers' market reopened last year after the lockdown, Karmakar cycled between home and work. It took him over 90 minutes for one leg of the journey. "I am not keeping well and cannot cycle for so long every day. I don't know how I will manage if the new curbs extend beyond a month," he said.
In 2020, local trains were suspended from March 23 to November 11. The prolonged suspension had pushed thousands of families to starvation. Free ration from charitable organisations had sustained many families.
But organising the resources for a similar campaign this time is proving to be more challenging, social workers and NGOs have said.
"We can only hope that the Covid numbers start dipping soon. In case of a prolonged shutdown, things are going to be worse this year," said a Calcuttan, who runs an NGO that fed many people, including out-of-work train hawkers, last year.