The city police are tracking social media posts that promise easy medicines that are used to treat Covid-19 but are at times said to be unavailable in the market.
A police officer said it was obvious that drugs that mandatorily need prescriptions for sale cannot be procured through online chats. "Such posts could only mean that either the person is in illegal possession of the drugs, which are prohibited to be sold over the counter, or it is a trap to cheat the buyer," the officer said.
Several numbers that have been in circulation from purported do-gooders have been found switched off all along, an officer in the police's enforcement branch said.
"Blackmarketeers choose buyers and get back to the really interested parties."
The enforcement branch had on Monday arrested an employee of a pharmacy in Chowringhee who was allegedly caught with a vial of remdesivir that he had plotted to sell for Rs 21,000, almost five times the actual cost of the full dose of the medicine comprising six vials.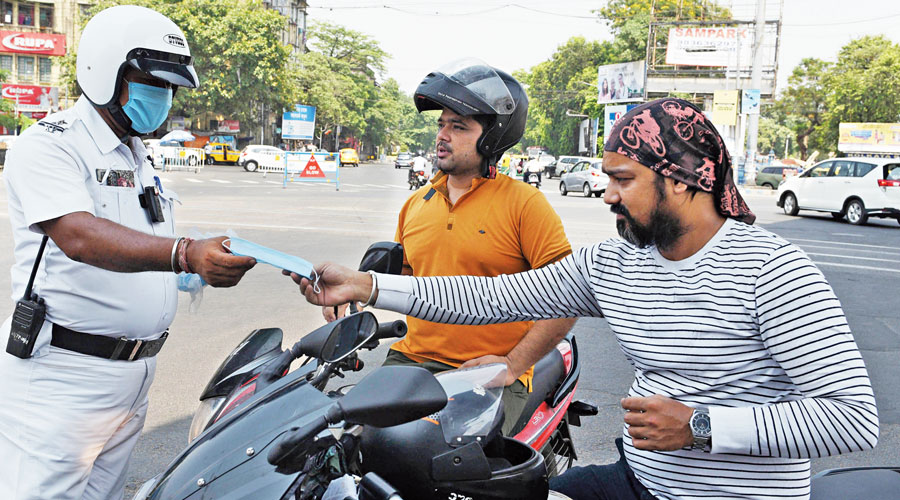 Mask up: Policemen stop bikers without masks and hand them face covers at Park Circus on Tuesday. Pradip Sanyal
The police said on Monday they had come across the alleged involvement of a 23-year-old homemaker, Nidhi Goel, who was to collect the vial for a family that had approached the police against her for cheating.
"The complainant family had come across this woman through social media. There are many phone numbers in circulation. People are being asked to call the numbers for medicines that are otherwise not meant for sale to customers directly," said an officer.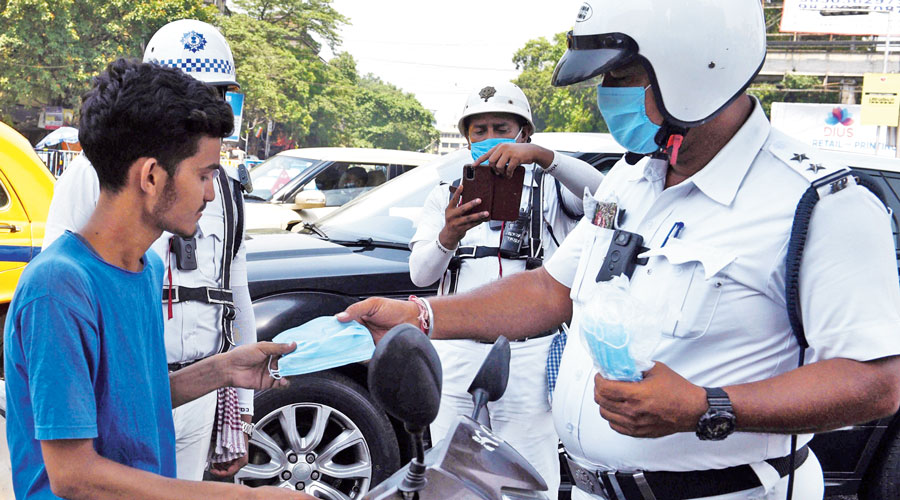 An officer hands over a face cover to a biker. Pradip Sanyal
According to a government directive, remdesivir is not meant for sale directly to customers with or without prescriptions. Only hospitals can procure it directly from distributors and vendors.
However, several hospitals have reported a shortage of the medicine, which seems to have prompted families of many Covid patients to look out for ways to procure it at a premium.
"We have learnt about one or two cases where we have specific information that the families have spent twice or thrice the marked price to procure remdesivir," the officer said.
The arrested pharmacy employee, Biswajit Das, has been remanded in police custody. Goel will be examined again, the police said.
Chief justice of Calcutta HC will retire on April 29
Justice T.B.N. Radhakrishnan, the chief justice of Calcutta High Court, will retire on April 29. Justice Rajesh Bindal will take over as acting chief justice, according to a notification issued by the Union law and justice ministry.